Aladdin
Gary Bridgens
Georgian Theatre Royal, Richmond
Georgian Theatre Royal, Richmond, North Yorkshire
–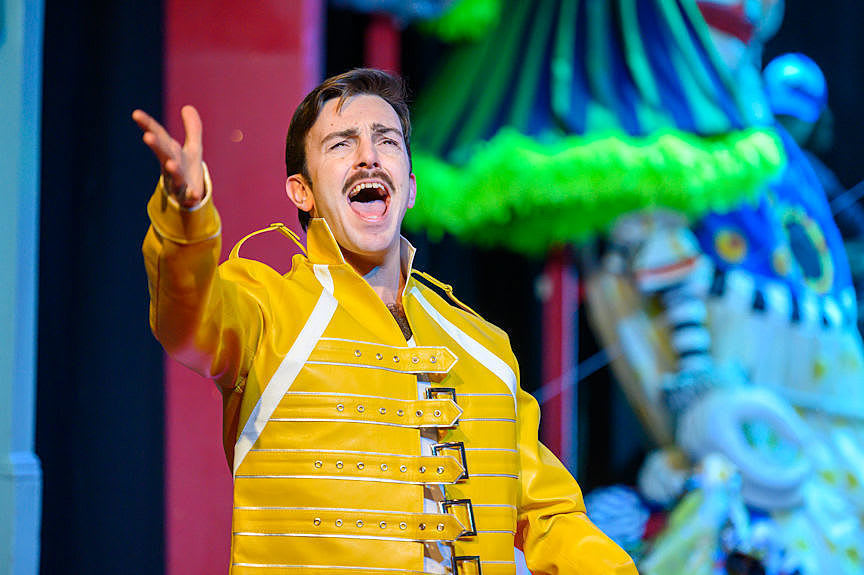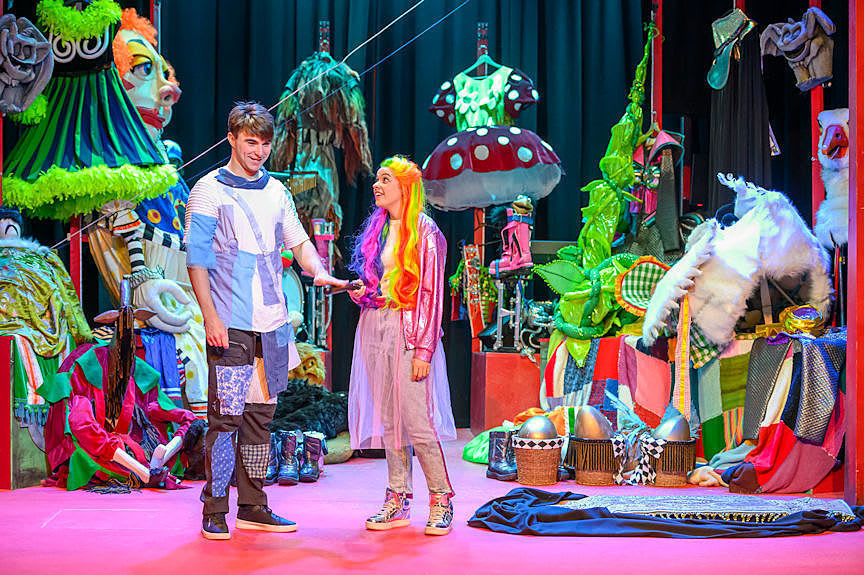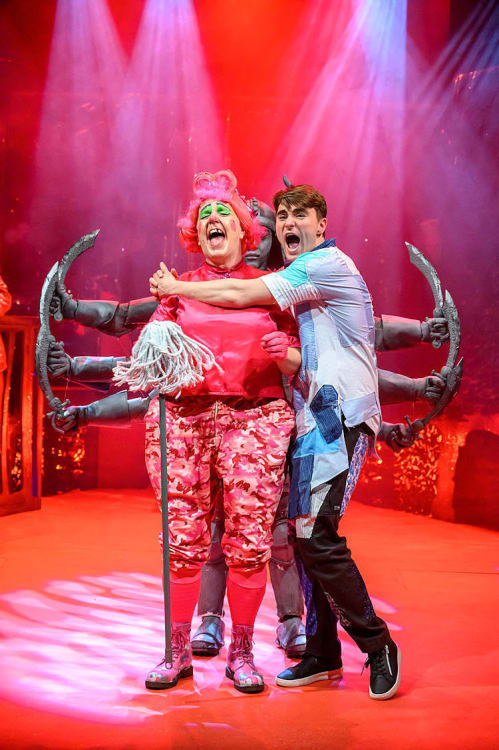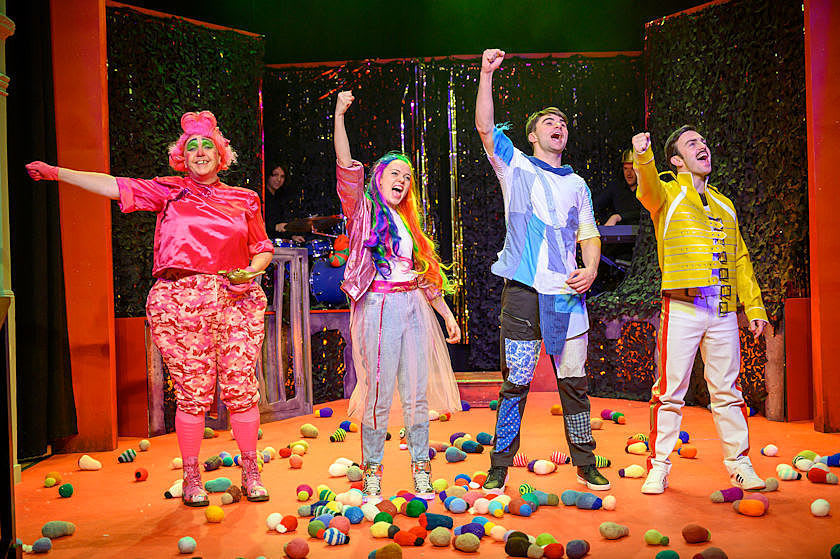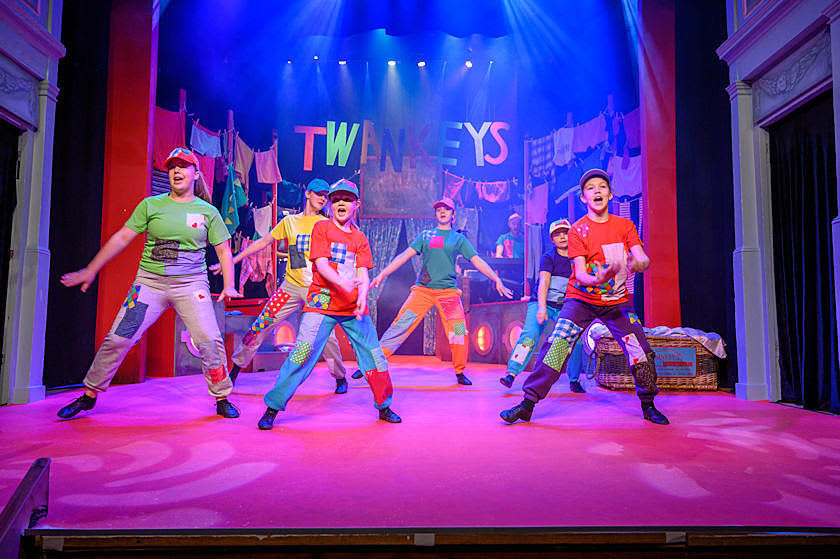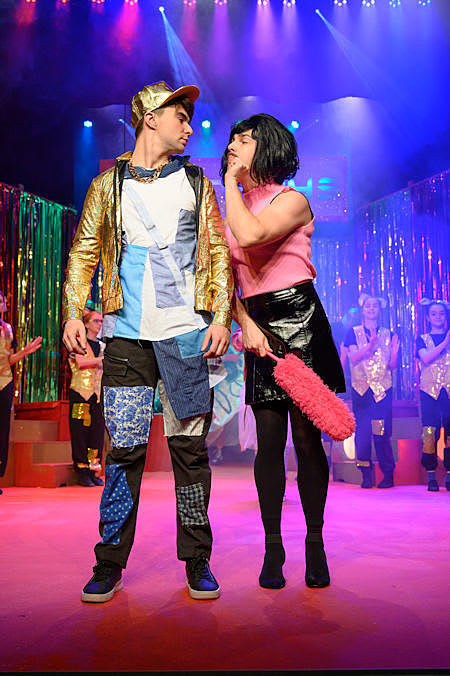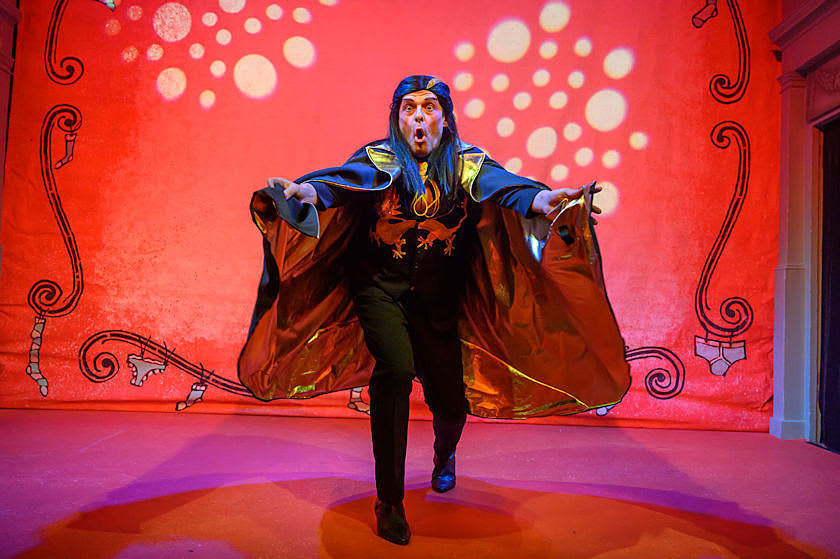 It would be easy to call Richmond's Panto 'traditional' and leave it at that, but this year, that doesn't quite cut the mustard.
The original Aladdin is a story from The Arabian Nights, one of those 1,001 mythical tales from the hot Asian Countries. This year, writer Gary Bridgens has chosen to set his Aladdin in a laundry round the corner from the theatre in chilly Richmond. His cave, a lock-up garage in the nearby town of Darlington, which interestingly appears to be a panto props store, is full of characters and props from the past 10 years. His Genie is Freddie Mercury who of course wants to break free. I groan and roll my eyes, but there is a kind of magic and enough Queen songs to give double entendre a run for its money; so I'm happy to report that it worked. Sorry about the spoiler, but this character is so central to the production, the review just can't be written without the reveal.
Quinn Richards shows off his acting skills as Aladdin, the impoverished young ne'er-do-well, who is not so secretly in love with Jazz Dillydally (Emily Arnfield), the rent collector's daughter. Arnfield is your typical modern-day princess who is used to getting her own way. She's a very watchable, tough teenager with rainbow hair and an attitude.
Our sorcerer is Abanazar; his job is to persuade young Aladdin to retrieve the magic oil lamp from the boobytrapped cave. Nick O'Connor is fantastic as the depressed villain, investing Abanazar with a droll, strangely almost likeable character, a cross between the evil Count Dracula and Leonard Skinner. Every time he came on stage to explosive boos and hisses from the audience, my attention was on him, I didn't want to miss a single second of his performance.
Alex Moran doubles up as Squire Dillydally and the Genie—Moran's Genie is a confident, believable, Freddie Mercury lookalike dressed in yellow leather and those famous white ski pants with red stripes. He sings like Freddie, looks like Freddie and has just enough of that famous showman charisma that made the Queen frontman such a legend. If Freddie was here, I'm sure he'd love being cast as a genie; I can hear him now saying, "I'm the Queen of genies darling!"
The Georgian Theatre Royal Youth Theatre is an extremely talented bunch of young people who provided some of the best singing and dancing performances I've ever seen them do. Musically, they were all spot on and a few of them delivered lines showing comedy timing at its very best.
No pantomime is complete without a Dame and Gary Bridgens (aka Gako) has been strutting his dame stuff on The Georgian's stage for 10 years. He's gruff with a distinctive crackle in his voice, a gap in his teeth and an instantly recognisable style that's warm and friendly. It's sad to see that this is his final panto performance and I'll miss his inimitable stand-up, cringe-comedy delivery. His Twankey banter is babblical and he sure knows how to handle an audience. As a writer and performer, he's the man, even though some of his ideas this year are a bit random. I'm sure the soldiers and their families from the local garrisons will appreciate his eccentric army training scenes, which I'm not sure fitted with the panto theme, but I can't say much about these bits as I've already written one spoiler.
Costumes are colourful and all made by local volunteers under the supervision of costume designer Samantha Taylor. Choreographer Kelly June Goodwin produces innovative routines and Foxton's set design is detailed and exuberant—I really liked his lock-up garage.
I'm not sure that Bridgen's Cannon and Ball mobile phone conversation projected on the backdrop actually worked or was relevant. It was a bit dark and difficult to see, but the audience seemed to appreciate it.
This crazy little panto called Aladdin is deftly directed by The Georgian's Chief Executive, Clare Allen. Daniel Bowater's musical direction is superb as usual and Tony Wilcock's lighting is well up to standard.
So, not quite traditional, but certainly historical as well as hysterical and most definitely an enjoyable Christmas treat. I can't wait to see what's going to happen next year.
Reviewer: Helen Brown