Aladdin
Morgan Brind
Little Wolf Entertainment Ltd
Loughborough Town Hall
–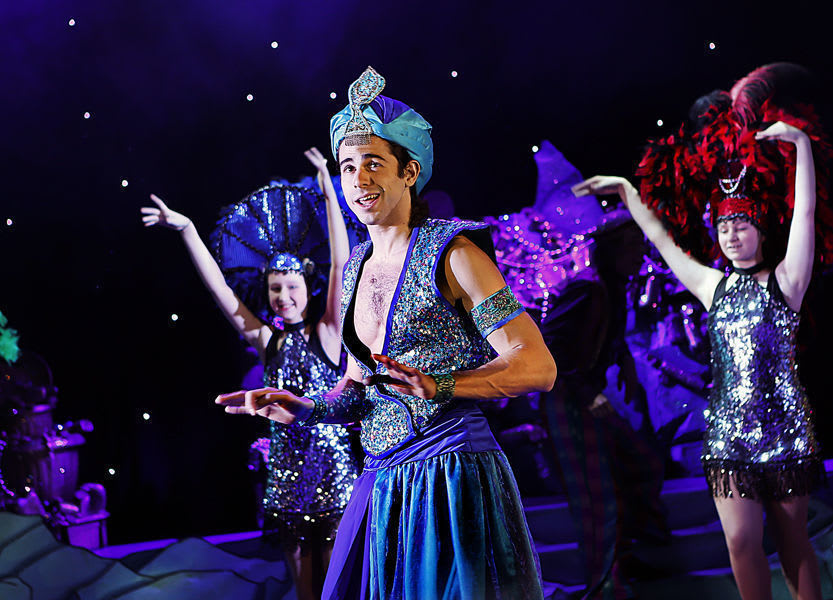 First seen as a pantomime in 1788, Aladdin has undergone many a transformation over the past two centuries and, in its latest incarnation at the Loughborough Town Hall, it's out with the launderette and in with the Wok-a-Palava Noodle Parlour as Little Wolf Entertainment puts its very own stamp on the age-old Arabian Nights tale.
More people order Chinese take-away than use their local launderette each week and, as panto moves with the times, its narrative thereby reflects the UK's population. Transferring the action to a restaurant provides plenty of opportunity for culinary capers and, alongside a menu-themed song sheet, one of the show's delights is the Noodle Parlour slosh scene.
When Widow Twankey enlists Wishee Washee's help with her new time-saving, take-away making machine, it is no surprise that things don't quite go to plan. With the assistance and hindrance of Siri on her iPhone, Twankey attempts to speed up the service as take-away numbers are typed in and trays prepped ready for table service. But when the machine speeds up and Wishee literally throws himself into work, slosh flows and hilarity ensues.
In the hands of Morgan Brind's Twankey and Dean Bray's Wishee, the slosh goes down a storm. Friendly and frantic, Bray is a bundle of energy, whilst Brind's matriarch is both motherly and madcap ensuring the pantomime retains a vital sense of anarchy in amongst the plot.
In a series of gowns from snowmen to snow globes, not forgetting oodles of noodles, writer and designer Brind's costumes are highly inventive and beautifully tailored like those of his fellow cast members in a production that oozes bespoke.
The glittering set makes superb use of the space, with traps and flying used to great effect. A flying carpet sequence that utilises UV adds another dimension to the audience's expectations as Aladdin soars past landmarks and Millennium Falcons and into the audience as he journeys from Pekin to colder climates in search of the Princess.
Act two's quest takes the Twankeys to the Arctic, a growing trend in Pantoland that enables a more festive feel thanks to its snowy setting. It also creates a stunning contrast to the kaleidoscopic colour of Nan-Pan-Tan-Pan-To and allows for a clever ending with comic payoff for Abanazar thanks to a Mastermind sequence initiated by Princess So Shy.
Indeed, what makes Little Wolf's production so enjoyable is its inventive and thoughtful approach to the title and genre. A prologue fills in the backstory of the Genie's entrapment and Princess So Shy stands her ground when Aladdin begins planning the wedding without having even asked her hand in marriage.
But ,in amongst a production of class, style and energy, it does seem slightly odd to include so many vintage musical numbers including Pickwick's "If I Ruled the World", "We're in the Money" from Gold Diggers of 1933 and Terry Scott's "My Brother" and even "Defying Gravity" seems to go against the grain of the production's fresh and vibrant feel.
A festive treat full of pantomime fun, Little Wolf Entertainment continues to grow as one of the most exciting producers in Pantoland.
Reviewer: Simon Sladen