Aladdin
Vikki Stone
Lyric Hammersmith Theatre
Lyric Hammersmith Theatre
–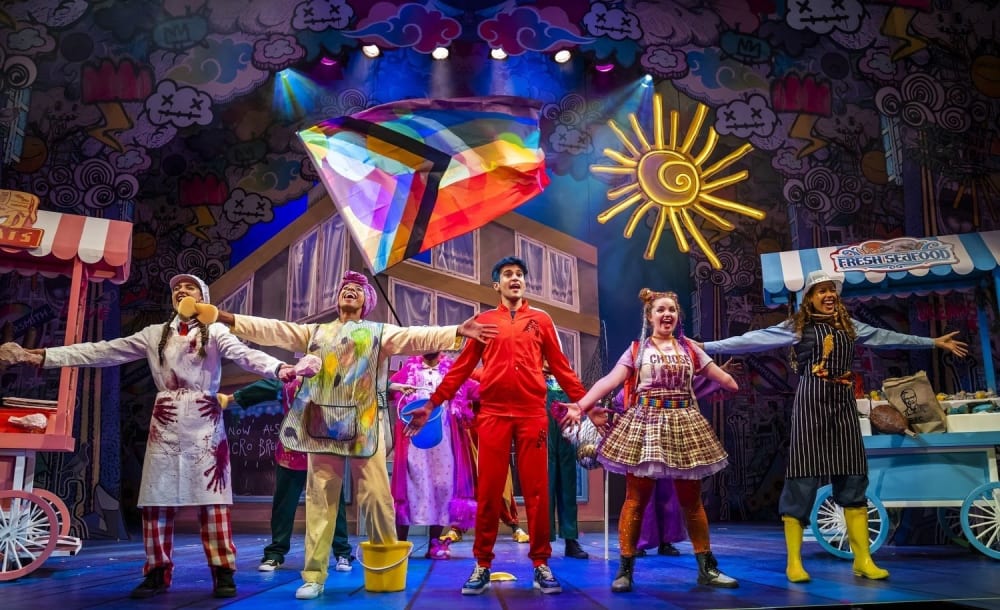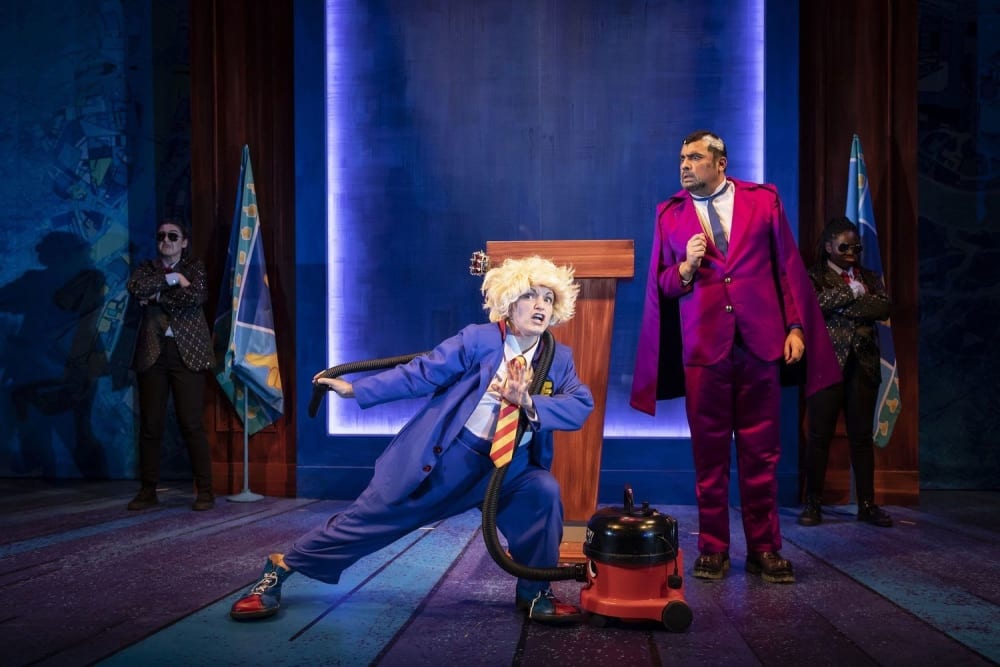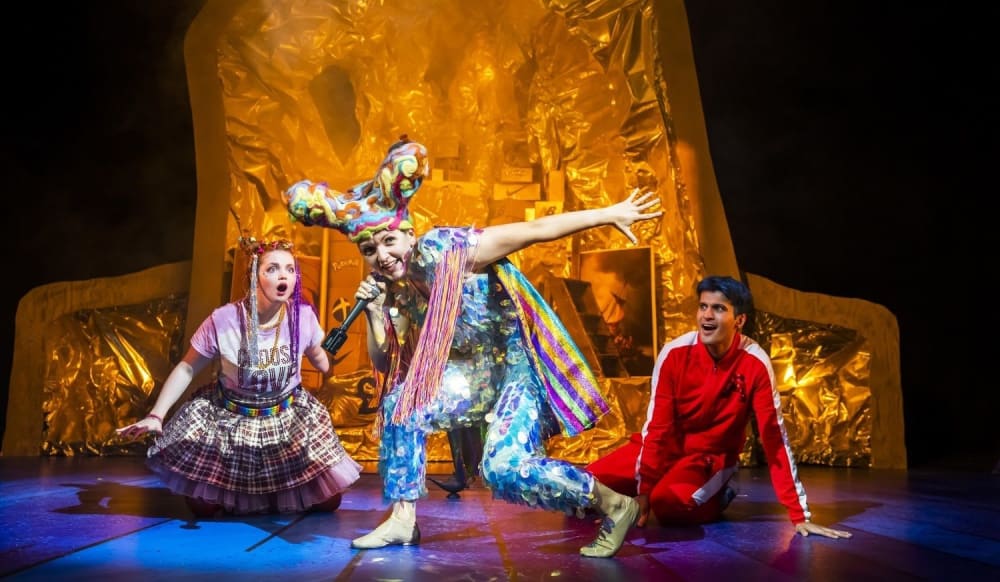 When the Lyric Hammersmith decided to bring panto back to its stage in 2009, little did the venue know it would have such a huge impact on the genre. 2021's Aladdin is a beacon of inclusivity, demonstrated from the off as the Progress Pride Flag flies during the show's triumphant opening number that celebrates all things panto thanks to a cleverly crafted rewrite of Blur's "Parklife".
Forget any fear of Orientalism or outdated racist tropes, this Aladdin is set firmly in the present with a Boris inspired Emperor, who might just be the secret love child of AbFab's Bubbles and Mr Blobby, ruling over London. Parodies of COVID briefings, trips to Pepper Pig World and fumbled speeches ensue as the production effortlessly satirises the past two years in this vibrant living newspaper.
Panto has always been political, but in recent years this biting edge has somewhat disappeared from proceedings. Abanazer's re-rendering of Boney M's "Rasputin" to recount his wicked plan, complete with "Next Slide Please" and pictorial accompaniment, is a true showstopper. Indeed, some of the largest "boos" of the evening rain out after Kate Donnachie's gloriously buffoonish Emperor asks his trusted advisor whether it matters that Track and Trace doesn't work, despite costing millions. Abanazer's defiant "no!" shows where true villainy lies in society today.
As Abanazer, Irvine Iqbal is superb. His Villain is full of Machiavellian mischief, both taunting and tickling the audience in equal measure. A rendition of "Ding Dong Merrily on High" that replaces the traditional "Fa la la"s with "Mwah ha ha"s has to be one of the highlights of the season.
What the Lyric continues to do so effortlessly is capture the essence of pantomime and deconstruct it to create a fresh and vibrant show that never relies on tradition, which is so frequently cited as an excuse for laziness and inherited prejudice that this production avoids at all costs. The perfect blend of Banksy and Beano, Aladdin packs a political punch whilst exploding with colour and comic capers.
But with so much comedy business reserved for the Emperor and Abanazer, it is a shame that Stephan Boyce's Launderette cum Micro Brewery owning Dave Twankey is underused, particularly given the production's innovative interpretation of the usual Dame character. As Aladdin and Wishy's father, Twankey's response of "Why are you not wearing a dress?" when the Emperor questions his choice of attire results in cheers of support that celebrate individuality and shatter centuries of oppressive gender constructs.
Long gone too are passive Princesses and male-heavy casts as demonstrated by Ellena Vincent's strong, independent, superhero loving Jasmine and Gracie McGonigal's admirably conscientious Wishy, who acts as the show's moral compass, convincing her brother to mend his materialistic ways and ensuring the beat-boxing Genie receives her freedom.
Greater nuance is also afforded to Aladdin and Jasmine's relationship. Qasim Mahmood's Principal Boy full of swag fails to win the Princess's affections at first, but after achieving wealth and offering her a magic carpet ride, she agrees to join him and the two embrace in a kiss. This does jar somewhat with the show's message, even if Aladdin ultimately realises the error of his ways and apologises.
From Tip Top Tik Tok Sea Shanty Fishermen disguises to evil chickens and a hangry Henry the Hoover, the Lyric Hammersmith's pantomime is the best kind of bonkers. Abanazer might think that "this is proper theatre, basically Shakespeare," but he's not quite right. The Lyric's Aladdin is so much better than the Bard. Political, progressive and playful, this Aladdin offers an exciting glimpse into what the future of pantomime should look like.
Reviewer: Simon Sladen