Aladdin
Paul Hendy
Evolution Productions
Marlowe Theatre, Canterbury
–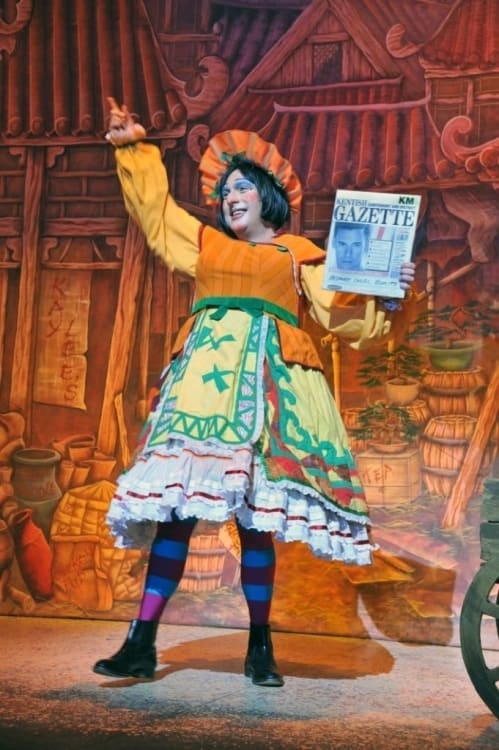 2014 is a season of anniversaries at the Marlowe Theatre, Canterbury. Evolution Productions celebrates its tenth year of producing pantomimes up and down the country, whilst Chris Wong celebrates his twentieth year as the Marlowe's resident musical director.
Music is integral to a Marlowe Theatre pantomime and this year the band creates an electric atmosphere with Legally Blonde's "What You Want" accenting the show's strong romance narrative as David Albury's Aladdin and Rosa O'Reilly's Princess Jasmine fall in love.
The musical number also supplies the show's act one finale, a piece of pure pantomime spectacle when Aladdin, now the richest man in the world, soars through the skies, over the stalls and up into the Gods on his magic carpet waving to the audience below as they gaze on open mouthed.
Pyrotechnics, fire and a strong lighting design add to the sense of spectacle, but it is slapstick and comedy that form the show's backbone and are the trademark of an Evolution pantomime.
Evolution Productions must hold the world record for the number of puns scattered throughout a panto script and in Aladdin they come thick and fast, tickling many a funny bone, none more so than in the now much anticipated annual pun-run.
With Widow Twankey looking for ever new ways to increase her income, she and Wishee set up a travelling newsagent which sees Ben Roddy and Phil Gallagher deliver a stream of newspaper and magazine related gags and has the audience howling with delight at the verbal dexterity and clever penmanship of the scene.
Roddy is a superb Twankey. His merry Widow game for a laugh and delivering every line with thought and purpose. The art of Daming takes many years to refine and Roddy demonstrates the variety of skills the role demands, from pratfuls to puns, seductiveness to silliness whilst balancing caring with chaos in perfect measure.
Chaos is, of course, a staple of pantomime and it, along with audience participation, sets panto aside from its sister artform the play. As Wishee Washee, not only does Gallagher deliver an energetic and engaging performance, his Wishee is full of warmth, constantly in touch with the audience and ensuring they join in the fun. This is Gallagher's second Marlowe pantomime and he and Roddy have become firm favourites of the Canterbury audience along with Lloyd Hollett, who completes the terrific trio as PC Pongo.
Hollett is one of the best Comics Pantoland has to offer and this year's Aladdin will see him receive over 800 pies in the face as he, Roddy and Gallagher deliver the "Twelve Days of Christmas" slapstick routine over the run. The three work so well together that it is a shame Hollett is not afforded more stage time with Roddy and Gallagher, being somewhat sidelined in a large cast that includes a second superfluous policeman, diluting Pongo's function somewhat.
Topping the bill, Scott Maslen is a wonderfully camp and conniving Abanazar who isn't afraid to send himself up as his character dreams of becoming the greatest ballroom dancer who ever lived, a nod to his time on Strictly Come Dancing. Maslen's big musical number "Runaway Baby" complete with Roddy's twirling Twankey works extremely well and although the final capture of the lamp is somewhat rushed, it does make way for a grand reveal of an impressive Mummy thwarted only with the aid of two glorious elephants.
As the Genie of the Lamp and Spirit of the Ring, Bentley Kalu and Sabrina Aloueche are full of soul and street with Masashi Fujimoto's Emperor of China delightfully eccentric, if slightly surreal. The three deliver strong performances, but poor diction affects their delivery and at times leaves sections of dialogue, especially those over underscoring, difficult to decipher.
With next year's Marlowe pantomime already announced as Snow White and the Seven Dwarfs, judging by the audience's reaction to this year's show, it's Roddy, Gallagher and Hollett they wish to see sitting on the Ghost Gag Bench continuing the tradition established by another Canterbury legend, the late Dave Lee. As tradition dictates, "they'll have to do it again then, won't they..."
Reviewer: Simon Sladen