Aladdin
Fine Time Fontayne and Daniel Buckroyd
Mercury Theatre, Colchester
–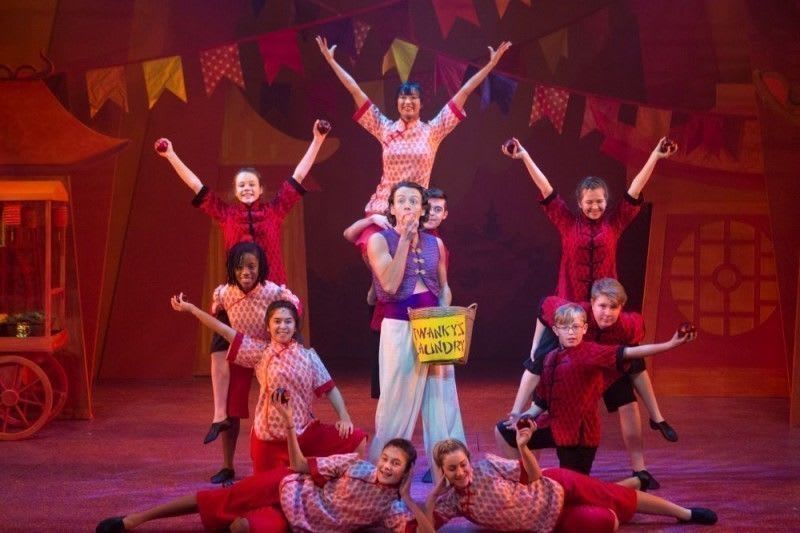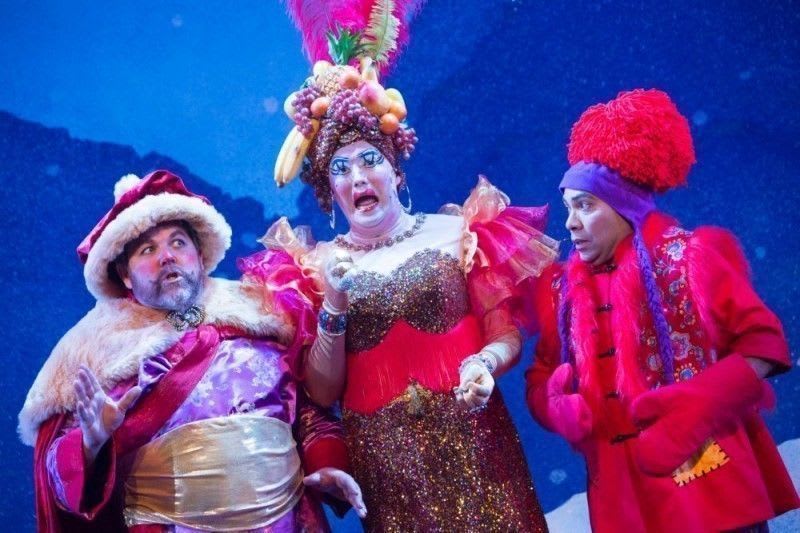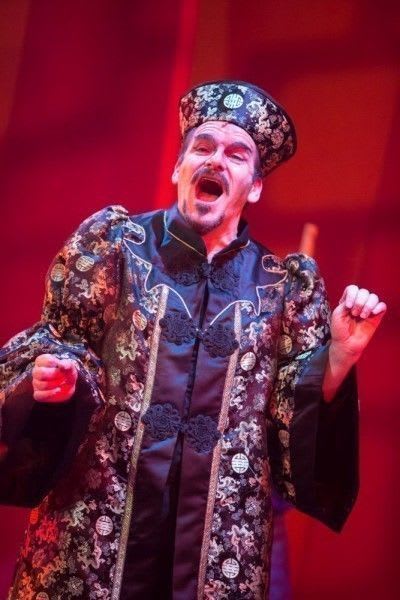 The Mercury's panto opens with a puff of smoke and the baddie, Ignatius Anthony's Abanazar. Getting a boo from somewhere down in front stalls he declared, "You've got the right idea" which kicked off a fun-filled evening full of interaction.
With his magic ring, Abanazar calls up its Spirit, the nearest thing here to a Good Fairy, and between them they set up the story before whisking us off to Peking to meet Aladdin who leads a rousing routine to "Uptown Funk" that gets the action really going.
This Aladdin is no thigh-slapping Principal Girl but Glenn Adamson, a performer who's in tune with the notes and the audience; he's got a smile and a twinkle that are winning and can add nifty footwork to a pop star persona.
Aladdin has a brother, Wishy Washy; their mum calls him her Dim Son. He may not be very clever but played by diminutive Dale Superville he shines brightly: he's an actor who knows how to play panto and half the audience probably want to give him a cuddle as he messes up on work experience as a policeman.
Even more of a pantomime veteran is Antony Stuart-Hicks as Widow Twanky. This Dame is no Lady, however posh she plays it. She's very rude to the audience and they seem to love it. Talking to the audience is part of panto but it is usual to do it in character.
A lot of dame humour derives from knowing it's a man but Stuart-Hicks self-referentially plays the performer as well as the widow: "You can't get rid of six-foot in drag," she declares dismissively. It puts Twanky apart from the rest of the characters but she's different anyway: this hard-up laundress is dressed up like a diva in the exotic outfits that designer Juliet Shillingford provides for her.
Design gets full marks from bright-eyed dragons that flank the stage to a magical flying carpet. It is elegantly simple, with two front cloths especially beautifully painted, and lavish-looking costumes from pagoda-tiered trappings for Twanky to a fantastic swirling gold prince's outfit for Aladdin that must take its inspiration from Loïe Fuller.
Spirit of the Ring and Genie of the Lamp (Lara Curnick and Simon Pontin) double their pyrotechnic appearances with playing a pair of palace policeman. They make a very comic couple, painfully funny for poor Pong who gets bonked on the bonce as a running gag.
Sarah Moss makes a charming, Princess Jasmine, rather bashful in the presence of her Emperor father (Tim Freeman) but gaining confidence when she meets Aladdin.
The tradition of throwing sweets out to the audience is lacking and there is no getting punters up onstage but there is a slop scene set in Widow Twanky's laundry (though its slapstick doesn't entirely deliver what was intended) and a song sheet with a Kung Fu flavour, well organised by Wishy Washy.
There is a particular plus in the Mercury's Junior Chorus. They perform with joyous energy and a precision that does them credit. They are ably led by more seasoned professionals Gracie Lai and Colin Burnicle, who get their own special spot (rather like the Strictly partners) to decorate a duet between Aladdin and his princess.
It is quite a long show at two hours forty including the interval (loo trips for the little ones before each act recommended)—for some enthusiastic youngsters it could have gone on forever—but the Mercury certainly gives you your money's worth.
Reviewer: Howard Loxton