Aladdin
Kenneth Alan Taylor
Nottingham Playhouse Theatre Company
Nottingham Playhouse
–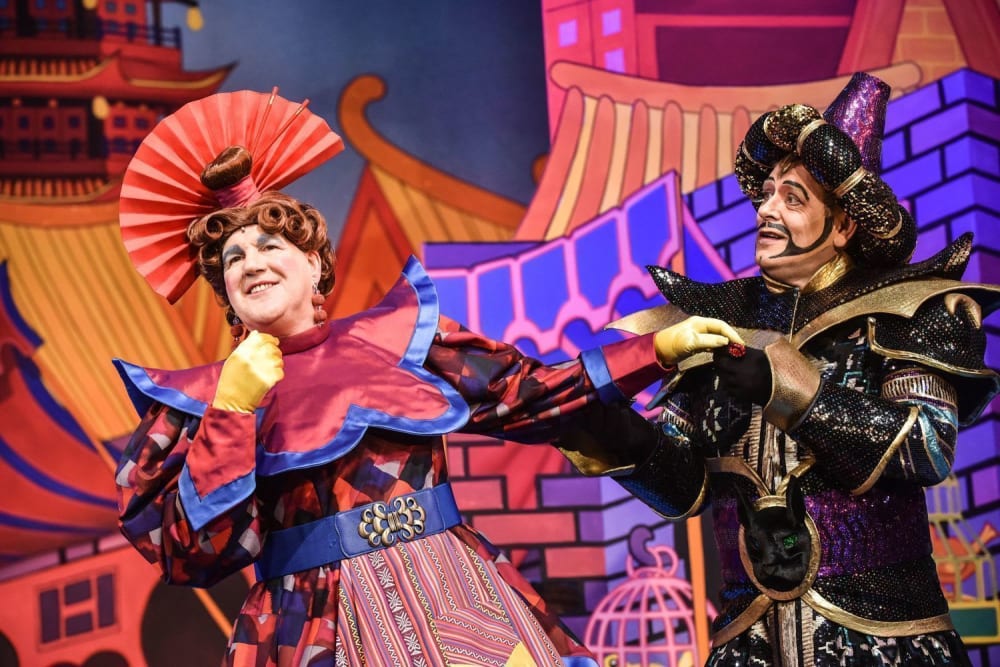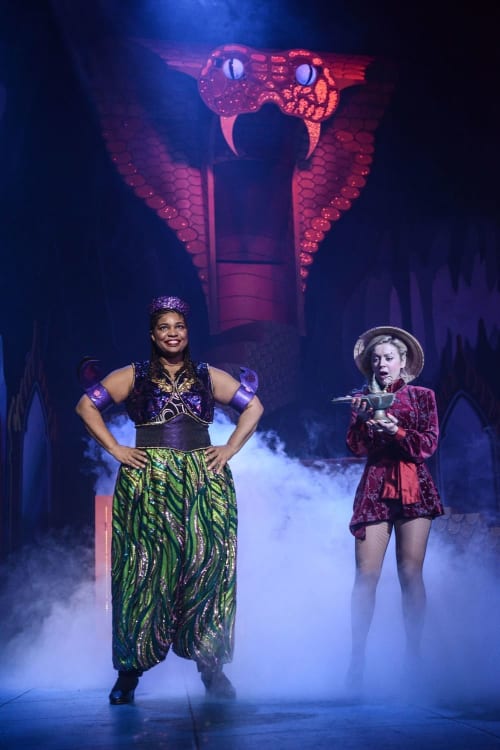 Female Principal Boys are somewhat a dying breed in Pantoland, but at the Nottingham Playhouse they are very much alive in a production that exudes charm and tradition.
Having presided over the Playhouse Panto for thirty-three years, Kenneth Alan Taylor is one of our leading pantomime practitioners, inspiring and training future generations of performers to ensure the legacy of pantomime is kept alive.
But this does not result in a museum-piece re-enactment, rather a glorious celebration of the form, honouring the past and embracing the present as part of the genre's evolutionary course.
Taylor's production delivers almost all of its narrative in act one. Each episode is ticked off with efficiency from the Genie of the Lamp's reveal to Kevin McGowan's suave Abanazar call of "New Lamps for Old", concluding with a triumphant rendition of 'The Impossible Dream' as Danielle Corlass's heroic Aladdin gets set to rescue Jasmine White's pitch-perfect Princess.
Whilst this means we are bereft of a transformation sequence due to the Enchanted Cave's scene three status, it does permit a focus on the quest rather than romance narrative and demonstrates that female Principal Boys can and do still work in amongst all the criticism of the practice.
Honouring the past is something the Playhouse Panto excels in. This year's Aladdin pays homage to Wilson, Keppel and Betty and their famous sand-dance, which brings down the house, encore after encore, thanks to Darren Southworth's Empress of China and Nathan Elwick's Wishee Washee. The two execute their comedic choreography with precision and have the audience transfixed as they strut, scuffle, skip and slide across the stage, reminding us of the physicality of pantomime and its roots stretching back to the commedia dell'arte.
Elwick's Wishee Washee is a charming, cheeky chappy and together with John Elkington's Twankey the two exude pantomime finesse. Elkington is one of the country's greatest Dames and switches effortlessly from playing George Formby's "Chinese Laundry Blues" on the banjo to sending up X-Factor's Honey G dressed in sunglasses and silver bomber jacket. Together, they make a fine pair and their rendition of "Chinatown" on an assortment of pots and pans is a musical masterpiece worthy of replacing the more frequently seen comedy mangle sequence.
Rebecca Little and Irene-Myrtle Forrester double up as WPCs Ping and Pong and the Immortals, giving the roles comedic flair. Little's spritely Slave of the Ring helps save the day when she leads Aladdin to Abanazar and celebrates by an impressive rendition of "Anything Goes" in Mandarin whilst Forrester brings a friendly richness to the role of Genie.
From Old Peking's Market Place and back again via a cobra-inspired cave, a ride through the solar system and journey on the Orient Express, Nottingham Playhouse's Aladdin takes its audience on a sophisticated and elegant pantomime journey full of heart and joy.
Reviewer: Simon Sladen