Aladdin
Fine Time Fontayne and Chris Lawson
Oldham Coliseum Theatre
Oldham Coliseum Theatre
–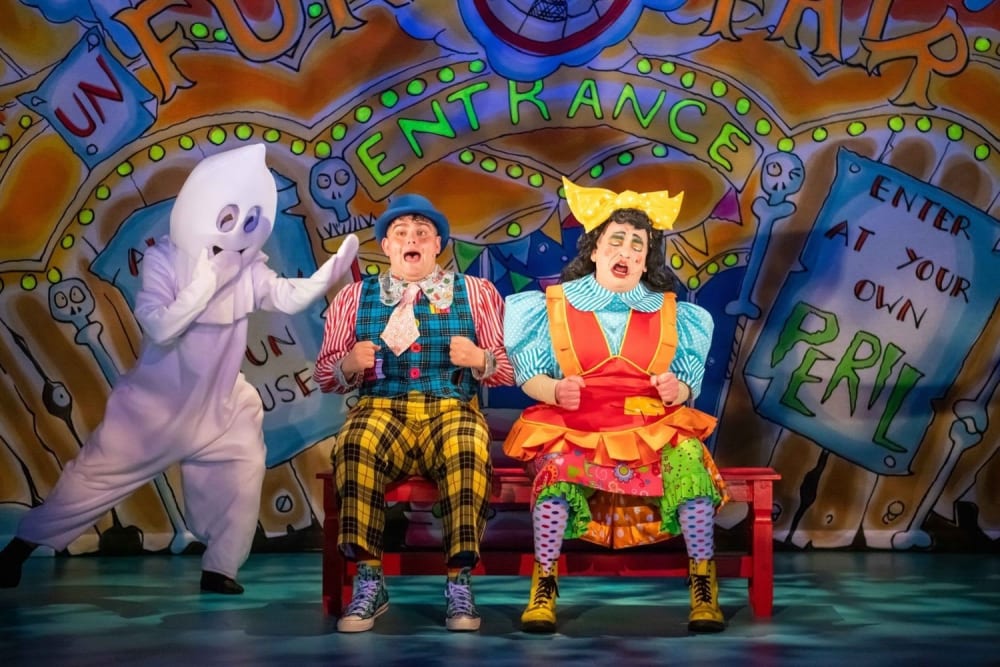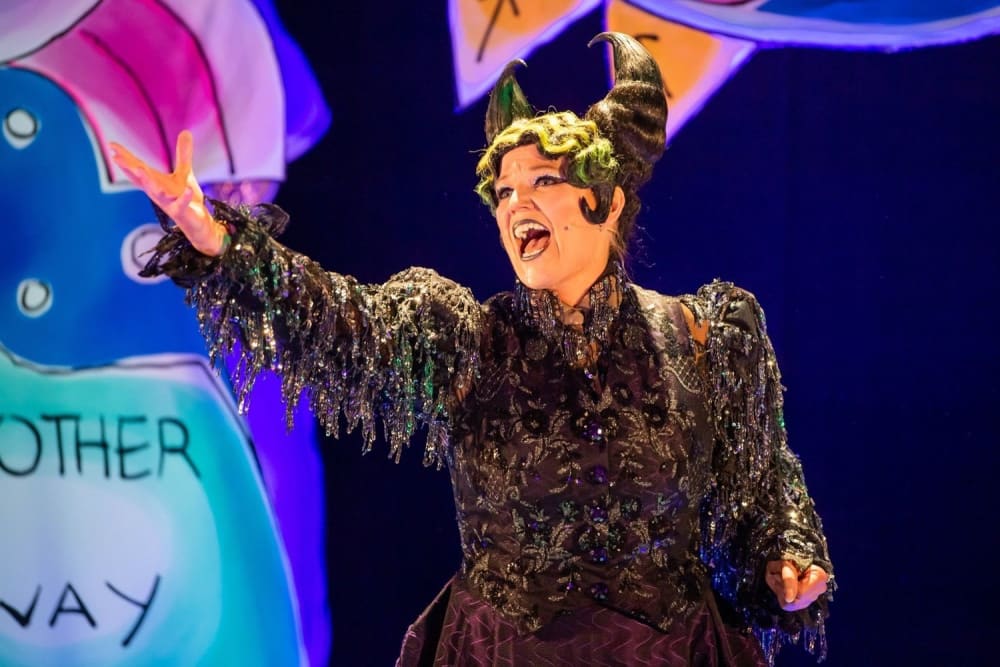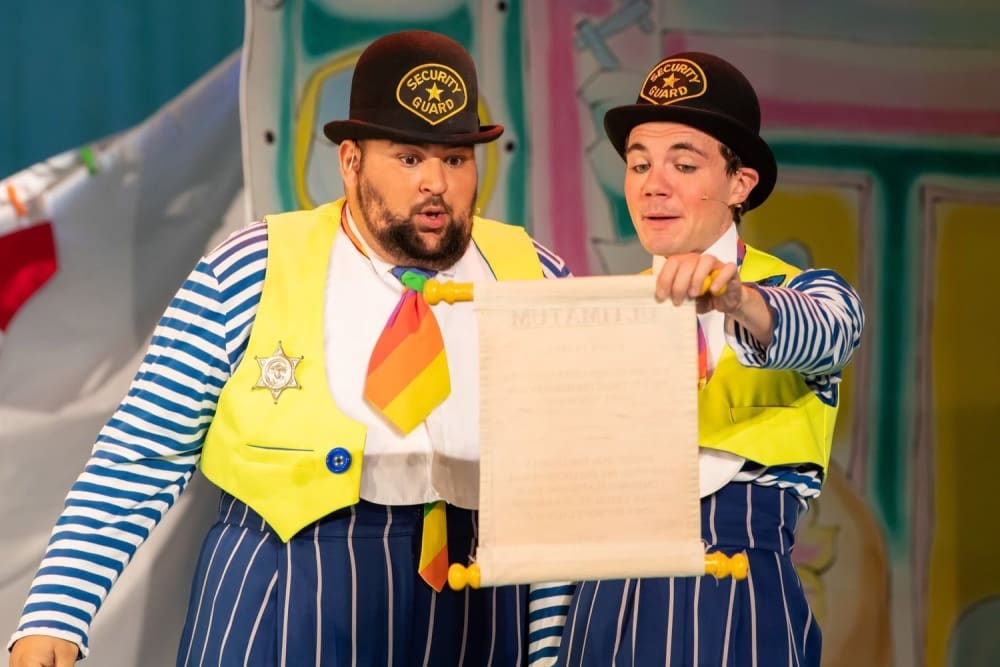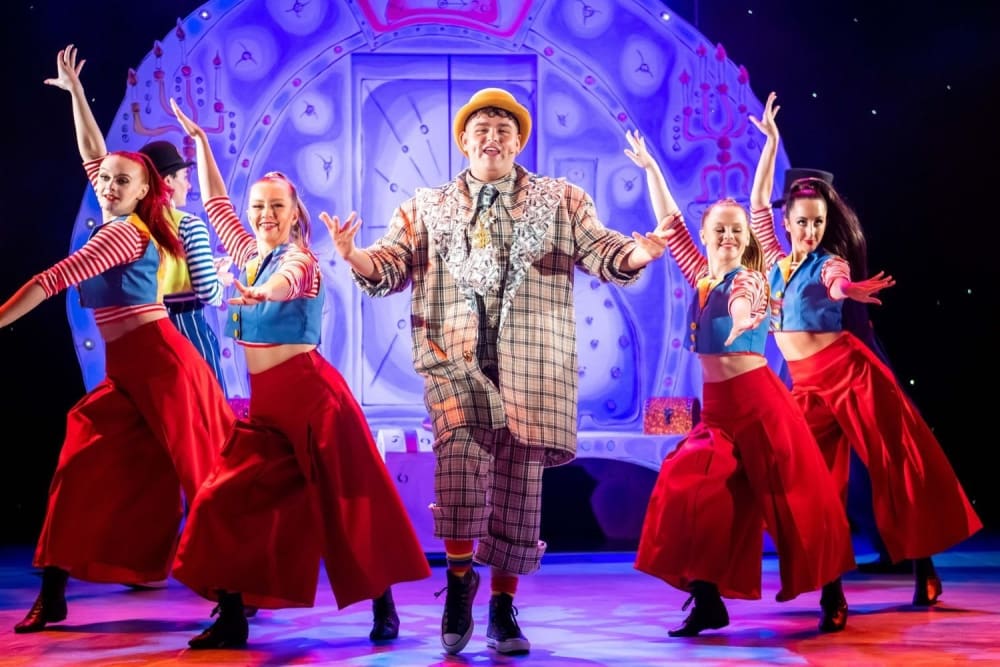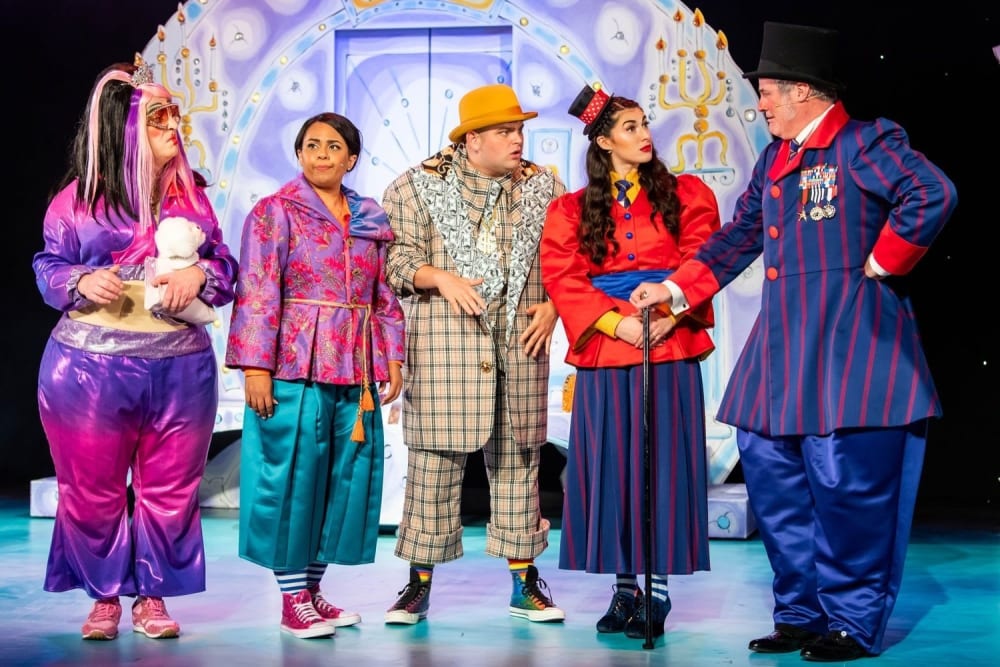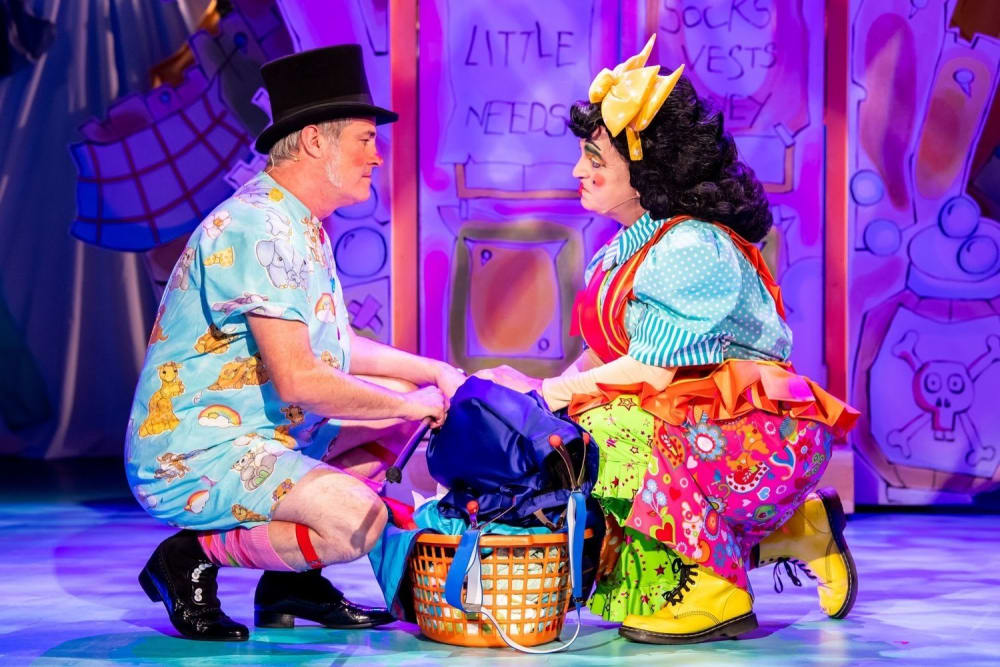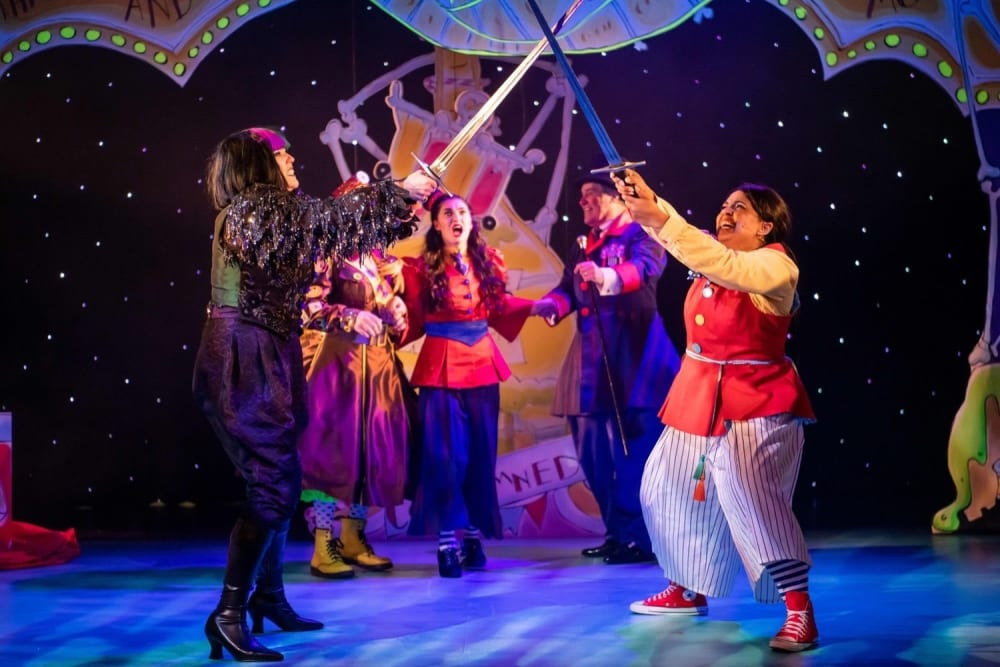 Postponed from last Christmas, as many pantos were, Oldham Coliseum's Aladdin finally opened to a full and enthusiastic first-night audience, with tickets for next year's Robin Hood going on sale on the same day.
The cast comprises a mix of familiar Oldham panto faces with a few newcomers and current Artistic Director Chris Lawson has stepped into his predecessor Kevin Shaw's shoes as both director and co-writer with Fine Time Fontayne, who handed in his Dame dresses a few years ago to be taken up by former Comic Richard J Fletcher, a role he is growing into well. The juvenile chorus, a difficult thing to achieve with the many precautions necessary in a pandemic to keep a show running for two months with no understudies, is replaced by four hard-working professional dancers, although even half of these are former Oldham panto amateur chorus members.
For me, the most striking element of any Oldham panto is always Celia Perkins's wonderful designs: fresh-looking picture-book sets with lots of hidden jokes and bright, colourful costumes, all nicely lit by Douglas Kuhrt.
The story is pretty much the same as usual but with an Oldham twist. The villain is Liz Carney's Aunty Banazar who, with the help of Alex Phelps as the Spirit of the Ring, needs to get to Oldham to find Aladdin, for some reason the only person who can go into the cave full of treasure to get the magic lamp for her. Aladdin (Shorelle Hepkin) has fallen for Princess Jasmine (Dora Rubinstein), daughter of the Emperor (Shaun Hennessy)—yes, an Emperor, in Oldham, but bear with it, it gets much stranger.
Aladdin gets locked in the cave and conjures up Marc Zayat's rainbow hippy Jinn of the Lamp together with his tie-dye-clad dancers and consequently becomes rich enough to marry the Princess, until the lamp falls once more into Aunty Banazar's hands. Then she kidnaps the Princess and takes her to a replica she has built underground of the old Belle Vue fairground. I've no idea why this is in the story other than as a local reference, but I only know about the various rides mentioned from my dad and I'm older than most of the parents in the audience.
Oldham always proudly labels its pantos 'traditional', which is a fairly ambiguous term as panto traditions have changed enormously over the past century or so. In the case of this show, most of the routines—and almost all of the jokes—would have been familiar to panto performers and audiences of fifty years ago. Fletcher's Dame is in the 'bloke in a dress' mould, and this must be one of the few pantos at the moment to still have a female Principal Boy. Most of the songs are from within the last 25 years, although Neil Diamond's "Sweet Caroline" appears twice, once as the song sheet number.
This was the first night, so the rather mechanical performance of some of the routines and the feeling that even the audience participation comes across more as rehearsed than spontaneous and reactive will quickly improve during the run. However there are some routines, like Wishee Washee's (Sam Glen) new washing machine, that have a long set-up with no significant pay-off or decent punchline.
Dave Bintley's tiny pit band (Bintley on keyboards, Paul Allen on drums and Nathan Welch on bass) sounds great with any style of music thrown at them, although the PA sound is rather muddy and indistinct. Dancers Heléna Ferreira, Molly-Mae France, Abbie Holt and Erin Marshall dance and sing well on the cramped stage in several different numbers and costumes, but Hepkin, a solid and reliable Principal Boy character throughout, stands out amongst them in an energetic bit of street dance towards the end.
Oldham audiences book to see these pantos year after year as they are a Christmas tradition and a party for them and their families, whatever happens on stage. They will have just as much fun as always at this year's show I'm sure, but I can't help thinking that bringing some fresh blood into the scriptwriting team would bring new life into some elements that are starting to look a little tired.
Reviewer: David Chadderton