Aladdin
Eric Potts
First Family Entertainment
Opera House, Manchester
–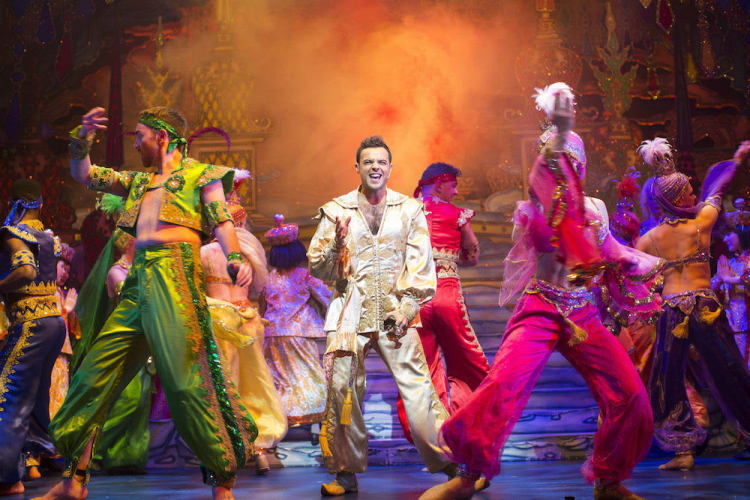 First Family's latest festive fun for Manchester places the names of the baddy and one of the immortals above the title, both with local connections: Salford-born John Thomson as Abanazar and Coronation Street star Sherrie Hewson as the Genie (not the Slave) of the Ring. Eric Potts, also formerly in Corrie, writes, directs and plays Widow Twankey.
The show opens rather low-key with the two stars in an Egyptian-themed set before moving off to Peking for the big opening chorus number. There, of course, Aladdin falls in love with the unattainable princess, his brother Wishee Washee can't get a girl, his mother runs the local laundry and the only policeman isn't very competent—all the usual stuff.
Ben Adams of British-Norwegian pop band A1 is an appealing and charismatic Aladdin who knows how to connect to an audience in a role that doesn't call for much audience interaction, unlike Wishee Washee, played with a lot of fun and great comic delivery by Neil Henry, who also incorporates some nice magical gimmicks into his performance that are well-integrated into the character and plot.
Eric Potts does his usual thing as the Dame, playing up to every audience reaction and leading a spectacular number to the title song from Hello Dolly as well as a bit of ballet in a tutu. Joe Speare is in fine deep voice as the Genie of the Lamp, and Michael Remick presents his doddery old ruler act effectively as the Emperor. Phil Holden as PC Pong is fine but doesn't have much to do and looks like he should be half of a double act (was there also a PC Ping at some point?). Claire-Marie Hall also has little to do as Princess Jasmine other than fall in love with Aladdin—Principal Girl roles have moved on from this a lot in recent years.
The top-billed stars make plenty of references to their recent TV work but look under-rehearsed and at times seem to be going through the motions when delivering some tired old gags, with which the script is littered. It feels more like a rehash of an old piece than something fresh and new. You can hear the creak of the crowbar as references to local place names and recent events in popular culture are forced into lines that are older than most of the cast and audience. Some lines had a faint whiff of the 1970s, such as referring to the male dancers as "pansies" and the market stall in China with a sign offering "flesh fluit".
The jokes might be "traditional", but what of the panto traditions? Well the dame is exactly as you would expect and want from the role, the male principal boy is now almost universal, Wishee Washee conducts the audience through the songsheet before the wedding at the end and the genies appear and disappear in satisfying puffs of smoke. There is no slosh scene, but there is a bit of mild slapstick in the laundry involving PC Pong. However the "If I Were Not Upon This Stage" has very little slapstick in it at all and doesn't really earn its place in a show that ran considerably over the declared running time on press night.
There is a nice magic carpet ride as Aladdin sings Aha's hit "Take On Me" and an interesting bit where the carpet, to create an "it's behind you" moment, becomes effectively a skin role. Of course evil Abanazar gets his comeuppance at the end, but how this happens is, frankly, a bit weird.
Of course there were plenty of people there having a great time as that's what they had come to do, irrespective of what happened on stage, but it takes more than a few references to X Factor and local towns to make the show itself, rather than just the event, really come alive for a modern audience.
Reviewer: David Chadderton