Aladdin
Alan McHugh, additional material by Ben Nickless
Crossroads Pantomimes
Opera House, Manchester
–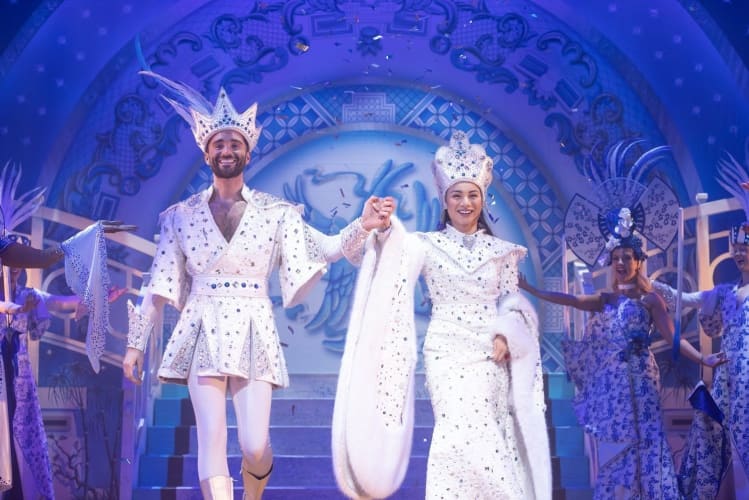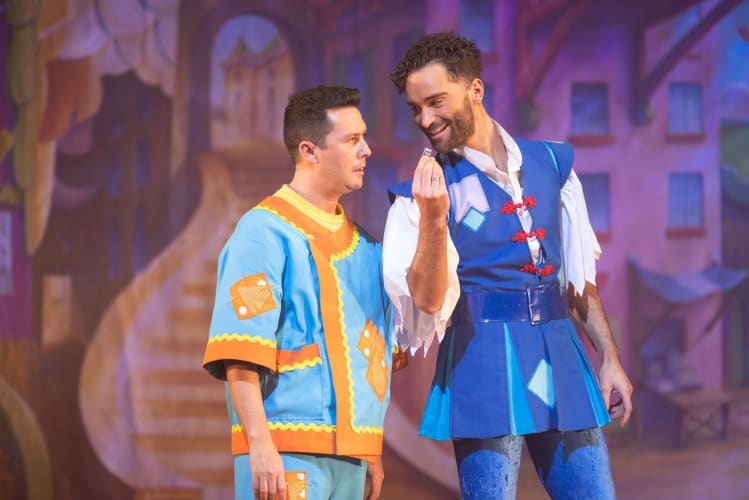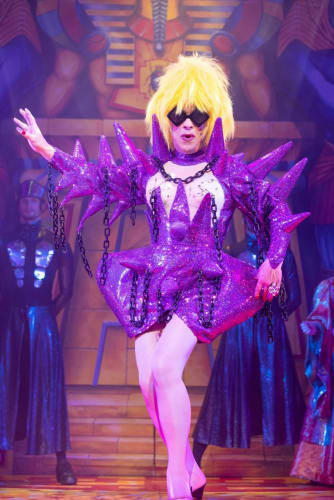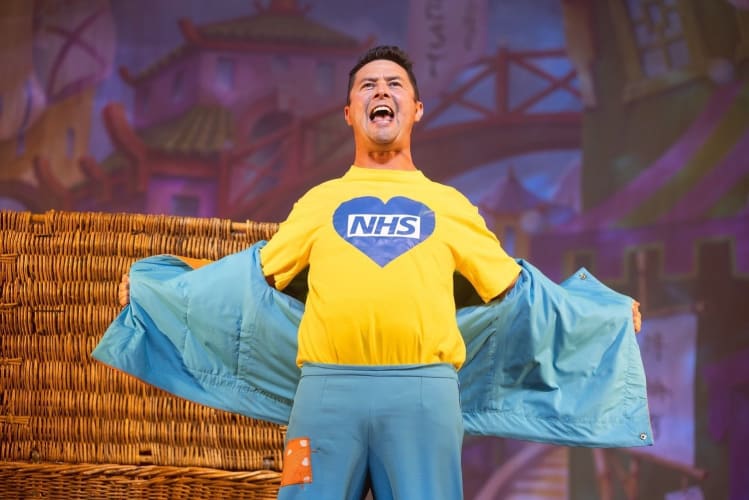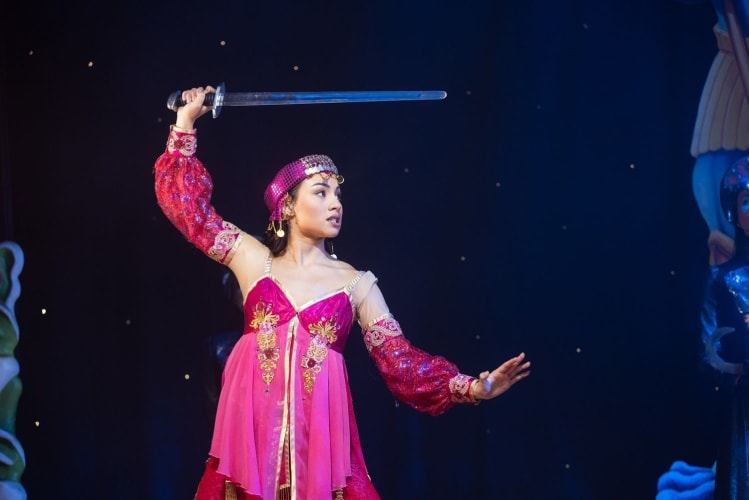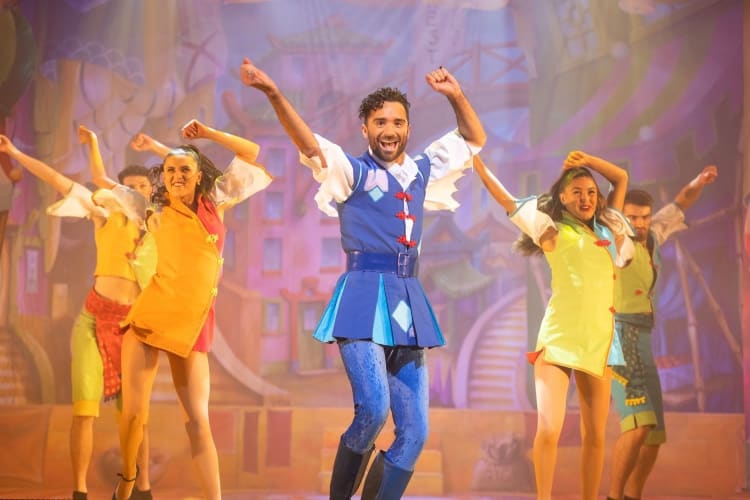 If you think you may be too old and jaded for pantomimes, this could be the show to change your mind and bring you back into the fold.
The front cloth as the audience enters (set designer Ian Westbrook) depicts pyramids, Chinese dragons, Sphinxes and minarets, suggesting an Eastern odyssey, but John McLarnon's evil Abanazar actually takes his quest for the Chosen One who can recover the magic lamp for him to 'Mancunia', although the Supreme Leader's (Nicola Sanderson) broad Mancunian accent has nothing on that of the Genie, who goes the full Bez with his '90s Manc slang.
Aladdin (Matthew Croke) refuses to hand the lamp over and rubs it to get his wishes from the Genie, to be rich enough to be allowed to marry Princess Jasmine (Rumi Sutton). But Abanazar gets the lamp back by tricking Widow Twankey (Ceri Dupree) and her son Wishee Washee (Ben Nickless) with his "new lamps for old" routine and takes the Princess for himself. Of course it all ends happily with a wedding between Aladdin and the Princess.
Top of the bill is Alexandra Burke, an accomplished X Factor-winning pop singer and Strictly-finalist dancer with a few acclaimed roles in musical theatre under her belt. She plays Sherezade, the magical spirit of the ring, a part that is often quite small but here is heavily involved in the plot as well as several big musical numbers and comedy routines, showing off her all-round talents. She performs some of her hits, including "Bad Boys", which got a cheer from her fans on press night just from the introduction, and her version of Leonard Cohen's "Hallelujah", but also has a hilarious dance-off with Wishee culminating in an attempt at the famous Dirty Dancing lift... that doesn't end well.
This is a show, however, that really belongs to the Comic, and Nickless is in total command. In a theatre this size with a full lighting rig and even the dialogue turned up to 11, it can be difficult to get a rapport with the audience, but Nickless does it brilliantly, with a skill of delivery that has you laughing even at jokes you've heard a million times before.
His routines range from the familiar—delivering a tongue-twisting message between—to the bang up-to-date—a coronavirus rap and some very sharp digs at the government—plus variations on routines he's done here before, such as innuendo through clever use of DVD titles, and some I didn't recognise: ventriloquism made easy by a pandemic; a Trunk of Truth that magically vanishes his clothes when he lies. Instead of a song sheet, we get to enjoy seeing him battered around the stage in "If I Were Not In Pantomime" with Twankey, Aladdin and the Supreme Leader.
Dupree's Dame is largely the other half to Nickless's double-act routines but does get some comedy to herself, not to mention musical numbers and some pretty amazing costumes—including her rather striking appearance as Lady Gaga for her most famous hit rewritten as "Botox Face". McLarnon is clearly enjoying teasing the audience as Abanazar, Croke has the boyband looks for a male Principal Boy but with much more personality than many of them and Sutton's Princess initially seems to be waiting for her man to rescue her before showing she's more than capable of defeating evil by herself with some flashy swordplay.
On top of the comedy, the music and the romance, there is some impressive spectacle as well. Aladdin disappears from on stage and appears in a side box, then later goes on a magic carpet ride over the audience (some very clever use of lighting—designer Simon Wilkinson—hid the mechanism from me completely). The Genie is a giant puppet, as is the snake that Abanazar turns into, which are both effective but I was slightly disturbed that their mouth movements seemed to bear no relation to their speech.
Musical director Francis Goodhand leads a 5-piece pit band in some effective arrangements of a range of big musical numbers, some including rewritten lyrics to fit with the plot or just for comic effect. Tom Marshall's sound design is mostly full and clear in a space that can be acoustically challenging.
If you are still reticent about returning to theatres, a packed and quite humid Opera House is probably not a good first visit back for you, even with the requirement for masks and COVID passports.
However, if you want a real spectacular panto that is thoroughly entertaining for both kids and adults, you'll probably not find a better one in this region this Christmas.
Reviewer: David Chadderton