Aladdin
Le Navet Bete and John Nicholson
Le Navet Bete and Barbican Theatre
Plymouth Atheneum
–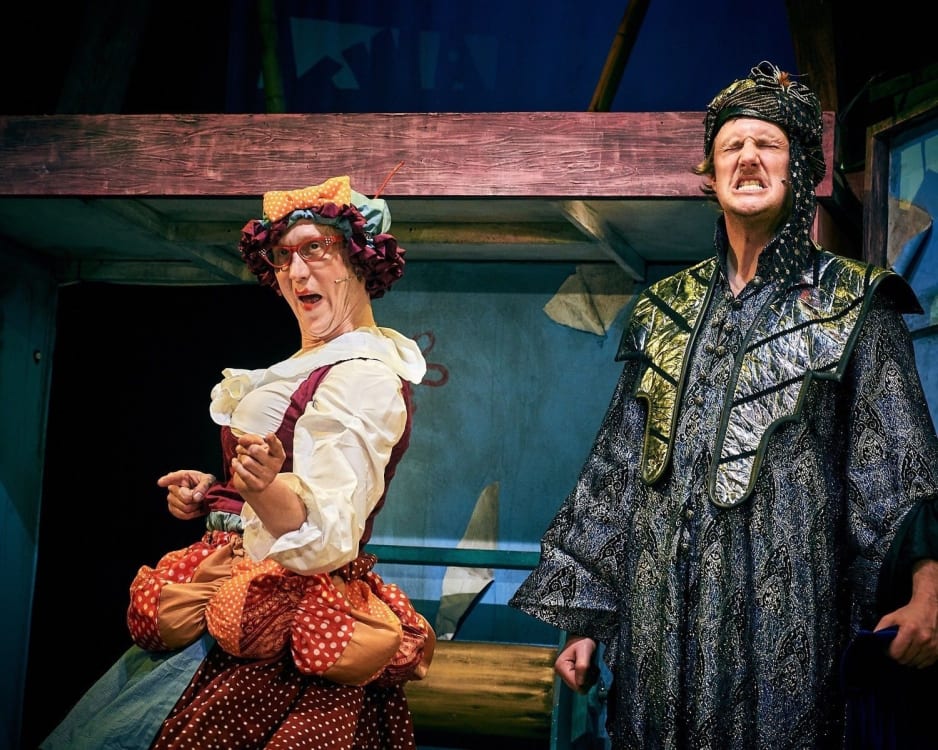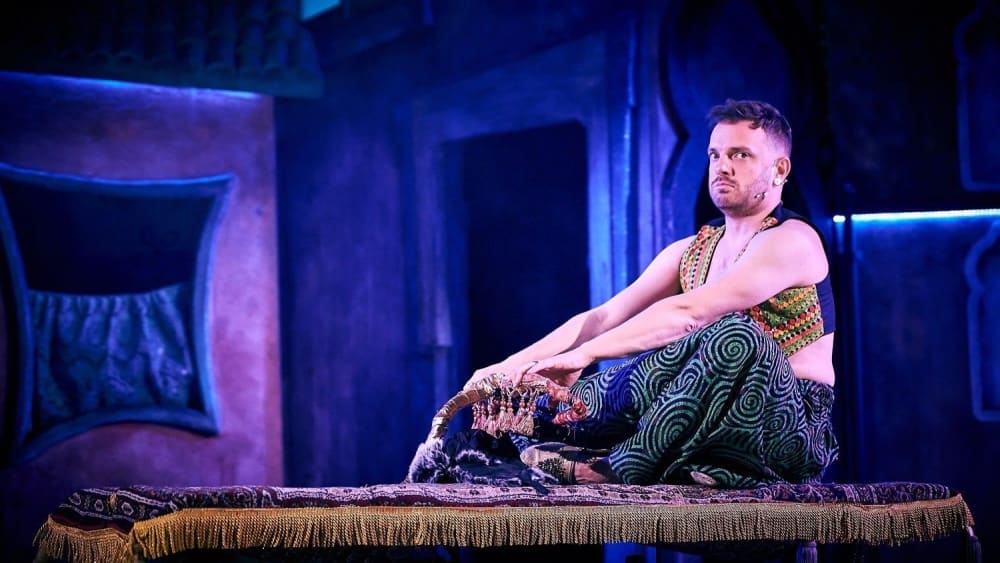 It must be Christmas: Le Navet Bete is about and this time it is traditional panto that comes under its spell.
The daft Plymouth University graduate foursome (and Wheaty behind the scenes) presents Aladdin as never seen before—blending Peckham and Peking; curses, caves and Christmas trees; laundry, lanterns and lots of laughs.
Plying physicality and the art of quick change, Le Navet Bete (silly turnip in translation) has a surefire winner but aimed mostly at an older audience with the speed of the action and curse of the double entendres rampant, and way over the heads of most children (please god).
Cleverly parodying pantomime, and with myriad characters—from the traditional Wishy Washy and Widow Twanky through dogs, royalty, adoptive parents and pneumatic Germanic lycra-clad servant to brilliant baddie, lovelorn would-be luvvie Al and petulant princess—all played by the dynamic four, the mayhem mounts and action accelerates as good and true love triumph. Just.
Dan Bianchi channels his inner Rik Mayall as Jafart: louche, loud and highly boo-able, shimmering his way to fortune and power (and a lifetime of yodelling) while Al Dunn bares more than his soul as skater boy Aladdin, foundling, hero and bearer of twinkly earrings. Matt Freeman struts his stuff as the cursed Jane McDonaldesque Dame with perfect tongue-in-cheek (as the actress said to the bishop) timing and lewd suggestion and dodders dolefully as the shuffling He Who Cannot Be Touched sultan.
Nick Bunt plays fresh-faced innocent Wishy Washy, the resourceful but suspiciously five o'clock shadowed Jasmine and psychedelic genie full of bottled-up jazz hands and bonhomie. And more. Manic.
Shoehorned into the racy romp are songs, a flying carpet, slapstick (fab physical philandering in an ad hoc wallpapering skit), water pistols and audience participation.
Pastiche panto it may be but the Fi Russell's set is slick, shifting the action from palace to laundry, dungeon to street and testament to the carpentry skills of Spencer Rouse and Dante Villa and painter Jamie Andrews.
It's Le Navet Bete's eighth show and the inimitable company goes from strength to strength. I look forward to the next.
Reviewer: Karen Bussell