Aladdin
Jamie Alexander Wilson
Magic Beans Productions
Stag Theatre, Sevenoaks
–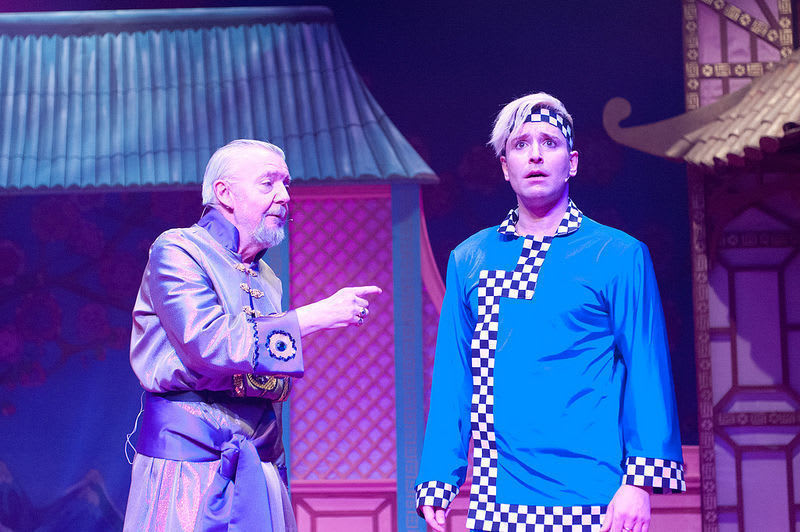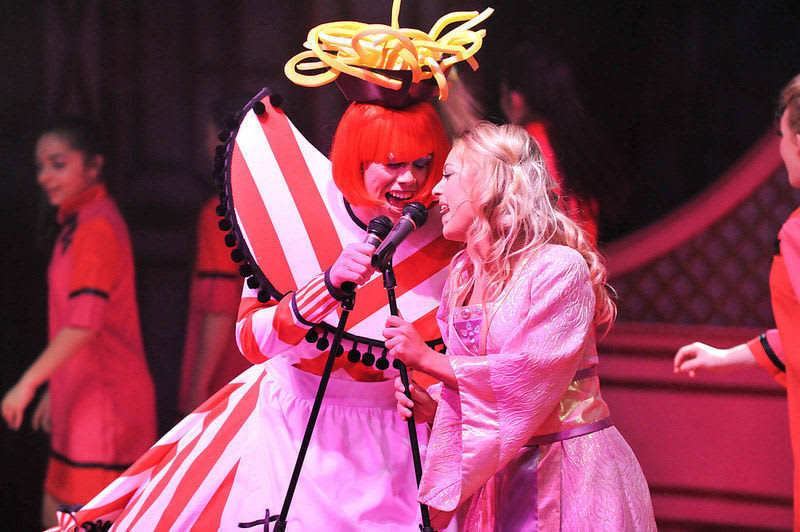 Over the past four years ticket sales for The Stag Theatre's annual pantomime have risen over 100%. Such an increase demonstrates the strength and quality of pantomime at the venue and Aladdin, with its extra week added due to popular demand, continues the magic created by Magic Beans Productions since 2009.
Magic Beans Productions pride themselves on being "passionate for pantomime," striving to "create shows that are exciting and entertaining" and Aladdin certainly delivers including a snappy mangle sequence, a ghoulish Ghost Gag and a well executed balloon ballet complete with comic payoff. A four piece band creates a wonderful sound under the musical direction of Debbi Parks and with the ensemble comprising over 30 dancers, juveniles and babes, Sevenoaks's stage is one of the most populous in Pantoland.
Following the pattern of past pantos at The Stag, the producers have yet again cast a celebrity in the role of Villain, this time Shane Lynch of Boyzone fame in his first wicked role having played Prince at venues across the country for the past decade. Lynch's Abanazar is a cross between Gollum and Mr Burns from The Simpsons and at times it is difficult to understand his slurred semi-whispered mutterings. His role has been reduced somewhat in Jamie Alexander Wilson's script and it is a shame that having once sold 13 million albums worldwide, Lynch doesn't get his own musical number.
This year the production boasts not one, but two celebrities, with Pineapple Dance Studio's Andrew Stone as Chief of Police sending himself up in a comic subplot whish sees him constantly vying for the spotlight and role of Aladdin. Stone gives his all in performance and enters into the true spirit of Pantoland mocking not only himself, but also the notion of celebrity casting.
A strong believer in providing opportunities for new talent, director Wilson's Principal Boy and Girl were found via an X-Factor style competition earlier this year and Drew Levi and Lucy Reed as Aladdin and Jasmine sing wonderfully and make a youthful principal pairing full of life.
The rest of the cast sees many familiar faces return to the venue with Jasette Amos's smooth and soulful Genie driving the narrative, whilst Tony Haygarth's doddery Emperor manages to get a laugh whenever possible as he keeps everyone on their toes.
At the heart of any successful panto lies the partnership of Dame and Comic. An experienced duo, Robert Pearce and Ant Payne demonstrate the skill required to play the stock roles and prove that the best panto partnerships are those which have had time to grow, develop and mature. Just as Berwick Kaler and Martin Barrass at York Theatre Royal know exactly what each other is thinking, so do Pearce and Payne as they banter and bounce off one another and send the audience into fits of laughter. A solid panto double act, they know exactly how to work their material and understand the importance of acknowledging and incorporating the audience into their performance at every opportunity.
The Twelve Days of Christmas routine is given a nice Chinese takeaway twist with spring rolls replacing the usual toilet rolls and even though there's very little evidence of Twankey's new take-away service, the piece is interwoven well into the first act's narrative structure.
Songs come thick and fast throughout, with tributes to Motown making the lamp's whereabouts a Cave of Stevie Wonder(s) and 'Gangnam Style' manages to make its way into proceedings thanks to a comedy chase sequence. A slow-mo scene for the recapturing of the lamp is a nice touch complete with 'Chariots of Fire' underscoring, but 'Man in the Mirror' as the show's finale does seem a little out of place.
James Maciver's costumes burst with life, as does the production's scenary; however, the enchanted cave is a little disappointing and more could be done with the magic carpet flying sequence to take full advantage of the show's special effect.
Next year's production has been announced as Robin Hood and the Babes in the Wood. This title heralded the end of pantomime at both Drury Lane and the London Palladium, let's hope it's not the case at The Stag, where pantomime is thriving.
Reviewer: Simon Sladen