Aladdin
Choreography by David Bintley
Birmingham Royal Ballet
The Lowry
–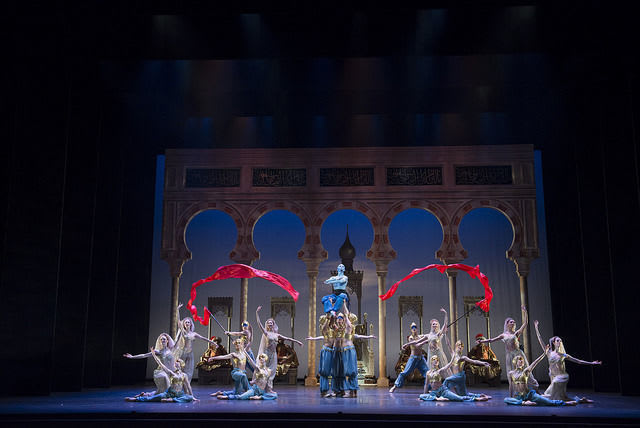 Birmingham Royal Ballet returns to The Lowry with its modern fairytale ballet Aladdin, a work originally created by director David Bintley for the National Ballet of Japan, and revisited now by the company for its autumn/winter tour.
It's a fun, family-friendly ballet completely driven by its familiar plot: a poor young man retrieves a magic lamp from a cave, at the behest of a sinister magician. Having awoken the powerful Djinn of the Lamp, Aladdin becomes rich, and is able to marry the princess whose heart he has won. The magician returns to claim his lamp, however, and Aladdin must use all his cunning to rescue both genie and princess from the sorcerer's clutches.
The cast of characters are vivid and clearly defined: the evil Maghrib (Iain Mackay) is reminiscent of Mickey Mouse's adversary in Fantasia with his robes, pointed hat and long beard. Aladdin (Mathias Dingman) is an irrepressibly mischievous trickster, while Momoko Hirata is a beautiful and delicate presence as Princess Badr al-Budur. The most memorable character is undoubtedly the luminously blue Djinn (Tzu-Chao Chou), who spends a lot of time hovering over the stage either on a zipwire or in athletic leaps and jumps.
The famous cave scene is envisaged as a series of sparkling divertissements, danced by a succession of different jewels: watery Sapphire mermaids, regal gold and silver monarchs, a sensual Ruby pairing and a chorus line of glittering Diamonds. This borrowing from the classical tradition is a rare and enjoyable diversion from the story.
The production moves along at speed—this impression is increased by the ensemble scenes, which rather overcrowd the stage, and the generally fast pace of most of the dancing. Aladdin and Badr al-Budur's duets are brief, romantic and beautifully performed respites from this relentless momentum.
The ballet is set in 'old Arabia,' which manifests itself as a slightly confusing blend of eastern cultures. A fleet-footed Chinese Lion dances alongside ballerinas in harem pants—Aladdin's mother, wearing traditional Chinese dress, walks arm in arm with the Sultan, who wears a turban.
Carl Davis's score has oriental elements, but is mostly dominated by horns and doesn't quite conjure up images of an exotic faraway land.
But the most worrying design choice is in the third act, when the princess, imprisoned by the Maghrib, is surrounded by women in black niqaabs. This allows Aladdin to sneak in disguised and rescue her, but the association of these garments with both the evil magician and an act of deception is shockingly insensitive, particularly in the current climate.
While this ballet might not be as enchanting as I'd hoped it would be, it is nonetheless an entertaining story, well told and beautifully danced.
Reviewer: Georgina Wells