Aladdin
Paul Hendy
Sheffield Theatres and Evolution Pantomimes
Sheffield Lyceum
–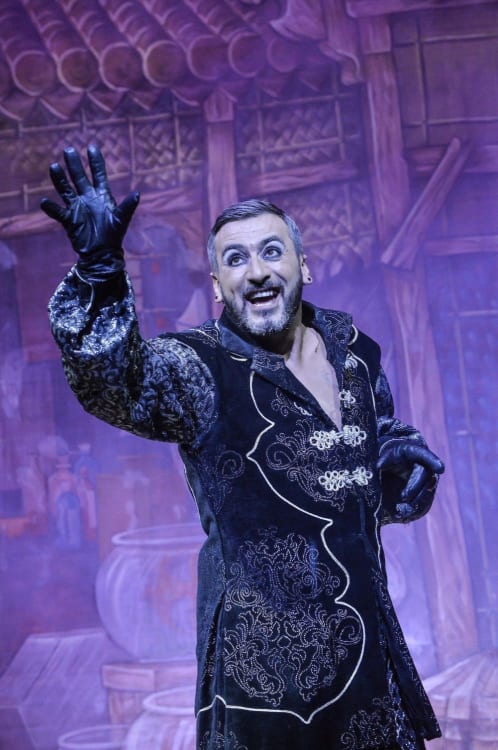 Evolution Pantomimes returns to the Sheffield Lyceum with a sparkling, vigorous, inventive Christmas entertainment.
Writer-director Paul Hendy has excelled himself with a witty, topical show which includes all the familiar sequences, like the Lyceum ghost bench, the slapstick water events and audience sing-alongs, as well as some new and very exciting special effects.
Casting has been particularly successful this year. Damian Williams returns as Widow Twankey and pours himself into the part and some very tight dresses with his customary vigour and quick-fire repartie. An audience member is picked out to shout "Hello Gorgeous" every time Williams appears on stage, which releases a titillating range of lecherous responses.
The triumph of the evening is Chris Gascoyne (familiar from Coronation Street) as the dastardly Abanazar, whose ambition it is to be "the greatest Shakespearean actor in the world". Gascoyne's list of credits is broad and includes challenging serious plays as well as his pantomime performances. He brings enormous stage presence, masses of experience and a powerful voice to his interpretation of Abanazer and drops pearls from Shakespeare with impressive haminess.
Equally enjoyable is Hilary O'Neil's Spirit of the Ring (the fairy part). Hilary is widely experienced as a performer, but has also written pantomimes and currently has a one-woman show which tours the world on ocean cruises. As well as a powerful singing voice, she has a gift for impersonation which adds to the humour of this production.
Love interest is provided by Jonathan Halliwell, a heroic Aladdin with a delightful singing voice, and Elizabeth Carter as a charming and beautiful Princess Jasmine. Halliwell brings absolute sincerity to his sung professions of love for Princess Jasmine, which is as it should be.
There are strong performances from CBeebies' Alex Winter as Wishee Washee who establishes a comfortable rapport with the children (Old MacDonald had a trout!) and James Mitchell as PC Pongo, who takes the brunt of the very amusing, slippery and wet custard pie sequence. Ieuan Rhys is resplendent as the Emperor of China.
Eddie Elliot arrives late in action as the Genie of the Lamp. As well as wide experience in music theatre and pantomime, he has worked as an MC, host and compère in different contexts, has excellent comic skills and a powerful voice. It would be good to see more of him.
The set and stage effects are particularly impressive this year. Helga Wood has used the Chinese setting as an opportunity to decorate the set and costumes with dragons and Chinese symbols, while retaining the more mundane aspects of Widow Twankey's Chinese laundry and personal couture, including a magnificent hat with odd bits of washing drooping from it.
There are high wire flying sequences, flashes and bangs and even fire eating! The audience is entranced by the large puppets from Mike Coltman—costume construction—which transform the traditional Pantomime Cow into something altogether different.
Musical director and arranger Rob Eckland heads a small team of accomplished musicians and operators, who use familiar songs and recorded music flawlessly and to good effect. Dance routines are as vigorous as ever with the child performers, in teams on different nights, enjoying themselves enormously. I particularly enjoyed a choreographed fight between Abanazar and Aladdin in which the actors moved like mechanical Star Wars figures.
This fast-moving, exciting production reminds us that pantomime is not only for young children but a family entertainment with something for everyone. A Christmas treat for all.
Reviewer: Velda Harris