Aladdin

Enchanted Entertainment
Tyne Theatre and Opera House, Newcastle
–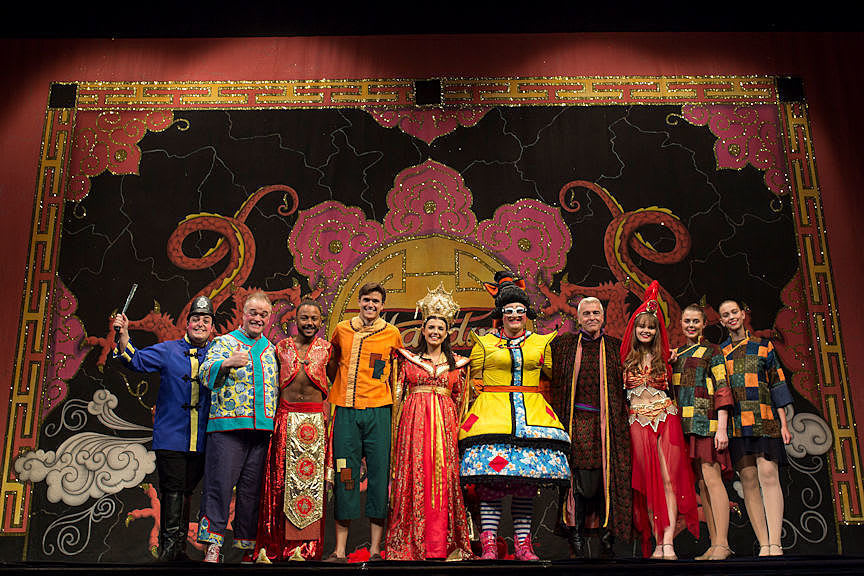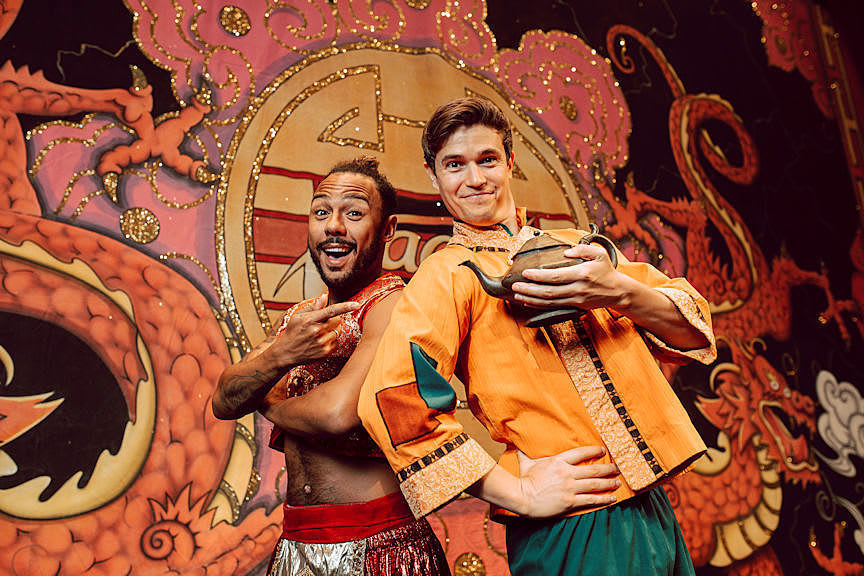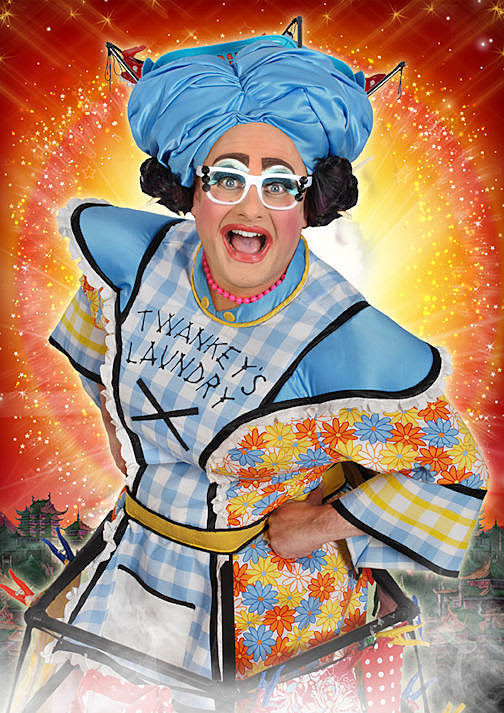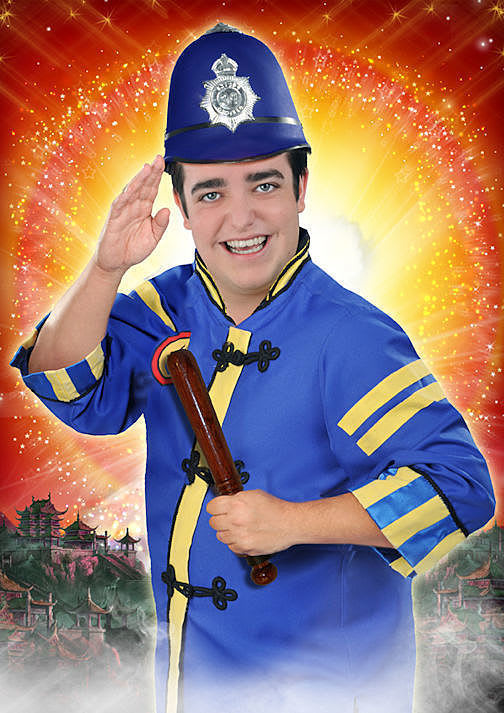 The Tyne Theatre's Aladdin is an old-fashioned panto, and I mean that in the nicest possible way. It reminds me of the shows I worked on at Sunderland Empire and elsewhere about fifty years ago—except then there were more people on stage. Who nowadays can afford six chorus girls and six chorus boys? Although it has to be said that they are better paid now!
Traditional scenes, traditional jokes (some positively ancient but perhaps new to most modern audiences—although some old jokes have been developed further and a few new ones have made their way in; the Dame's deceased Dutch husband appeared for the second time this season!
And there's a speciality act! Wow!
Well, two really—a fire act courtesy of dancer Rachael Alexander and aerialism from her and the other female dancer, Emma Dearden. Both scenes were impressive and drew many an "oo!" and "ah!" from the audience.
I can't remember the last speciality act I saw in a panto in the North East.
And there are ten Babes. Sorry! Age showing! I mean juvenile dancers, of course, and very good they are too.
The sets and costumes are bright and glittery, except, obviously, for Abanazar's costume, and the variations on his name (not the traditional Avabanana) are many, unlikely and funny.
"Funny", in fact, is the key word, for humour is what this show is all about and even that part of any panto where the kids tend to get restless and begin to lose interest (yes, the often sloppy romantic song) kept them involved—and howling with laughter! In fact, there are loads of opportunities for laughing, shouting, screaming and leaping around like a mad thing, or all at once, for instance, when trying to catch the sweets thrown from the stage.
Yes! Throwing sweets to the audience! It used to be an essential (and popular) part of every panto but now health and safety and fear of litigation seems to have put paid to it in most.
There's a quite short—but very gooey—slosh scene and a take-off scene which, as always, carries the kids to the heights of hysteria.
The only non-traditional thing is the use of a male Principal Boy (although admittedly it was in the 1920s that we first saw men in the role). He's Nic Westaway from the Australia soap Home and Away (cue Neighbours jokes) and, unlike some who are drafted into panto purely because of their celebrity, he does "get" the genre and makes an engaging and likeable Aladdin.
His brother Wishee Washee (there's a nice—but ridiculous—joke about their relationship) is played by Charlie Richmond, now in his 11th year in panto at the theatre—and it shows. He is totally at ease on the stage and holds the audience in the palm of his hand; he can get howls of laughter for even the worst of bad jokes.
Their mother Widow Twankey is played by Chris Casserly who is very much the "bloke in a frock" kind of Dame—loud and blousy—and our hero's love interest, Princess Jasmine, is Newcastle-born Hannah Wales, who is beautiful of looks and beautiful of voice and with a great sense of fun, the perfect Principal Girl.
Then there's local lad Lewis Denny (PC Pong) in his fifth panto at the Tyne and as funny as ever although not used quite as much as in previous shows, Steve Halliday, another local, as Jasmine's father, the Emperor of China, whose cold demeanour unfreezes remarkably quickly when Aladdin suddenly becomes rich, and X Factor winner Marcus Collins as a very impressive singing and dancing genie.
He, like the Spirit of the Ring (Dancer Emma Dearden), makes his appearances, accompanied by pyro flashes and smoke, through the theatre's Victorian trapdoor lifts. Joining them and completing the talented cast are the two male dancers, Adam Wicks and Declan Bailey.
What? No Villain? What about Abanazar?
David Easter had played the part for two days but then lost his voice and Andrew Goddard, who is to play the part in another Enchanted Entertainment production in the South of England, had to be rushed to Newcastle at very short notice. You couldn't tell. He obviously knows the lines and he managed to fit in with the company seamlessly.
So! Victorian stage machinery in action; pyro; much verbal and physical humour, including classic jokes and traditional scenes; bright costumes and a great cast who understand panto. What else do you need?
Music of course! There is a live band—just three but better than tracks—and a range of music which meant there is something for everyone (even those as out of touch with modern pop as I am), and each song appropriate to the moment.
Aladdin doesn't push at the boundaries of panto, doesn't try to do anything different but contents itself with telling the story in as entertaining and funny a way as possible. Traditional, yes, but a real audience pleaser!
Reviewer: Peter Lathan