Aladdin
Simon Aylin
Wyvern Theatre and For One from The Heart
Wyvern Theatre Swindon
–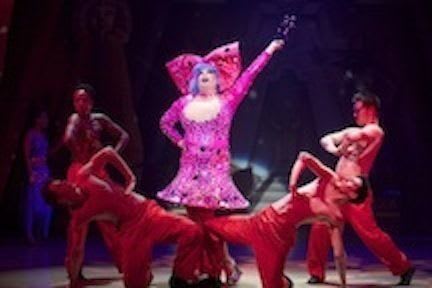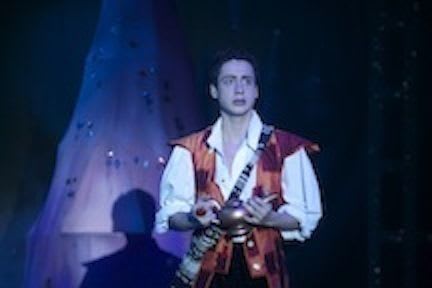 The Wyvern Theatre in Swindon has another hit on their hands with this year's Pantomime Aladdin which soars to the heights like his magic carpet.
Once again Keith Chegwin returns to Swindon this time to play Wishee Washee with his catch phrase of "way-hay" which was echoed by the enthusiastic audience and woe betide anyone who didn't participate—as Albert sitting in the front row discovered.
The ever effervescent, cheerful Chegwin has a magical rapport with the audience and seems to be having as much fun as the youngsters—who must have been the noisiest and loudest that I've ever experienced and they were all having a ball.
Welcome to Swing Yon (oh yes it is that sort of show with puns aplenty) where we meet Widow Twankey, the excellent Ian Mowat, who is looking for a new husband and has set her eyes on the Emperor, the impressive Nick Barclay.
Liam Ross-Mills shines as Twankey's young son, Aladdin, who falls in love with Princess Jasmine, a charming performance from Lauren Varnham who is certainly a talent to watch out for in the future.
Every panto needs a villain and David Ashley is a "wicked" Abanazar who wants to be "master of the world". He towers over the rest of the cast and takes every opportunity to use cue words in the script to burst into song. Widow Twankey always gets his name wrong with hilarious results.
Suzie Chard makes an imposing chav-like Genie of the Lamp, all dressed in pink, who is in the "wish fulfilling business."
There is strong support from a talented ensemble from Laine Theatre Arts who sing and dance with high energy and gusto with Sean Sandham-Davies as the Slave of the Ring as well as a chorus of juvenile dancers from local schools and colleges.
This panto has something for everyone from an exuberant rendition of "The Twelve Days of Christmas"—watch out for the five custard pies and the twelve gallons of water—to a glitzy chorus number, "I am what I am."
The magic carpet ride to Disney's "A Whole New World" is impressive and the Dame's "Baby I Was Born This Way" number is big and brassy. Look out for the gorilla sketch with lots of surprises.
Astutely directed and choreographed by Andrew Wright and with the highest of production standards including exquisite costumes, sparkling sets and impressive special effects, this is one panto you shouldn't miss and is a top-notch production.
Reviewer: Robin Strapp