Aladdin
Jamie Smith
Guildford's Yvonne Arnaud Theatre
Yvonne Arnaud Theatre, Guildford
–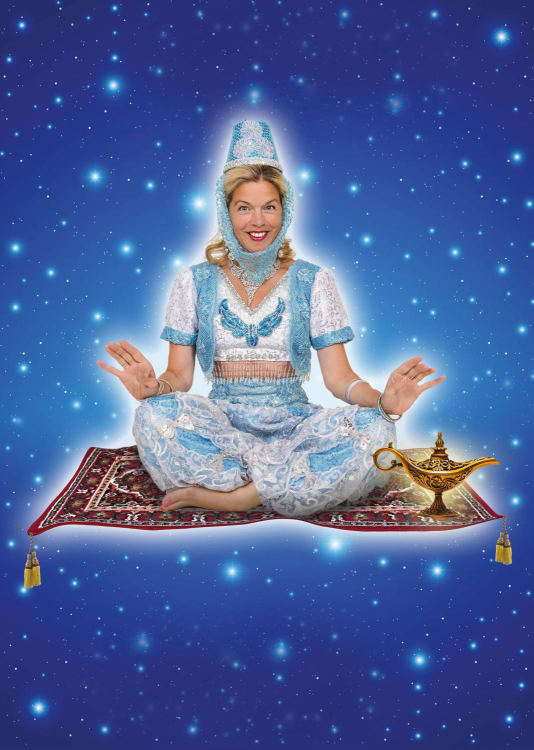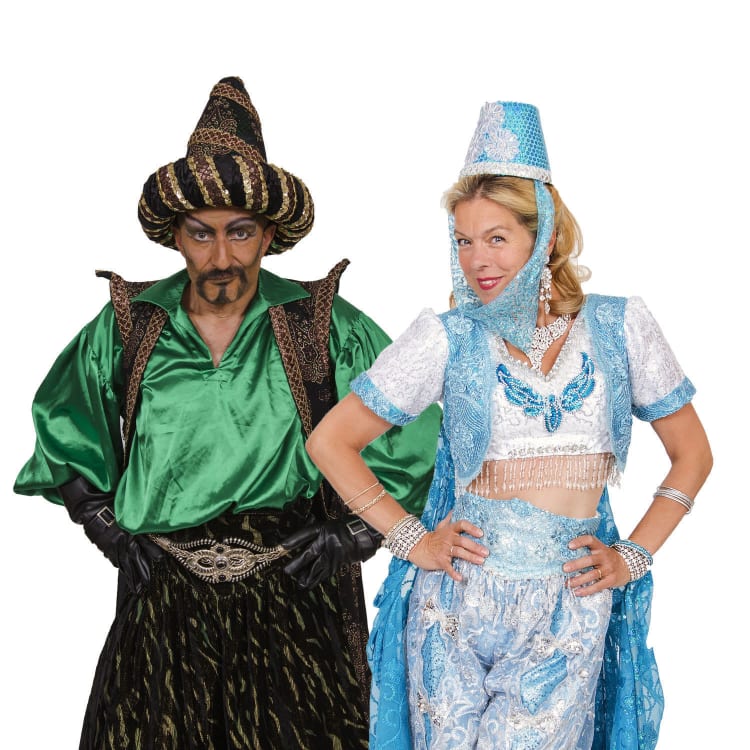 The Yvonne Arnaud Theatre has once again produced its traditional family pantomime. Well, when you're on to a winner why change a thing, and it works so well that not only the audience, but also most of the cast, return year after year. Christmas wouldn't be the same without it, and the ages of the audience range from the two-year-old little girls in front of us to the (possibly) ninety-two-year-olds across the aisle. Many of the adults didn't even think it necessary to have (or borrow) a child as an excuse.
Emma Thornett, keeping up the traditional theme, plays Aladdin as is a thigh-slapping, high booted, short-skirted Principle Boy. This is the third time she has played the role at the Arnaud. "How could I not?" she says. "It will feel like coming home for Christmas."
His princess is Charlotte O'Rourke, who graduated only this year and decided that although the role is often a passive one, sweet and demure, her Princess Jasmine was going to have little more of an edge. She gives us lady who knows her own mind and when she says "no" she really means it.
The show, as they say, is "all singing, all dancing" beginning with "Our House", "Material Girl" and "Happiness", with the appropriate "Steam Heat" in the laundry scene, but there is plenty of mad-cap crazy humour and slapstick too. Slapstick has never been my preferred style of comedy but with this team it's always great fun, and how could we manage without Jamie Brook (in his fourth year as lead comic) as Wishee Washee being almost drowned in the laundry tub and smothered in custard pies in the "Twelve Days of Christmas"? During the latter sketch, the "seven pairs of knickers" kept migrating into the audience, who proved that they could be as naughty as the cast, something which gained one or two a taste of custard pie as well. On that theme too—watch out for the water pistols!
In his eleventh year in the Arnaud panto, and a very popular figure, is Eagle Radio's Peter Gordon as Widow Twankey sporting a never-ending assortment of outrageous frocks, including an extra special one by "Salvation Armani". (Costume designer Jamie Attle.)
Diminutive film actor Ray Griffiths is PC Pongo, thoroughly enjoying himself and delighted to be chosen for something other than his height, and of course Kit Hesketh-Harvey is wonderful, and essential, as the evil Abanazar, the villain we all love to hate.
All important in Aladdin are the genies—yes there are two! Spirit of the Ring Rachel Knowles is another one who speaks her mind (there are some strong women in this production) bringing some Northern common sense to her attitude. The amazingly versatile and multi-award-winning Janie Dee is a glamorous Spirit of the Lamp, chatting happily as she strolls casually into the audience to pass on her glass of champagne to one lucky lady, not wanting to overdo the drinking. You must keep a genie active or she might get bored, and when called upon later to grant wishes she's out cold.
There is, of course, the scary adventure with Aladdin imprisoned in the cave and an amazing transformation as he is suddenly sumptuously dressed in golden clothes—and we have no idea how it happened. Then we're on to "Party, party", and, in the Chinese celebrations, he enters on the back of an elephant.
The juveniles, as always, are excellent—very professional and never putting a foot wrong.
This is a hilariously crazy and magical production, possibly the best panto yet.
Reviewer: Sheila Connor