Aladdin
James Barry
Rushmoor Borough Council in association with Hopkins Associates
Princes Hall, Aldershot
(2011)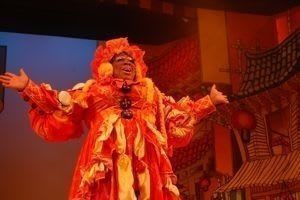 2011 is a big year for the Princes Hall, Aldershot. Not only does it herald 40 years of pantomime at the venue, but it also marks Robert Hopkins's 18th festive production for the theatre.
A Princes Hall pantomime is like a reunion between old friends; in fact the audience is so loyal that the performers easily spot the regulars who come back year after year. This sense of familiarity and friendship creates a wonderful atmosphere inside the theatre and with cast members Hopkins, Dougal Irvine, Joanna Fussey, Tim Barron and Liane Hempsall returning alongside resident Dame Donovan Christian-Cary in his 8th pantomime at the venue, a good time is had by all.
The story of Aladdin and his Magic Lamp was first produced as a pantomime in 1788 and since then many an author has tried to put their mark on the famous 1001 Nights tale. In James Barry's version, a hilarious Star Wars inspired prologue informs the audience of the reasons behind Abanazar's wickedness and exposes his penchant for toys. Rather than simply capture the Princess, he attempts to turn her into a mechanical music box for his collection, but luckily for the Principal Girl and her lover Aladdin, their friends come to the rescue and good triumphs over evil in the end.
In Hopkins's production, everyone is given the chance to shine with the junior ensemble afforded their own dance routine to showcase their talent. Dee West's choreography is slick and snappy and Ricardo Gosalbo's choice of music ensures the electric atmosphere prevails throughout this oriental pantomime adventure.
Dougal Irvine's Aladdin is a cheeky scamp with shades of a future panto Comic about him. A much respected writer and composer, Irvine is also a wonderful pantomime performer and radiates warmth in the title role alongside his on-stage brother Wishee Washee played by Hopkins. He may have driven the pantomime for the past 18 years, but Hopkins's performance is always fresh and one which engages and involves every member of the audience.
Christian-Carey's Widow Twankey is a Jamaican delight with Joanna Fussey's uppity Empress of China revealing a naughty side when falling for Tim Barron's devilishly wicked Abanazar. A fine voiced Princess Jasmine is played by Rachel Lea-Gray with Liane Hempsall as her handmaiden So-Shi, but in this magical Aladdin it is the Genie of the Lamp who really sets the show ablaze.
James Franklin's Genie bursts onto the stage like a bundle of uncontrollable energy, firing his dialogue out in a range of different voices. Mirroring Robin Williams's Genie in Disney's Aladdin, Franklin exudes enthusiasm ready to grant wishes accompanied by some well timed sound effects.
The other Immortal in the production is an Essex-inspired Slave of the Ring played by Princes Hall newcomer Jade Sampson. Her Slave starts proceedings off with a lively rendition of 'Let's Get Loud' with her voice also put to good use in numbers 'That Man' and 'I Gotta Feeling'. However, departing from the usual convention, the Magic Ring does not need to be rubbed in order for her to appear, leaving the Slave free to roam the stage and speak without being summoned. This enables her to have a romantic liaison with Wishee Washee and whilst this may be the most unconvincing thing in the production, the Slave's constant appearance gives Villain Abanazar a benevolent agent to battle against, which is sometimes lacking in this pantomime title.
With top price tickets only £16.50 and audiences treated to live music, great actors, pyrotechnics, special effects, colourful sets and costumes, no one could argue with the show's publicity that it really is the "Region's best value professional pantomime." What better way to celebrate 40 years of panto than this wonderful production full of heart?
'Aladdin' plays at the Princes Hall, Aldershot until 1st January 2012
Reviewer: Simon Sladen