Aladdin
Brad Fitt and Stewart Permutt
Cambridge Arts Theatre
(2011)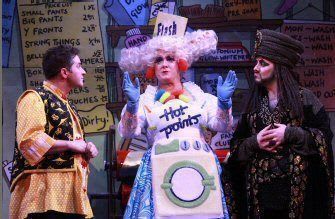 The millennium brought with it the dawn of a new era, not only for the world, but for the Cambridge Arts Theatre too. Marking his tenth year of involvement with the Cambridge pantomime, Brad Fitt and his team have come up with yet another stunning festive treat, which rightly deserves its accolade as one of the best in the country.
This year's Aladdin reunites Cambridge favourites Fitt, Julie Buckfield, Matt Crosby and James Hirst with some new friends in a production where everyone has an equal chance to shine. Aladdin is clearly a team effort and the actors support and work with one another, rather than jostle for the spotlight. This is extremely evident in the fun they appear to be having on stage; a happy company always makes for a happy show.
Last seen in panto at the Lyric, Hammersmith last year, Martyn Ellis makes a wonderfully comic Emperor, forced to sell noodles undercover in Peking in order to earn a much needed buck. Disguises play a key role in this Aladdin and in addition to Abanazer's peddler outfit and the Emperor's attempt at street trading, even Princess Poppy-Poo decides to join in the fun, donning a moustache to avoid marrying the rich Prince Nintendo Wii.
Whereas Aladdin often glimpses the Princess in the street, here he uncovers her after she applies for a job at the laundry incognito. Thanks to Health and Safety rules, her hat and moustache have to go and once revealed the two do what all Principal Boys and Girls do best: fall in love.
Princess Poppy-Poo, played by Danielle Eller, is a smiley royal, not too soppy or twee, and someone who all the little girls in the audience long to be. Her lover, Aladdin, is of that dying breed of thigh slapping female Principal Boys and Buckfield plays him as a perky scamp with a lot of leg.
In many ways this production is a traditionalist's dream, with something for everyone. There's nothing risqué and no padding, just a great story wonderfully told. Fitt and Permutt's tight script delivers plenty of plot and punning, supported by some delightful musical numbers and strong direction from Fitt and Dave Murphy.
The band really bring the music to life under the direction of Kelvin Towse and numbers are danced by yet another rarity in Pantoland - dancers with personality. It makes such a difference when the ensemble act and react to everything around them and don't merely execute their moves with forced smiles.
We are even treated to a slapstick scene set in Twankey's swanky washeteria. With Fitt and Crosby at the helm, the piece is in safe hands and puts a novel spin on the usual mangle sequence, with Wishee and Twankey sliding all over the place as they become embroiled in their new mechanised washing process.
Everything about the Cambridge pantomime oozes quality and care; from the cast and crew to the sumptuous sets and costumes courtesy of Imagine Theatre and Carry On Costumes respectively. The willow pattern finale is a fitting ending to a show which should be everyone's cup of tea.
Cambridge's festive treat isn't half baked, too sweet or overcooked, but a pantomime pie filled with just the right blend of ingredients and cooked to perfection. This pantomime's tickets sell like hot cakes, so be sure to snap yours up before they're sold out for another year.
'Aladdin' plays until 16th January 2011
Reviewer: Simon Sladen