Aladdin
Keith and Ben Simmons
Derby LIVE and Paul Holman Associates
Assembly Rooms, Derby
(2010)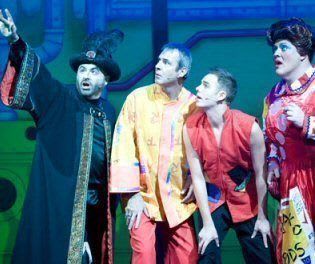 Neil Morrissey starred in last year's panto at Derby's Assembly Rooms, Cinderella, which broke box-office records. So it's a boon to have him back to play Wishee Washee in Aladdin.
This year's panto won't be as successful as Cinderella if the size of the audience on the night I attended is anything to go by. In some respects that's a pity because Aladdin is well acted, nicely paced and has its share of laugh-out-loud moments. On the other hand, some of the jokes seem as old as the first version of the panto which was staged in 1788, there appears no justification for a few of the songs and the structure of the panto means Aladdin has a strange ending.
The best element of Aladdin is the experience of the actors. Many are able to enhance the production by ad-libbing their way through what might have become sticky scenes in the hands of less accomplished performers. Morrissey takes the honours with his quick-wittedness and confidence.
Ian Good is a delightful Widow Twankey. He's played the role seven times and knows how to get the best out of the character without going over the top.
Father-and-son double act Keith and Ben Simmons as PC Me and Sergeant You, who are performing in their fifth Derby panto - Keith also directs - have written Aladdin and graciously seem to have given the best material to those around them. But the duo along with Morrissey and Good have arguably the funniest scene: a raucous, new version of "The Twelve Days of Christmas" which has five toilet rolls on a rope making regular excursions into the audience and the front few rows getting showered with water by Morrissey.
Gareth Davies earns his fair share of boos as Abanazar while Paul Arden-Griffith as the Emperor of China becomes annoying by constantly singing "Go Compare" - until he gets one of the biggest rounds of applause of the evening with a spirited rendition of "Nessun Dorma".
Luke Roberts and Vicky Hoyles give enthusiastic performances as Aladdin and Princess Jasmine; Tyler Fayose is a likeable Genie of the Lamp; and Marcia Lynnette Campbell - winner of Derby LIVE's Fame Factor talent competition - shows she's not out of her depth as Slave of the Ring.
Sprightly dancing by a six-strong troupe and eight children, sumptuous costumes, excellent scenery and stirring backing from a three-piece band led by Philip Shute add to the enjoyment.
Sometimes, though, Simmons and Simmons' script lacks sparkle and references to Dragons' Den, The Apprentice and Facebook seem to be thrown in merely to add topicality.
There's a joyous rendition of "Don't Stop Believing" from Glee at the wedding of Aladdin and the Princess which appears to be the finale. Then Morrissey shows his relaxed manner with three six-year-old children who are encouraged to make animal noises during a lively "Old MacDonald Had a Farm" which completely loses the momentum - and that's not Morrissey's fault.
The company return to take their bows and sing "Rockin' All Over the World". There's probably a perfectly good reason for such an ending - a necessary break for a major costume change, maybe? - but it's a curious finish.
There's no denying Aladdin is a good show. It could have been great with a little more magic.
"Aladdin" runs until Sunday, January 9th
Reviewer: Steve Orme