Aladdin
Andrew Pollard
Greenwich Theatre
(2011)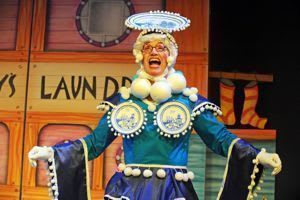 Having started his residency at the theatre six years ago, the time has now come for Greenwich Theatre regular Andrew Pollard to give Pantoland his Twankey, and my, what a wonderful Widow she is.
Names such as Berwick Kaler, Susie McKenna and Kenneth Alan Taylor constitute panto royalty and Pollard fully deserves to be initiated as a member of this select group of pantomime purveyors. What these practitioners of the genre hold in common is a respect for the art form and the ability to create a colourful and magical extravaganza from a black and white script. Thanks to them, pantomime is kept vibrant and exciting.
In a Pollard pantomime, every aspect of the plot has a reason and consequence. This tight narrative makes the fantastical story completely believable and leaves audiences wanting to invest in the characters as they are taken on a magical journey.
Aladdin was first produced as a pantomime in 1788, but there is nothing old and stuffy about this fresh and invigorating production which includes references to the coalition government, fish pedicures and Justin Bieber. It has been a bumper year for catchy pop songs and under the musical directorship of Steve Markwick numbers such as 'Born This Way', 'Edge of Glory' and 'California Gurls' really take off and have the audience dancing in their seats. A lot of thought goes into the Greenwich pantomime and it pays off big time, with the creative team working in collaboration year after year to achieve a production more enjoyable than Christmas Day itself.
In the title role, Adam Dougal makes for a chirpy Aladdin who dreams of becoming rich to help out his poor old ma and marry the Princess. Thankfully, soppiness is avoided at all costs at Greenwich with One Direction's 'What Makes You Beautiful' uniting the two lovers and helping to keep the electric atmosphere alive. As Princess So-Shy, Laura Wickham avoids that awful tendency of being sickly sweet and successfully achieves a delightful Principal Girl full of heart, warmth and laughter.
Laughter is the dish of the day at O'Twankey's Wash 'n' Nosh aboard her Chinese junk ship. Back together for the 6th year running are Greenwich favourites Paul Critoph as Emperor Fu and Pollard as Widow O'Twankey, so called due to her late husband being half Irish. Critoph and Pollard are exquisite pantomime performers, so well versed in each other's ways of working that their partnership is one of the best and most enjoyable in Pantoland. This year's comedy masterpiece involves shrinking powder, flour, comedy eels, a peeking duck, lumps of sugar and lots of tea. With a simple look or gesture, the two have the audience in stitches and amongst all the pratfalls and slapstick there's also plenty of spoken and visual innuendo for the adults.
A flying carpet has become something of a 'must' for Aladdins post-Disney and Greenwich produces an impressive flying sequence set to Katy Perry's 'Firework'. Julie Godfrey's Rubik's cube of a set, complete with never ending transformation scenes as it effortlessly changes from Old Peking to O'Twankey's Wash 'n' Nosh in the blink of an eye never ceases to amaze and just goes to show what can be achieved with clever and innovative design.
Ably directed by Kieron Smith and choreographed by Ellen Jakubiel, the resident team at Greenwich has once again created one of the best pantomimes in the country. Fresh, fun and fruity, pantomime doesn't get much better than this.
'Aladdin' plays at the Greenwich Theatre until 8th January 2012
Reviewer: Simon Sladen