Aladdin
Susie McKenna
Hackney Empire
(2009)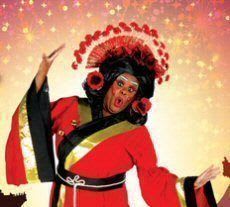 This year Susie McKenna and her team at Hackney (or Ha-ka-ney for its Peking configuration) have really excelled themselves. Five years ago, almost to the day, I saw my first Hackney panto in the refurbished theatre, now threatened with partial closure. It was another Aladdin, with many of the same team and the same basic script. I loved it then and I love it now from the charismatic camel Carmina, who introduces us to the story, to the final glittering curtain call. The irreplaceable Clive Rowe again is Widow Twanky, but fresh as paint (and wearing quite a lot of it), no mere reprise of past success but another triumph exploiting skills perfectly honed to our particularly British art form. At least one joke survives (as Rowe in an aside commented) that's just as relevant about Peter Mandleson as it was five years ago!
The irrepressible Kat B and Tameka Empson are back, he as an aerial Genie of the Lamp, she as the Empress of China while Matt Dempsey takes over Kat's old role to give an ebullient Wishy Washy. David Ashley adds boo-inducing villain Abanazar and old hand Tony Wilson is back as comic copper Pong, paired with newcomer Stephen Emery's Ping. Other newcomers include Anna-Jane Casey strutting her stuff in the title role and charming the audience with no attempt to add a butch note and Claire-Marie Hall as his sweet Princess.
Everyone this season seems to be a good singer and composer Steve Edis makes sure there is a tuneful score and gets the best out of his band. Designer Lotte Collett produces a colourful and glamorous staging that tops even what she's done before and includes not just super frocks for Widow Twanky but an absolutely splendid dragon to fly Aladdin from Peking to Arabia - it is needed because, as the Ring Genie (Josephine Melville, making a new pairing for Kat in her first Hackney panto) can't get a magic carpet, it being in use further east in Stratford. Full marks to creature maker Scott Brooker and his team.
There's another smashing little Panda this time round (who, like the camel performers, doesn't get a credit) and an ensemble plus children's troupe who I felt were particularly good dancers this year. If you should rub a magic lamp and ask for a panto that ticks all the traditional boxes but still feels bang up to date, that is very child friendly with just a hint of risqué jokes for the grown-ups, then McKenna is your genie. There are a couple of warnings. Despite a handful of 'coolie' hats don't expect the inhabitants of Peking to look Chinese. This is Ha-ka-ney not So-ho-ho and the Empress and Mrs Twankey, like the Genies, are clearly incomers from Africa while Mrs Twankey refers to her sons as her little Caucasians - but that's what regulars expect at multi-ethnic Hackney. If you don't like shouting back at almost every character and doing the actions to the sheet song then it is probably not for you - but if you go along and try it, this team will probably win you over! Perhaps you shouldn't sit too near the front, like Luke, who got pulled up on stage for Widow Twankey to have a closer look at and found himself during a number with her. Rowe is good at the ad libs and you can never be quite sure what is going to happen
Hackney kicked of my panto season with magnificent brio, bringing rivers of laughter streaming down my face. It would be difficult to get things any more right and will take a lot of beating, but I don't really see my favourite panto houses as in competition. They all have their own special and different flavour and none of them rely on so-called celebrities to head the bill, they have their own home-made local favourites, stars perhaps in other spheres but at Christmas part of a marvellous piece of team work.
At Hackney Empire until 9th January 2009
Reviewer: Howard Loxton