Aladdin
Julian Chenery and Colin Warnock with additional dialogue by Richard Gauntlett
JC Theatre Productions in association with Qdos Entertainment
White Rock Theatre, Hastings
(2009)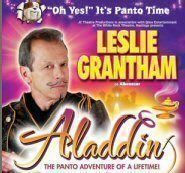 Abanazar is one of the meanest baddies in Pantoland: greedy, scheming and remorseless, and Leslie Grantham makes his as evil and cut-throat as possible. Far too often baddies are just a little bit horrible, sometimes camp; Grantham's is anything but. With one menacing look he can command the most deafening of boos. Even the band are in for it when they play the EastEnders theme on his entrance. Grantham must be the best baddy in the business, truly wicked to the core and you can easily tell he enjoys being a part of this ancient tradition, letting out evil laughs which immediately send children cowering behind their programmes. What makes his role even more enjoyable to watch is that when turned good as punishment for his ways, he leaps about the stage singing "I could have pranced all night", whilst complaining that they've only gone and turned him into John Barrowman. The contrast between before and after is so grand that this change in character brought about by the Genie becomes wonderfully comic.
Comedy is provided by the bucket load from Noel Andrew Harron as a sprightly Wishee Washee and Bobby Windebank and Nick Whitley as Sergeant Ping and Constable Pong. Harron doesn't stand still for a second throughout the show, bouncing across the stage as he delivers his lines with an extremely expressive face and body. This Wishee is incredibly skilled and knows how to build rapport with the audience.
Windebank and Whitley are hilarious as two hip-hopper coppers, rapping and posing as if Ali G taught them everything they know. This is an incredibly modern and fresh approach to the policemen and demonstrates that the production is in touch with the times. Particularly enjoyable are their pieces of narration set to rap music, complete with gangster style posing and hand gestures. These two are truly wicked in the modern sense of the word.
Widow Twankey is played by Drew Baker, who tells us that SuBo has spoiled her dream of a becoming a star; there just isn't room for two old frumps in the world. Baker sounds like a Dame, but he doesn't look like one, appearing rather sluggish instead of sprightly with an inexpressive face. This Twankey needs to be a lot more OTT.
Racky Plews as choreographer gives the ensemble some slick routines, which are well executed. A very strategically placed "O" on a dancer's behind (helping to spell H-E-R-O) provides a naughty moment of innuendo as an American Princess Jasmine (Seanette Garcia) sings of holding out for her hero: Aladdin.
Aladdin (Neil Toon) is made even more heroic in this version as he adopts a disguise to become 'The Masked Avenger', protecting Peking from possible danger. His Zorro-like alter ego is a sure fire way to meet the Princess incognito. The plot borrows from Disney in that Abanazar is the Emperor's right hand man, not Aladdin's long lost uncle and in the second act we're treated to "A whole new world" and "Prince Ali", something which the audience has come to expect.
Fantastic new numbers have also been written for the show by Julian Chenery, Colin Warnock and Martin Tyrrell. Act One opens with a witty "Happy New Year, Me 'Ol China" as Peking gets ready to celebrate Chinese New Year by partaking in a right cockney knees up. "Widow Twankey's Laundry" is another well written panto tune and during the scene Widow Twankey seems to enjoy her place on top of the washing machine immensely as the whereabouts of a short shirt that's short is debated.
A superb script, boo-able baddy and energetic comics make this production a most enjoyable theatrical experience.
Playing until 3rd January 2010
Reviewer: Simon Sladen