Aladdin
Joel Horwood, Morgan Lloyd Malcolm and Steve Marmion
Lyric Hammersmith
(2011)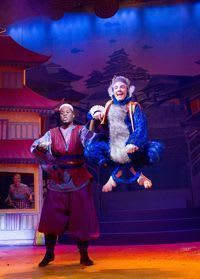 In 2009 the Lyric Hammersmith decided to bring pantomime back to the venue and it's now firmly a part of their festive programming. After two seasons of male led narratives, 2011 sees the theatre stage their third. This year's Aladdin is a visual delight, but is unfortunately let down by its script.
Writing team Joel Horwood, Morgan Lloyd Malcolm and Steve Marmion have created their very own particular brand of pantomime for the venue comprising of an animal Comic, a funny male Principal Boy, a strong W6 identity, two celebrity voiceovers and plenty of street talk. This year's Aladdin is no exception and devoid of animal, it falls upon Wishee Washee to be transmogrified into a blue monkey. Although a reason as to his colour is provided, no explanation is given as to why he works for and was adopted by Widow Twankey and calls Aladdin his brother. Perhaps Disney has something to answer for here?
Pantomime, like any dramatic form, requires its fair share of light and shade and herein lies the Lyric's problem: each and every character is funny. With everyone vying for laughs, the production becomes a giggle-a-minute gagfest and is deprived of any sentimentality.
Even the love scene aboard a magnificent flying carpet is bereft of tenderness. As Aladdin starts to sing 'Rule The World' to his Principal Girl, the audience knowingly titter, encouraged further by Princess Karen's line "This is so cringe!" This Aladdin refuses to take itself or pantomime seriously and moments such as this only contribute to the feeling that the production is mocking the form.
The nuts and bolts of a good pantomime are there: the sets and costumes are spectacular, the panto young company buzzing with life, but unfortunately no-one knows how to best assemble the many constituent parts in order to create a coherent production. Call and response conventions are practiced, but there are too many to remember each individual character's required response, the mangle sequence is put through its paces, but lacks slapstick and the poor child whose jumper is transformed by Widow Twankey's dodgy washing machine never receives it back.
Thank goodness for Simon Kunz and Shaun Prendergast as Abanazer and Widow Twankey. In their second pantomime for the Lyric, they know exactly how to work an audience and have created characters worth investing in. Unlike their fellow cast members, Kunz and Prendergast wait for and acknowledge the audience's responses and are not afraid to veer off the script when appropriate.
Narrative structure is an important factor in any pantomime with convention dictating that Act One culminates in a glorious transformation sequence; however the Lyric's Aladdin ignores this with disastrous consequences. Having anticipated the Genie's revelation from the off, the audience have to wait until beyond the interval before the lamp is rubbed and this ethereal being revealed. Starting with a rather poor cod cave door malfunction and the most static 'Don't Stop Me Now' ever seen, the first act, deprived of transformation sequence, ends both abruptly and disappointingly. Why the interval is not positioned after Act Two's hilarious reimagining of MC Hammer's 'Can't Touch This' goodness only knows.
The Lyric must be commended on rocketing the genre into the 21st century, but their über contemporary take on the story doesn't quite work. A few cultural allusions are fine, but when they come thick and fast at a rate of what seems like one every 30 seconds, they become tedious and lose their impact. Everything from television to politics is thrown in the melting pot, but if you are going to do jokes about the coalition government and London riots, why avoid the current Eurozone crisis when luminous Euro, Dollar and Pound Sterling signs replace jewels and gold in the enchanted cave?
The show's upbeat finale of Lady Gaga's 'Born This Way' boasts the rewritten lyric "This is Pantoland where anything can happen." Whilst true, the Lyric seem to forget that everything must happen for a reason. Narrative integrity is vital and what with an abundance of humorous characters, cultural allusions and lack of reason, this year's pantomime proves that in Ha-ma-smiiit you really can have too much of a good thing.
'Aladdin' plays at the Lyric Hammersmith until 31st December 2011
Reviewer: Simon Sladen