Aladdin
Pantomime by Paul Hendry
Richmond Theatre
(2005)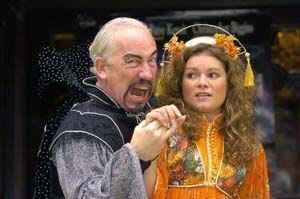 "Aladdin's genie has granted Richmond Theatre a wish-list pantomime cast," proclaimed the advance publicity. But something went sadly wrong between that wish and its fulfilment.
Simon Callow has the talent and personality to be our best ever Demon King. But he undermines his performance as the villainous Abanazar by constant self-mocking jokes about being "the world's greatest Shakespearean actor that ever lived", cross-referencing his claim with Edwardian-style actor-laddie quotes from the Bard that will be lost on most of his juvenile audience.
It was surely also a mistake to have Christopher Biggins both playing Widow Twankey and directing the show. This hugely popular comic figure gives a beaming, leg-flashing larger than life performance in a series of outrageous costumes, but as Biggins togged out in funny hats and frocks rather than as a pantomime Dame. And at an early performance he understandably seemed a little distracted when things were not going quite to plan.
The title role needs the charisma of a thigh-slapping Principal Boy. Instead we have a laddish bloke whose Aladdin is so laid back that he creates a negative force, which is a shame for Princess Jasmine, his love interest, who is beautifully played and sung by Hollyoaks star and panto regular Lisa Kay Lewis.
At least comedian Frankie Doodle's Wishee Washee, with a repertoire of funny faces and voices, proved popular with an audience determined to enjoy itself. And there was something of the British wartime grin-and-bear-it spirit about the way everyone stood up to sing 'Amarillo' — not once, but twice, with all the repeats and patriotic gestures — like the crowd at an Albert Hall remembrance day entertainment.
It would be easy to blame Paul Hendy's script, which departs from the original plot the moment that Aladdin enters the magic cave. But a search of Theatre Record's archive of 2004 reviews proves that when Hendy himself played Wishee Washee at Guildford last Christmas this same script had the broadsheet critics proclaiming its "joyful nonsense'.
One performance is a perfect example of traditional pantomime, with Graham James repeating his Guildford performance as the Emperor of Peking, complete with "oliental plonunciation". And at least Patsy Kensit does glamorous double duty as a sophisticated Genie of both the Ring and the Lamp, while never quite getting connected to the action. So perhaps it would be best simply to record this as not a vintage year for Richmond panto.
Reviewer: John Thaxter