Aladdin
First Family Entertainment
Sunderland Empire
(2008)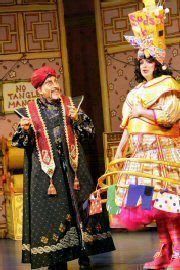 The great thing about pantomime is the curious mix of mega-stars and home-grown talent, all part of the weird and wonderful world that is panto-land. So at Sunderland Empire we have stellar Americans Paul Michael Glaser and singer Sheila Ferguson, flown in courtesy of a magic flying carpet. This is panto after all - and it is Aladdin they're starring in And it's nothing short of pure genie-us!
It's glitzy and glamorous, courtesy of our American friends, and the home-grown talent razzle dazzles too.
Paul Michael Glaser, famed of course as Starsky from TV series Starsky and Hutch, hams it up big style as baddie Abanazar. He has the crowd in the palm of his hand from the word go, with accompanying booing and hissing on cue.
Besides his TV and film work, Paul Michael is actually a stalwart of theatre, with some fifty roles in regional, repertory, and Broadway under his belt. And it shows, too. He has real stage presence, and is clearly having a ball on stage. And mums and dads loved the sprinkling of Starsky references, such as: "Don't mess with me, I used to be in the LAPD."
Soul singer Sheila Ferguson is a delight, and makes a very fetching Genie of the Lamp. Those of us with long memories will remember Sheila from her days as lead singer of iconic girl group The Three Degrees. How could we forget! For the younger ones - my two daughters included - I had to explain she starred in I'm a Celebrity a few years ago. Mind you, when she opened her mouth to sing, the voice said it all really. She's a lady with undeniable wow factor.
South Shields-born Dale Meeks makes a great dame as Widow Twankey, with his Geordie 'geet this' and 'geet that,' ad libbing and his comic timing is absolutely spot-on. Best known as Simon Meredith from ITV's Emmerdale, he also gets to don the most outlandish and colourful costumes. Look out for a particularly lovely pink leotard in one scene
Aladdin is played by Anthony Kavanagh, a finalist last year for ITV's Grease is the Word, and his singing does not disappoint. His spoken lines, however, did come out a little rushed and garbled at times, I thought, but it's early days, and it may just be my hearing
North East-born Steve Walls as Wishee Washee is fantastic with the kids, building up a great rapport.
Throughout the show, the gags come thick and fast. A little too fast and furious at times for my liking, which makes it difficult to pick up all the lines. And some of the jokes, I thought, were a little too near the knuckle. There were lots of jokes about nether regions, too many almost, and although clearly aimed at the adults, I felt slightly uncomfortable at times sitting with my daughters.
The costumes, as you'd expect, are pretty spangly and glitzy, and local dancers from the Kathleen Davis School of Dance and Lumsdale Theatre Arts have the aah factor.
It's silly unashamed escapism for all the family - and don't we just love it.
Reviewer: Katharine Capocci