Albert Herring
Benjamin Britten, music; Eric Crozier, libretto
Vancouver Opera
Queen Elizabeth Theatre, Vancouver BC
–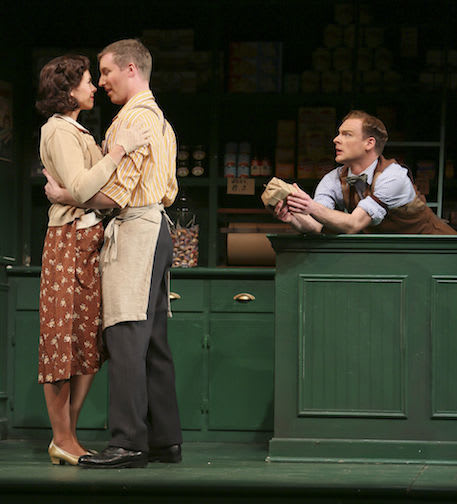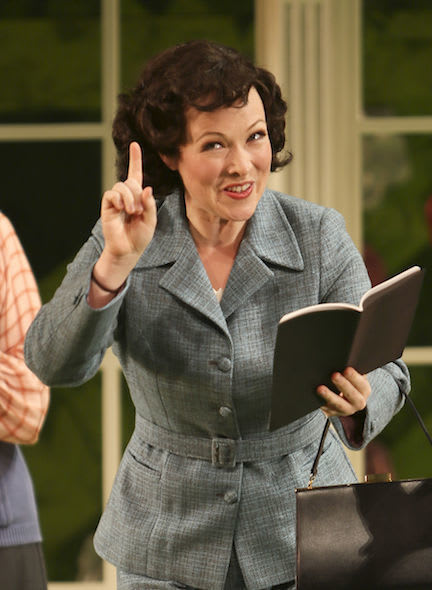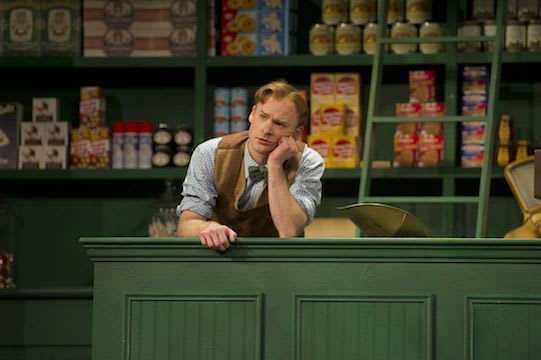 Though Albert Herring—Benjamin Britten's very funny opera about small town life in his native Suffolk—shares themes with other Britten operas by focusing on the outsider v society and the corruption of innocence, the tone is decidedly comic.
The formidable Lady Billows (an English theatre dame descended directly from Oscar Wilde's terrifying Lady Bracknell) is in charge of the annual May Day celebrations in her bailiwick, Loxford. This means that the committee is charged with the weighty task of finding the May Queen in just the few weeks they have to put the festivities together (anyone who has ever planned an event will nod knowingly as the committee meeting that forms the first scene unfurls).
The problem they face, as Lady Billows irritably notes, is that Loxford is apparently the "Sodom and Gomorrah" of Suffolk. Every single young lady offered by the highly moral and upright representatives of the community that make up the planning committee is shown to be, well, loose and not at all suitable. The day is saved by Superintendent Budd, head of the local police, when he suggests a May King instead—the blameless, if somewhat simple, Albert Herring, son of the local greengrocer.
Unfortunately for the committee, Albert's friend Sid and Sid's girlfriend Nancy have other plans once they learn of Albert's upcoming coronation: they spike his lemonade, Albert's first ever drink. He promptly gets the hiccups, goes off on a bender and disappears, making everyone in town think he has fallen down a well or been run over by a cart. Worse, upon his reappearance, he refuses to be at all contrite. Rather, he has had a great time and refuses even to tell all the details of what has transpired during his bender. It's a great moment, one in which Eric Crozier and Benjamin Britten reaffirm our humanity and Albert's.
The production—as noted above, co-produced by Vancouver Opera and Pacific Opera Victoria—is gorgeous. Moved from its original Edwardian setting, the current production is set in the 1950s (both periods in which England attempted to control both sexuality and morality); the sets are just beautiful to watch as are the costumes, both designed by Patrick Clark.
The vocal music of Albert Herring is entirely delivered by a number of ensembles formed by the 13 soloists that make up the cast and they do a beautiful job, ably offset by the orchestra of the Vancouver Opera. Of particular note is the ensemble of the planning committee (Sally Dibblee, Susan Platts, Melanie Krueger, Peter McGillivray, Michael Colvin, and Giles Tomkins) who sing some really tough music ranging from fugues (a deliberately archaic form representing the dated attitudes of the committee) to a dead-on parody of Handelian opera to crowd scenes with absolutely independent vocal lines to a passionate threnody in which they mourn Albert's supposed death, one that breaks up as soon as they realize that he is both alive and utterly hungover. The threnody is a beautiful piece of music that raises the whole evening to a new height (the music generally is some of Britten's best).
As the Billows's majordomo, Florence Pike's bitter complaint (beautifully sung by Susan Platt) about the impossibility of working for Lady Billows and meeting her many demands ("One lifetime / One brain / One pair of hands / Are all too few /For Lady B.") is both funny and heart-rending in the same moment. Of note too is Lawrence Wiliford's Albert Herring. Wiliford has a sweet tenor voice with a upper range that just won't quit. The tessitura makes Herring a real vocal showcase—it lies pretty high consistently. The work of the two lovers, Aaron Durand and Sylvia Szadovszki, especially when Nancy begins to regret her involvement in the plan to loosen Albert up, is also very fine as is the cast as a whole.
I found Glynis Leyshon's direction a bit busy and just that much too much over the top, but the audience seemed to enjoy it and certainly the music, especially as the committee works to solve the problem of the suitable May Queen, is itself a bit frenetic. Still, I could have wished for a bit more restraint. Sally Dibblee's Lady Billows is right on throughout (and wonderfully sung) but should she really have been pushed across the stage on a giant ladder carrying a vast bugsprayer three times?
Things settle down nicely after that and I enjoyed the second act immensely, especially as Albert broke free from both his mother and the social niceties of village life to become his own person.
Reviewer: Keith Dorwick