Albion
Mike Bartlett
Almeida Theatre
Almeida Theatre
–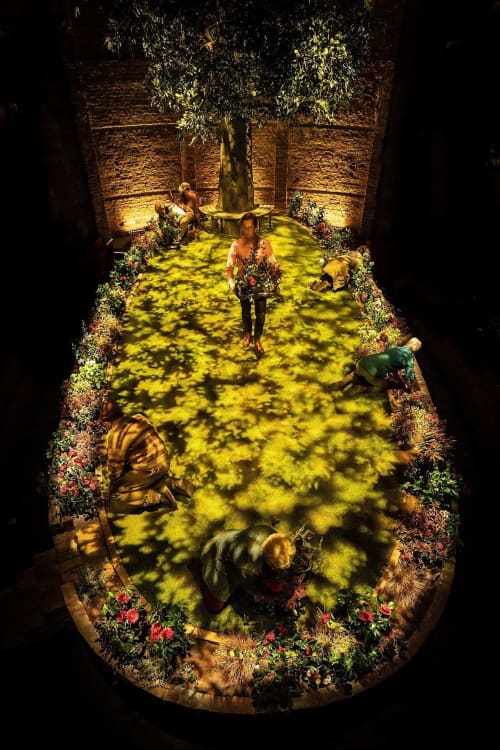 Mike Bartlett's Albion is back at the Almeida following its debut in 2017. As we have officially quit the EU since then, the timing is ideal in terms of shining a light on what it means to be British. Such themes are presented here as a romantic notion, steering clear of political realities. Romance is witnessed through a deep connection to land and the relationships between characters that roll out like a Radio 4 play in the guise of mothers, daughters, friends and lovers, dead or alive.
At the very heart of the drama is London-based Audrey (Victoria Hamilton), an overpowering career woman grieving for her soldier son killed in service. Audrey has a fantasy of recreating her childhood, a privileged countryside life of ballrooms and beautiful houses. After all, she says, commenting on her city life, "I started to think that I was living in a bubble."
As if somehow the countryside will change this state of being, Audrey departs leafy Muswell Hill in search of rural life and buys a seven-bedroom home in Oxfordshire, swapping high heels for wellies and surrounding herself with an entourage of staff to enable the fantasy, in this case, by restoring an overgrown garden at the back of her new pile as a place to mourn, play the county squire, bring love to the land and cling onto ideals of Britishness.
Heartbreak and restlessness soon appear like cracks in the earth and are explored through class divides in this pastoral setting. Jollied along with the clinking of gin and tonic and sipping of tea, action mostly takes place around a magnificent tree with a seat circling its base. Miriam Buether's stunning soil-filled set is a joy to watch as plants are lovingly wheeled in from offstage and placed in the soil during the performance by the cast. The garden blossoms, but, as quickly as it blooms, it soon wilts and fades and plants are carted off, surely a metaphor for British identity in flux cleverly sewn into stage design.
Hamilton puts in a firecracker performance as Audrey, who attempts to control all that comes into her line of vision. Her range is impressive as she comically seesaws from bravado excitement and nervous energy, often trailing off by sentence ends, so the words are barely audible. Perhaps she is lost in her own thoughts, or it's a chance for a breather in-between her pitch changes that consistently range from sweet and soft to high-pitched squawks.
Her mantra, "get the work done," has more than a whiff of the Conservative Brexit slogan, " get the job done," or, in Audrey's case, relying on her minions to execute her desires be it gardening or making tea.
Bartlett is genius at writing fully rounded characters offering caustic lines for the cast coasting their way from comic to tragic and downright outrageous, but always staying entirely relatable. Despite high-stakes drama, there's something faintly familiar about Audrey and her cronies, like you've come across them somewhere along the way in one form or another.
There's her entitled 20-something daughter Zara (in a brilliant stage debut from Daisy Edgar-Jones), desperate to return back to London and, following a spell in the magic garden, runs off with heated passion with celebrated writer Katherine, Audrey's Uni friend (Helen Schlesinger).
Nicholas Rowe puts in an excellent performance as Audrey's nonchalant, appeasing, long-suffering husband, Paul, calming everyone down as the antidote to Audrey's madness, while the dead son's girlfriend Anna (Angel Coulby) mopes around throwing soil about and claiming the garden home when she discovers that her dead fiancé's ashes are no longer in the urn but strewn around the shrubbery by Audrey.
But, like the set itself, Audrey's idealism is short-lived as she finds herself struggling to hold onto the very land she desperately wants to protect. After all, it's more than just a garden, it's the remains of her son, the justification that his death wasn't futile but a worthy sacrifice. Passionate idealism is wrapped up lovingly in each and every plant pot and her sense of tragedy builds alongside the garden's demise.
Perhaps, two years on, Albion will be viewed with deeper meaning, shedding light on different aspects of the play during a period where half the country stands in a state of identity paralysis post-departure of the EU. Either way, it still remains a moving and deeply questioning night at the theatre with superb acting and highly imaginative production values. It's clear to understand why indeed this is the first revival of an Almeida production in Goold's time as Artistic Director.
Reviewer: Rachel Nouchi