Alcestis
Euripides, in a version by Ted Hughes
Iris Theatre
St Paul's Church, Covent Garden
(2008)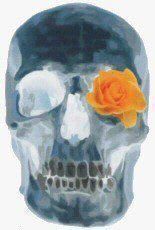 This is the earliest surviving play by Euripides (though not his first, for when first produced in 438BC he was in his mid forties and had already been writing for many years). It is not quite what you may expect of a Greek tragedy for it introduces comic elements and has a happy ending. Ted Hughes's lively translation gives this some emphasis but also seems coloured by his own personal marital history.
Alcestis is a wife who offers her own life to preserve that of her husband, King Admetos, who is otherwise fated to die young. As her funeral rites are about to begin Admetos' friend Heracles arrives and the king, following the laws of hospitality, orders that he be taken to another part of the palace and entertained, hiding Alcestis' death from him. Heracles finds out the real situation and sets off for the underworld to get Alcestis back.
Daniel Winder's production puts the play in modern dress and uses Inigo Jones's church as a simple space with choir seats moved to provide a wide playing area with only a screen lightly splattered like a Pollock painting providing a concealing space in front of the altar. It opens very formally with a solid looking, casually dressed middle-aged man ritually marking a circle of salt or silver sand onto the pavement of the choir and bisecting it with a cross before an ailing Admetos, dressed in gold-braided naval uniform and making his way with the help of a stick, and a veiled Alcestis come to kneel before him. With a blow to the belly he seems to rip what might have been a heart from the king's body, then strikes Alcestis abdomen too. I thought at first this was some sort of symbolic organ transplant - but this was the wrong way round, it must be a symbol for sickness and death itself. Alcestis falls and is carried off and Admetos stands and goes. The officiant then reveals himself as the god Apollo, who has gained Admetos his life, provided someone will go with death instead. That concession won he then argues with death to try to save Alcestis too.
Andrew McDonald doesn't look like the golden-haired sun god, but that's probably he's in disguise, banished from Olympus to be Admetos' shepherd as a punishment, but his delivery has authority and sets a pattern for some splendid speaking from the whole company who seize the verse and deliver it with power, though sometimes with more volume than is compatible with the resonance of the building. Familiarity with the space may solve this problem for later performances. Shaun French's Admetos is a played with particularly force and passion. He becomes snarlingly vicious when, at Alcestis funeral, he turns upon his father Pheres for not offering his old life instead. John Harwood offers a contrasting cameo as Pheres, form hiding self-interest, sardonic and wryly humorous.
The arrival of Heracles, accompanied by guitar-playing friends in multi coloured leather, punctures the gravity of Admetos' house and Winder brings them in like a riot. Instead of simply leaving a servant to describe his roistering Hughes has expanded Heracles' role to give him a recital of his fabled labours and here they are acted out in choreographed images that erupt with sly humour in the staging. Matthew Mellalieu is no muscle-bound Heracles, he's a strong man whose figure belies his love of food and wine, but he rapidly sobers up when he learns the true nature of what is happening in the palace and sets out to bring about an ending that has pre-echoes of the happy endings of Shakespeare's late plays.
Sarah Kempton looks lovely as the revitalised Alcestis but, though hers is the title role, the emphasis is on her husband. She spends her time ailing and gracefully fainting. Her moment comes making her farewells to her family and extracting Admetos' promise never to remarry, though this loses some pathos because this version cuts her young children and replaces them with a silent baby.
Literally holding the baby is Christina Gallon's Nanny, another strong and intelligent performance. As well as this female servant, the Chorus are here three female staff of the household, the text divided between them with only a few lines spoken together. Leading them is the strong presence of Emma Garrett who also closes the play. She, along with Julie Gilby and Anne-Marie Piazza, gives the text a sense of natural conversation while still playing with a heightened style of delivery. They are helped by the Yorkshire character of the writing which is lightly accented but adds to the vitality of the whole company's speaking. The chorus are pure voiced vocalists and sing some more ritual passages, which retain the original ancient Greek. These include leading the audience to follow the bier of Alcestis out of the church before the interval. There are also live musicians playing music from Bartok's violin duos to introduce the acts and add atmosphere during the performance.
Working on tight budgets and with carefully managed resources director Daniel Winder and his Iris Theatre are making the Actor's Church into a place to see intelligent and satisfying performance. They have not yet entirely mastered the problems of the space but their work is something to look out for in the future.
Until 15th November 2008
Reviewer: Howard Loxton