Alex
Charles Peattie & Russell Taylor
Leicester Square Theatre
(2008)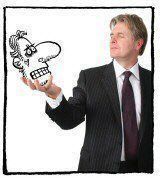 Alex is obnoxious, selfish and arrogant, certainly not a man you'd wish to befriend, and yet London loves him. After a successful run last year at the Arts Theatre and then jetting off to Australia and Hong Kong for sell-out shows, Alex is back in London boasting of his financial and personal exploits once again.
Alex is a daily comic strip about a banker (with a B!) called Alex. Created by Charles Peattie and Russell Taylor (who interestingly have never worked in finance themselves), it parodies the affluent and amoral lifestyle of a city banker through the character Alex. With our current economic crisis and the credit crunch on everyone's minds, could there be a more topical play in the West End?
The production of Alex is literally a comic strip on stage. Robert Bathurst as Alex negotiates his way around the stage, interacting with cartoon strip characters who appear on the various screens against their black and white worlds. The interplay between Bathurst and what is happening on the screens is skilfully executed. On occasions, when not interpreting what other characters have said to the audience, he in fact becomes the voice of his colleagues and family, slipping effortlessly into that of a northern working class secretary or his eager, flamboyant, French graduate trainee assistant, Sebastian. As Alex, Bathurst is a proud, pompous snob. He apologises to nobody for who he is (unless it serves his own devious plans) and even as we sit there watching disaster after disaster come his way there is still a smug air of confidence about him.
One does not have to be a financial wiz or a follower of the comic strip to recognise the character of Alex and the world he inhabits (although I'm sure it adds another level of humour if you do). I'm certain Alex himself would say that this play is an intelligent, articulate parody of the world of finance with a fantastic male lead and actually on this occasion, he'd be telling the truth.
Running until 20th December
Philip Fisher reviewed this production at the Arts Theatre
Reviewer: Rachel Sheridan