Alfred Hitchcock's The 39 Steps
Adapted by Patrick Barlow from an original concept by Simon Corble and Nobby Dimon
Fiery Angel Ltd and Tricycle London Productions
Yvonne Arnaud Theatre, Guildford
–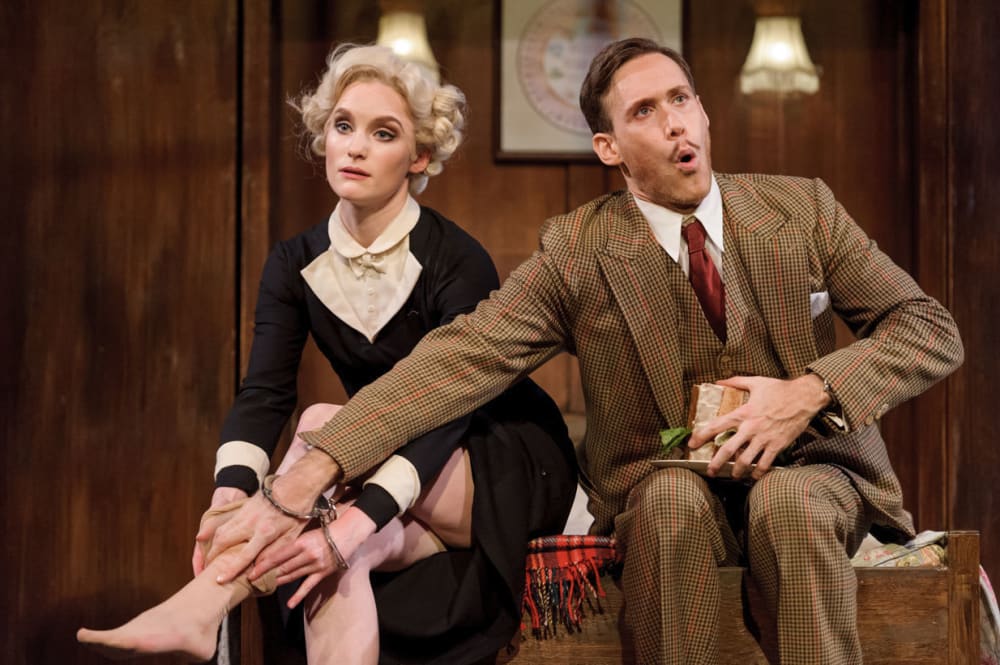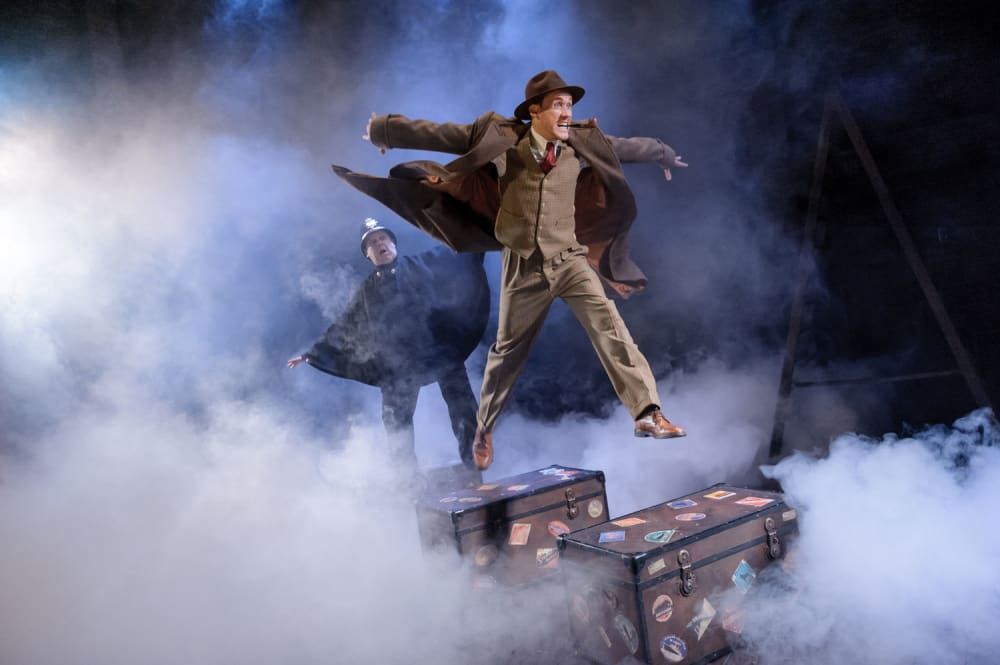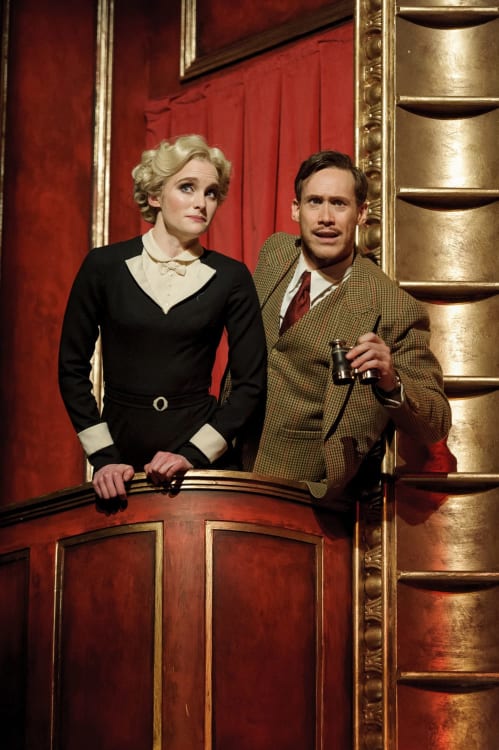 This production has had so very many awards and accolades that it's no surprise to find the auditorium full to bursting, and a great proportion of last night's audience were young people, which is always good to see.
This Hitchcock-style comedy thriller (according to Hitchcock himself, all his films were comedies) is played by only four intrepid actors taking on "130 roles in 100 minutes of fast-paced fun" with the added attraction of a mystery thriller woven into the story, or should that be the other way around.
Although John Buchan wrote the original novel, the company has virtually ignored him and taken their version from the 1935 Hitchcock film which Buchan not only approved but said was a better story than his own. In the hands of director James Farrell, not only is the action fast and furious but every move is timed to exquisite perfection.
One moment that I found particularly impressive, although there were many, was the villain of the piece about to sit on a chair which wasn't there and he was at the point of no return when the expected item shot out from the wings, perfectly placed. Such faith!
Richard Ede plays the handsome hero Richard Hannay, a very British gentleman who has accidentally stumbled on an international spy ring and sets out to unmask the villains, beginning when an elegant and mysterious sophisticated lady is stabbed to death in his flat. This is Olivia Greene who also provides the love interest in the story as well as one other very different woman while Andrew Hodges and Rob Witcomb take on the other 126 roles between them.
The quick changes involved are almost impossible to contemplate but achieved brilliantly. Well it just had to be silly, and so it is, but in the nicest possible and very British way. Hodges and Witcomb not only change costumes with the speed of light but the changes to each character are amazing. Very cleverly performed with mannerisms and facial expressions to match the characters, which are almost believable in spite of being very comical.
So much is involved in the production, the story having to include high-speed chases across the Scottish Highlands as well as a theatre setting and a journey on top of a train, and much use is made of the sound effects and actions as the wind howls around them. The task of creating all this with only four actors is virtually impossible, and it is their attempt to do so which makes the show so funny.
Shadow puppets are also involved as they players dash from mountain to moor and back with the very realistic aeroplane noise belying the fact that the said 'plane is on the end of a stick.
After nine years in the West End and gaining rave reviews all the way, including on tour, it is well worth catching if you can for a very enjoyable and frivolously funny night out.
Reviewer: Sheila Connor