Ali and Dahlia
Tariq Jordan
Maya Ellis in association with The Pleasance
Pleasance London (Downstairs)
–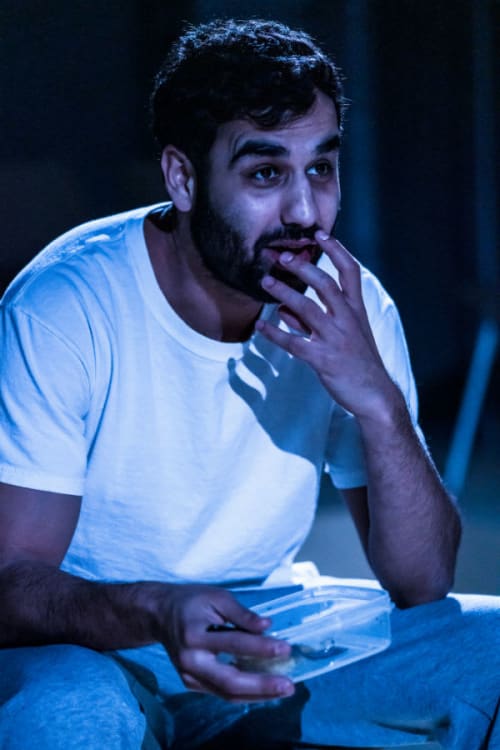 The official opening of the US embassy on 14 May 2018 in Israeli-occupied Jerusalem is the spark that creates the drama of Tariq Jordan's Ali and Dahlia.
Across the world there are objections to the US decision, 58 Palestinians are killed on the day of the event at the Gaza protests and Ali is caught by Israeli security after climbing into Jerusalem as part of a West Bank protest.
The play opens to his rough interrogation in an Israeli prison cell. He is hooded, made to stand in stressful positions and told to repeat the words "I entered Jerusalem illegally."
However, the visit a few days later from an Israeli defence lawyer stirs up emotions of a different kind when the pair instantly recognise each other. The scene switches to sixteen years earlier when they met aged fourteen at the border of Palestine and Israeli-occupied Palestine.
Ali and Dahlia is the engaging, compassionate and sometimes humorous story of their relationship in the troubled circumstances of Israeli checkpoints, border permits and security forces patrolling the area.
The play shifts between Ali's detention in 2018, when the Israeli's are keen to get information that might lead to a missing soldier, and some of the key earlier moments in the love story of Muslim Ali and Jewish Dahlia.
Waj Ali as Ali and Deli Segal as Dahlia give fine, confident and believable performances. The well-paced, gentle production treats all its characters with sensitivity and sympathy even when we may disagree with what they have done. The villain of the piece is a cruel and divisive system that is shaping people's lives in a way that is mutually destructive to Israeli and Palestinian. The play doesn't say free Palestine from Israeli imprisonment but that is the implication of its story of two lovers.
Reviewer: Keith Mckenna