Alice in Bed
Susan Sontag
Tender Buttons
Stephenson Works, Newcastle
–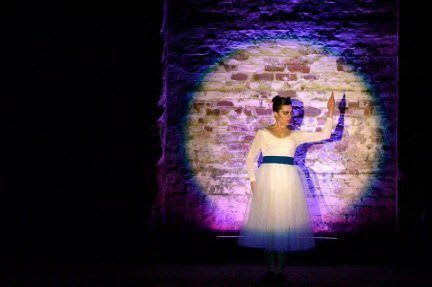 It's easy to imagine the Victorian age as you enter Stephenson's train factory, which stands behind Newcastle Station just within earshot of his modernised invention. Easier still when you feel the refrigerating cold leaking from the walls of such a cavernous, unheated space. The building has a masculine energy, which reverberates with historical echoes of clanking metal and the ghostly sparks of molten iron that belong to the dark times of industrial creativity.
Director Tess Denman-Cleaver has captured the other side of Victorian life where hysteria gripped the women of the age. Her theatre company, Tender Buttons, has achieved something quite special with a promenade production of Susan Sontag's 1993 play Alice in Bed. Sontag invents dialogue for Alice which mixes the reality of diarist Alice James with the more famous Alice of fiction and her Mad Hatter's Tea Party.
The opening scene echoes Alice's mind as she lays prone in her curtained bed chamber. The bed is piled high with 13 duvets, her nurse squashed on top in cartoon fashion, cross-legged in the half light. Alice is buried beneath the covers and how jealous I felt of all that warmth; it was all I could do to stop myself rushing up the bed and stealing just one of those duvets.
Sontag's play probes the mysteries of an intellectual mind sodden with frustration and infested with the creeping malady of boredom. Language becomes the adventure as the realities of history and biography submit to the interpretive power of fiction.
Tessa Parr lends Alice a child-like quality that is both naive and fiercely individual. As the curtains draw back, Alice's life unfolds into the space, her bed is moved from place to place and we begin to meet the characters in her life, both real and imagined. Alice's monologue visit to Rome is superb as she exclaims "...the child is also in the mind; in Rome.."
The centre of the play's action is the tea party. A gathering of independent women who belong to Alice's imagination: Emily Dickinson, Margaret Fuller, Myrtha from the ballet Giselle and the somnolent dormouse, Kundry from Wagner's Parsifal. This is the best bit of the play; I loved Rachel Gay's businesslike Myrtha and Joanna Holden's opium-smoking Margaret, but best of all, Abigail Moffat's Kundry, with her mad hair, who bursts into an operatic aria then falls asleep with iced cherry cakes on both eyes.
A lovely bit of reality invades Alice's fantasy world towards the end of play, when an Irish cat burglar climbs into her bedroom, a rather brilliant and fast-talking Tom Walton, who also plays her father, Henry James. James gives his reluctant permission for her to commit suicide, which she doesn't actually carry out.
Set designer Ben Jeans Houghton has managed to combine the hysterical with flashes of brilliance, which works beautifully alongside Douglas Kurht's sympathetic lighting.
The real Alice (James) died of breast cancer on March 6th 1892 aged 43. The only thing missing from this production is the manifestation of her pain, which may mean that her illness was perhaps a complex invention of her own mind. Sontag's imagination, however, is not in doubt.
Reviewer: Helen Brown