Alice in Wonderland
Ray Spencer and Graeme Thompson
The Customs House
Customs House, South Shields
–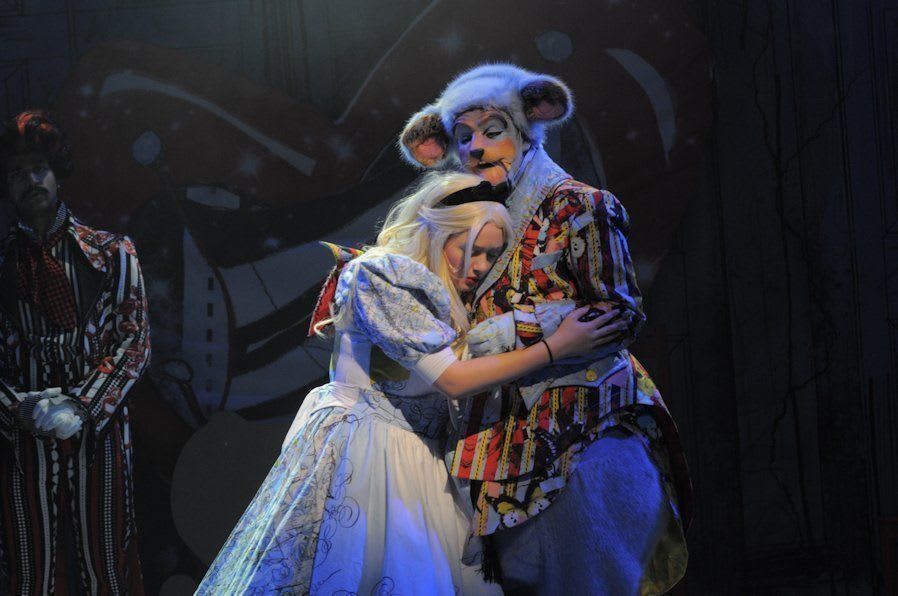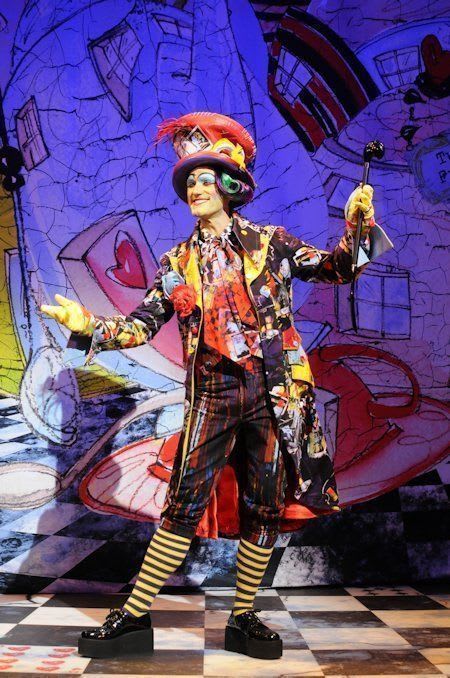 The panto at the Customs House is always unashamedly traditional: a huge amount of interaction with the audience; gags galore for both kids and adults; slapstick; double entendres; all the standard scenes (slosh, take-off, and so on) and the standard characters; lots of music; colourful costumes and set. Everything you expect is there.
And the audience know what they're going to get. You can sense the anticipation and excitement long before the lights go down—and when the overture starts, they're raring to go. The theatre is packed; many book for the same night every year; some even booked twelve months ago and some even want the same seats every year. It's a family tradition for many of the people of South Shields and the wider South Tyneside area.
And this year's show, Alice in Wonderland, doesn't disappoint.
It's 150 years since the Customs House (the building, not the theatre) opened its doors and since Alice in Wonderland was published so linking the two seemed like a good idea to writers Ray Spencer and Graeme Thompson and if it ended up more panto than Lewis Carroll, the audience didn't care—they were getting what they came for—especially as Tweedle Dum (Craig Richardson) and Tweedle Dee (Gareth Hunter) were two Minions!
There's another innovation which is even more unexpected. We're used to seeing unexpected people appearing in panto—sportsmen and women, soap stars, politicians—but never, as far as I'm aware, an opera singer. Or, at least, never an opera singer until now. Here, South Shields-born mezzo Anne-Marie Owens (Glyndebourne, ENO and many other national and international companies) plays the villain of the piece, the Queen of Hearts with her frequent cries of "Off with his head!"
The audience just accepted her as a typical female villain until she sang and then they were absolutely bowled over. They didn't know whether to boo the villain or applaud the singer—and settled for a bit of each! A bit of risky casting at first sight but one which paid off massively.
Holding the whole thing together, as ever, is Ray Spencer as the Duchess, now playing in his fortieth panto (and still using some of the same jokes!), whose easy relationship with the audience and ability to get away with insulting individuals are legendary.
He is joined by his daughter Natasha Haws as a suitably feisty Alice. She's sweet, too, and a fine singer—everything you want in a panto principal girl.
Wanting to be Alice's love interest but obviously not succeeding is the Knave of Hearts (Afnan Iftikhar) who, obsessed with selfies and Instagram, feels he is God's gift to women, which makes one wonder if he stole more than one kind of tart. (Sorry: I'm still too much in panto mode!) He is a superb singer and the show makes great use of his voice.
Steven Lee Hamilton's Mad Hatter is appropriately zany and engaging and he is yet another excellent singer.
The show actually opens with the White Rabbit (Luke Maddison) dashing across the stage, clock in hand, singing "I'm late", the only Disney reference in the show, and pursued by Alice. Maddison maintains the character's agitation and near panic throughout and endears himself greatly to the audience.
There are, of course, other animals in the story. The Cheshire Cat is a beautiful animation by Sheila Graber, voiced by Alfie Joey, while Kylie Ann Ford plays the Dormouse and Stephen Sullivan the Mad March Hare.
Ford's Dormouse is delightfully shy and sweet (and not a bad juggler: Ford has just returned from clown school in Spain where she has been developing new skills) and Sullivan gives the Hare a manic body language which suits the character down to the ground. He is also the only performer to play two roles; he is transformed by the Queen into the King of Hearts and manages to maintain just a bit of the Hare's movement whilst otherwise creating a new character.
They are well supported by the young girls of the South Tyneside Dance Workshop, choreographed by Jacqui West, who not only give the audience plenty of enjoyment with their skill and enthusiasm but seem to be having a great time themselves!
Set, costumes and make-up are yet again designed and produced by the duo of Paul Shriek and Matt Fox and if anything they are even more impressive than they've been in previous years. Their work has made the Customs House panto a visual treat without equal.
In other words, another tip-roaring success for "the little panto with the big heart".
Reviewer: Peter Lathan