Alice in Wonderland
Laura Turner inspired by Lewis Carroll
Gala Durham
Gala Durham
–

Listing details and ticket info...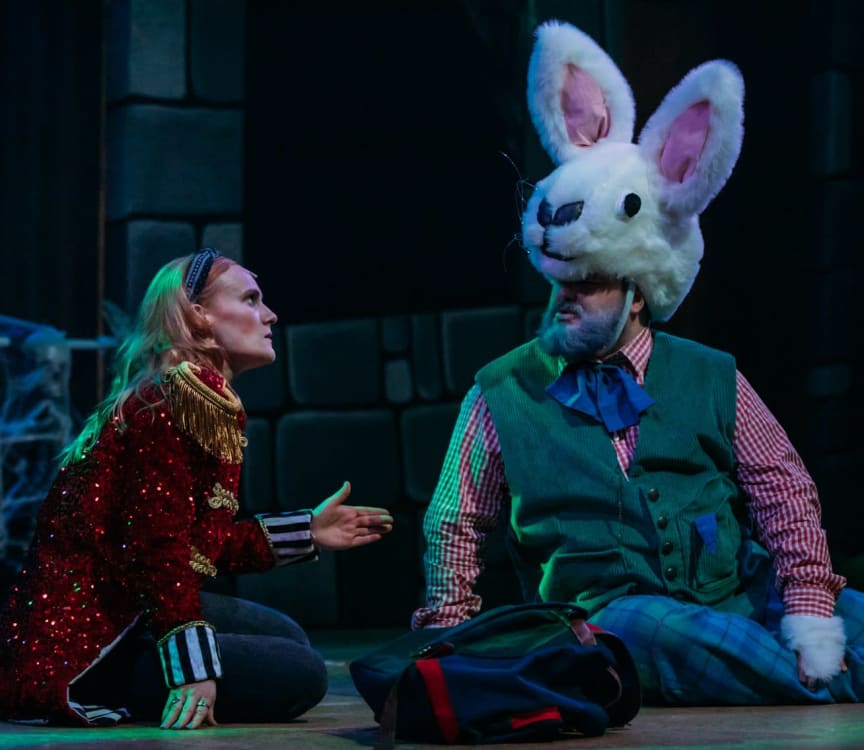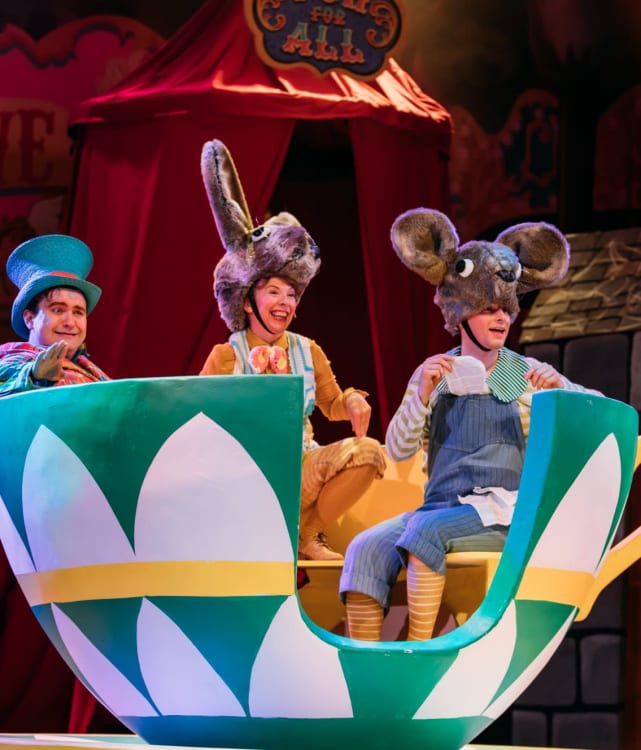 You enter to see an open stage set in a fairground. A real caravan takes up more than a third of the stage at the back, a curtained entrance centre stage, with a gypsy's tent and building façade on the other side.
Alice (Beth Crame) bursts on stage and, speaking to the audience directly, tells you of her earnest desire to have an adventure. The fairground and caravan are her home, which she shares with her dad (Steven Stobbs). She is not impressed at his plans to move to a 'boring' house, particularly which he intends to share with Mandy (Kylie Ann Ford) and her son Callum (Aiden Nord). She misses her mam and does not like change so plans to run away and have adventures. Helena the fortune teller (Karen Traynor) tells her to beware, because she may get more than she bargains for. She packs a bag and sets off—or does she?
The basic characters are there: White Rabbit (Stobbs), Queen of Hearts (Ford) Mad Hatter (Kieron Michael), Dormouse (Nord), Duchess and March Hare (Traynor). The cat is brilliantly digitally projected on ceiling and theatre sides, designed by Chris McQuillan; more would add greatly to creating a dreamlike, mystical atmosphere. The luminous puppet caterpillar is great fun, which the children loved and this adult also, so good the black-draped puppeteer did not hinder the enjoyment. This did not apply to the draped figures moving the mirrors as one could see them more than the mirrors, somewhat losing any magic.
The cast move effortless from character to character, Ford singing "don't you love my style", and she certainly has style, establishing her character from the moment she struts on stage; Ford's panto experience is also evident in her exchanges with the audience. Michael is definitely 'mad' as the Hatter, consuming the character, contrasting well with the other characters he plays. Nord is an adorable Dormouse getting ahhs from the audience, Stobbs the ideal dad and lovable rabbit, Traynor is a suitably mad Hare companion to Hatter, her fortune teller is somewhat subdued, maybe the bonny lemon frock did not help eccentricity. It is not easy for an adult to appear 12 and Crame loses some credibility in this area. She certainly plays a very feisty, aggressive Alice, which is a change.
Director, performer and facilitator Rachel Glover brought some pantoesque elements to the production, maybe influenced by directing the last Christmas show at the Gala. It has a very panto approach to the audience, addressing them directly, involving them in songs and hand actions, getting them to join in, which is all good in a family show. Many of the costumes by Emily Baxendale are well designed for the characters, such as the Queen of Hearts and Mad Hatter, being very much larger than life. While one knows who are under the head pieces of some characters, the White Rabbit's could be seen clearly but the Hare and Dormouse being on the back of the head could really only be seen from the side, bit of a waste of nice head pieces.
Alice in Wonderland is one of the best known and loved Victorian stories written in 1865 by Lewis Carroll. This production is the inspiration for this work by Laura Turner, an East Midlands playwright and screenwriter. Turner is no stranger to adapting the classics, with over 40 works, including novels, original plays and adaptions, to her name. Where the adaption was going was not clear; while a 'dream' is suggested, being aware constantly of a huge caravan, building and other fairground furniture on stage distracted from this notion. The lighting or some transparent covering 'killing' their presence could minimise their presence, which may have added to what actually was happening and where and not be so confusing, but the original story does play with logic.
Carroll was born Charles Lutwidge Dodgson in Cheshire in 1832, with seven sisters and three brothers. The character Dodo was styled on himself, it being his nickname at school. He was a mathematics don at Oxford University, where he had studied. Apart from the 12 literary works of fiction, he also wrote 11 books on mathematics. While a deacon, he refused ordination, suffered from chronic migraines, epilepsy, stammering, ADHD and was an avid photographer, complex character, a little like his work. A friend's daughter, Alice Liddell, inspired the original on a boat trip. It has been adapted for theme parks, musicals, screen, radio, art, ballet, opera, board games and even video games, so very popular.
The book has never been out of print in 174 languages, its characters and imagery being a strong influence on literature, especially in fantasy; one can see why it is a perennial favourite appealing to children and adults, indeed families, which filled the theatre. Such a story is hard to condense into 100 minutes, two hours with an interval, so Carroll aficionados should not be disappointed, maybe Alice's Adventures inspired by Alice in Wonderland would be a more fitting tittle. Many of the audience were also too young to maybe know the story so just enjoyed the fun. There is an ongoing message about not being frightened of change, but, rather like a painting, the show should speak for itself, it should not need explanation. The last thing small children want or would listen to, especially in a show, is what they should think.
"One of the secrets of life is that all that is really worth the doing is what we do for others" is one of the most famous lines from Carroll's story and what could be worth doing more than taking others, your family, to see a live performance?
A veritable abundance of colour, light, costumes, music, song and characters, an excellent experience to be enjoyed by all the family together, which this show was.
Reviewer: Anna Ambelez