Alice in Wonderland
Will Todd
Opera Holland Park
Holland Park
–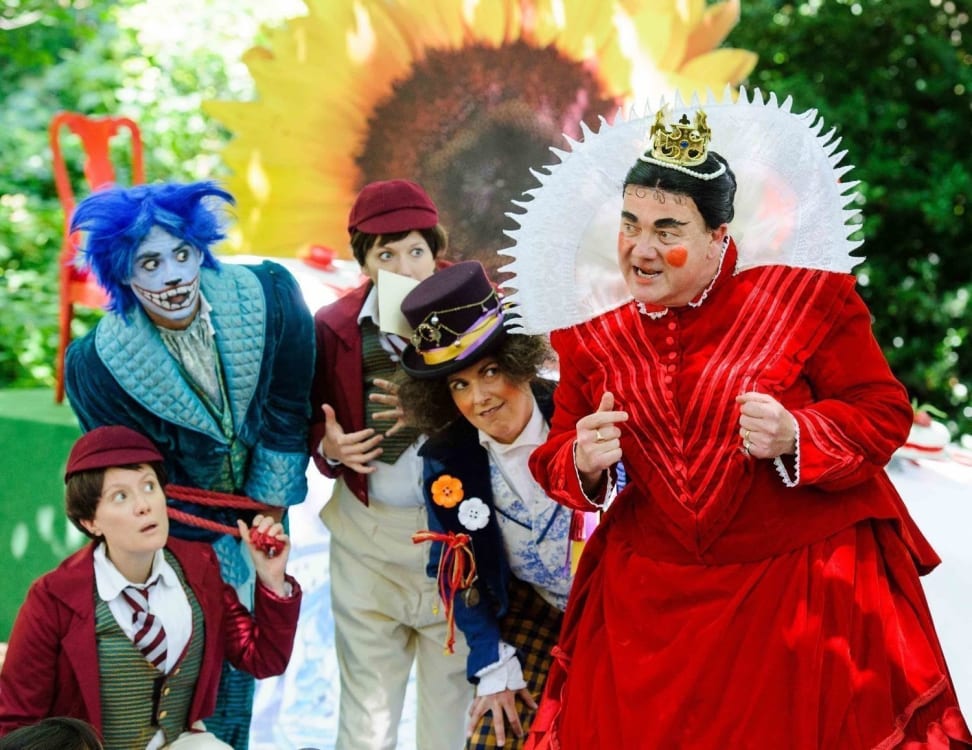 I must preface this review with a confession. I was unable to find a spare available child to take to Opera Holland Park's family friendly Alice in Wonderland, and so enticed a like-minded adult with a girls' lunch out first.
After scoffing down burger and chips and profiteroles from the Castle Pub (very reasonably priced, delicious and conveniently just by Holland Park tube!) we arrived at the show rather replete. When handed a portable cushion with the explanation that there would be lots of moving around, I'm sure my stomach audibly groaned.
Despite all of this, Alice in Wonderland succeeded in charming us jaded adults, and judging by the smiles on the hordes of childrens faces it was a thumbs up from them too.
Will Todd's jazzy composition has been such a hit at Holland Park, that this is the third summer that Alice in Wonderland has appeared on the Yucca Lawn. This year, the show will also transfer for a run at the Linbury Studio at ROH. To top it off, they have just released a CD of the opera on the Signum Classic's label.
The show succeeds in being delightfully amusing, visually enticing, and best of all displaying some excellent singing. Alice (Fflur Wyn) is certainly a name to watch out for; it's a hard task to project well in the open air but she does so and succeeds in keeping a warm and beguiling tone. Other notable performers are Maud Millar (Duchess / Bottle), Samantha Price and Daisy Brown as Tweedle Dum and Tweedle Dee, and Victoria Simmonds (Mad Hatter / Mum).
It felt as if the cast had been delivering this excellently crafted piece of children's theatre for weeks already, so slick was the opening performance. Fflur Wyn was impressively unfazed by children calling for Alice to "Run Away!!".
The accompanying 11-piece orchestra, led by Matthew Waldren, delivers a tight, rhythmic performance, and Will Todd's score certainly keeps the pace moving. Even the orchestra relocates as the action moves around four stages in the park, well judged to get little feet moving just before a young audience gets too fidgety.
This is a well-crafted piece of children's theatre, complete with a cross-dressing pantomime dame character in the form of the Queen of Hearts. The libretto by Maggie Gottlieb is charming without being overly saccharine and sophisticated enough to amuse and entertain the adults too.
If you have a child, this is a wonderful introduction to musical storytelling, and you'll have a lovely afternoon too. My only advice is: stick to a lighter lunch.
Reviewer: Louise Lewis