Alice in Wonderland
Adapted by Morgan Lloyd Malcolm from the novel by Lewis Carroll
Octagon Theatre Bolton
Octagon Theatre, Bolton
–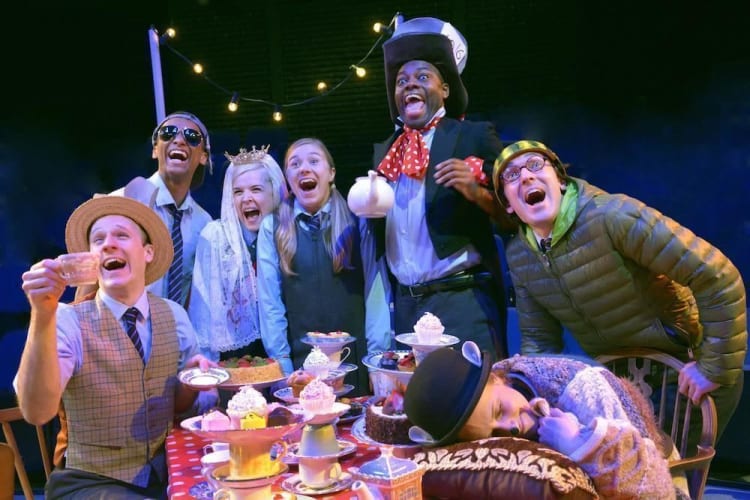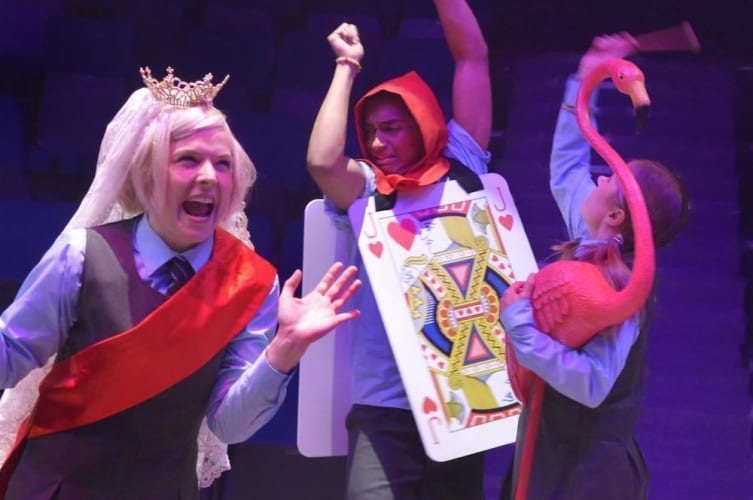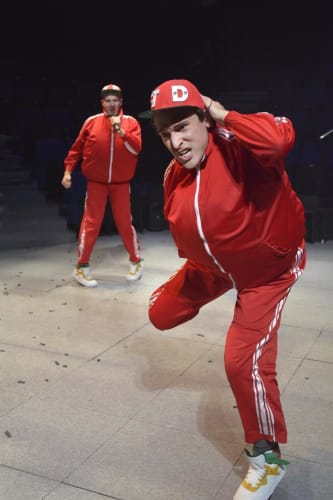 Returning to the Octagon after last year's Christmas production of Robin Hood, writer Morgan Lloyd doesn't transplant the story to Bolton as with last year's Sherwood Forest, but we do start in a location that should be familiar to the target audience: a primary school classroom.
This Alice is a bit of a class outcast, frightened to speak up and considered uncool and clumsy by the others, but she is desperate to be allowed to take home the class rabbit. But the rabbit escapes and leads her on the adventure with which we are more familiar.
As a framing device, it works perfectly well, taking us into Wonderland with some aerial acrobatics with a hoop and then through the various sizes of Alice with some flashing lights and changes of size of door. These effects are imaginative and it is easy to appreciate them as an adult with a decent knowledge of the original story, but they do not elicit wonder or make clear exactly what the clever staging represents story-wise to those youngsters without prior knowledge of Lewis Carroll's loose, absurd narrative.
We are taken with Alice on a trip through some of the familiar characters from the book, such as the Cheshire Cat, Mad Hatter, Caterpillar, Red Queen and so on, although many of the characters are not quite as larger-than-life as they really need to be, which is not helped by costumes that have some lovely colourful elements on a base of a dull school uniform.
The biggest exception to this is the hip-hop pairing of Dee and Dum, who open the second half with a rap version of "The Walrus and the Carpenter", which actually fits surprisingly well. Other songs are few and far between with pretty unmemorable tunes and lyrics that, where not taken from Carroll's own words, aren't great.
It is great, though, to see a venue of this size finally doing away with mics for the singing. The backing music is a little sparse in its orchestrations, failing to give real body to many of the numbers. There are some very long scene changes which the cast attempt to cover with improvised banter with one another and the audience, but it isn't enough to prevent them from dragging a bit.
The style of the performances is rather Cbeebies adults-playing-children with the occasional but of gratuitous moralising, but almost all of the laughter on press night was coming from adults, despite a very mixed audience age-wise. It's difficult to see exactly where the show is pitched.
Sarah Vezmar is a very appealing Alice, a huge part with a lot of words and very little time off stage. All other parts are played by the ensemble of Emily Butterfield, Barbara Hockaday, Russell Morton, Offue Okegbe, Jack Quarton and Alex Sawyer.
It's the perfect length for a family Christmas show at under two hours including interval and has some impressive ideas behind it, but it just doesn't do justice to Carroll's huge characters or provide quite enough to sustain the interest for any age for the whole show.
Reviewer: David Chadderton