Alice in Wonderland
Lewis Carroll, adapted for the stage by Daniel Winder
Iris Theatre
St Paul's Church Covent Garden
–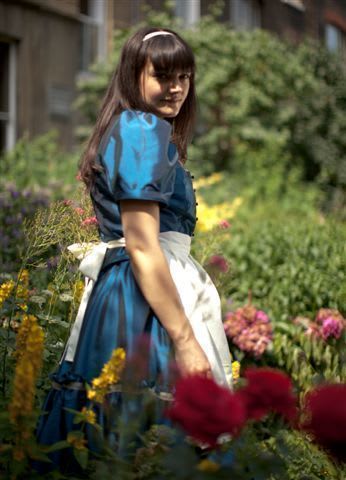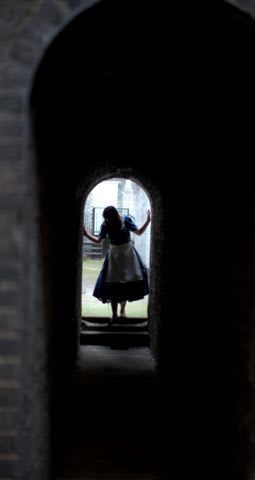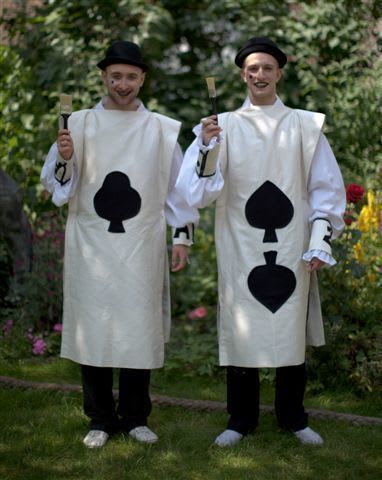 I always loved Carroll's Hunting of the Snark but, although I enjoyed its songs and verses, Alice's Adventures in Wonderland never caught my imagination as a kid. However, it certainly fired the creativity of director Andrew Lynford, adapter Daniel Winder and the Iris Theatre company. Their version, presented as a promenade in the gardens and church that lie at the heart of Covent Garden, is a delight that will be enjoyed by Carroll fans and those who aren't.
This story of a little girl who follows a white rabbit down a rabbit hole to enter the bizarre kingdom of the playing-card King and Queen of Hearts and then can't remember who she is loses none of Carroll's zaniness but takes on its own logic and a form that gives its inconsequentialities a strange normality.
Centred around Laura Wickham's fresh and innocent Alice, it becomes her journey to discover whom she is as she encounters life's anomalies and the puzzle of growing up. She is a sensible and clever girl adapting to a world that is neither fair nor sensible, just like the real one but with its own system of contrariness and understanding.
Like Alice, the audience goes down the rabbit hole, a subterranean run around the churchyard where a long ribbon of text along the ground reads backwards, Filipe Gomez's strange music blanks out nasty noises and glimpses into local basements reveal yet another world before emerging into a square where circus acts provide the entertainment until the whole audience is assembled.
The circus is used to launch Alice's adventure and manage the feat of making her grow large or small to facilitate her progress, which is simply but effectively handled throughout this production, but the circus people plays no further role in telling the story.
Peregrination around the site to each new location following the characters or their instructions makes the episodic and arbitrary alterations of each new environment that Alice enters seem more appropriate and with all the familiar lines, the jokes and songs (delightfully set by composer Candida Caldicot) it all becomes enormous fun.
Andy Pilbeam-Brown has designed settings that grow naturally out of the churchyard garden and plonks a huge teddy-bear to dominate the final courtroom scene within the church and as the sun goes down Benjamin Polya's lighting adds it own magic to the scene. With one eye on tradition, Emma Devonald has really gone to town with costumes and Zosia Stella-Sawicka's puppets, which help to create effects of scale, range from a huge Cheshire cat to tiny manikins.
That is all an excellent start but of course it is the actors who have to bring it all to life. Laura Wickham's Alice is the only female; all other roles are played by men, which allows for considerable grotesquerie with the Daniel Hanna's Duchess (he is also the Lory and a melancholy Mock Turtle) and David Baynes's outrageous Queen of Hearts (doubling a frenetic March Hare).
With Nick Howard-Brown a loonily lucid Mad Hatter (and Gryphon), Simon Kent the always-late White Rabbit, Michael Lynson a Mouse and Dormouse and Matt Wilman both King and Caterpillar that's only half the characters accounted for but these seven actors manage enough quick changes to cover almost all the others—and provide accompaniments for the songs.
Everyone gets to attend the Mad Hatter's tea party at the largest table ever, some get to play croquet or be the hoops and the audience provides the trial jury too in some of Mad Hatter Milliner's (that's Florence Meredith, Maddy Ross-Mason and Hana Amer) delightful hats. But you don't have to be assigned a role to feel part of this show.
This is a well-knit ensemble company with whom you share the evening to everyone's enjoyment and there is an extra pleasure for those who have seen this summer's earlier production of Julius Caesar to see the same actors playing such very different parts. No type-casting here.
Reviewer: Howard Loxton