Alice in Wonderland
Adapted by Ant Stones from original story Lewis Carroll
Guildford Shakespeare Company
Starting at St Mary's Church, Guildford
–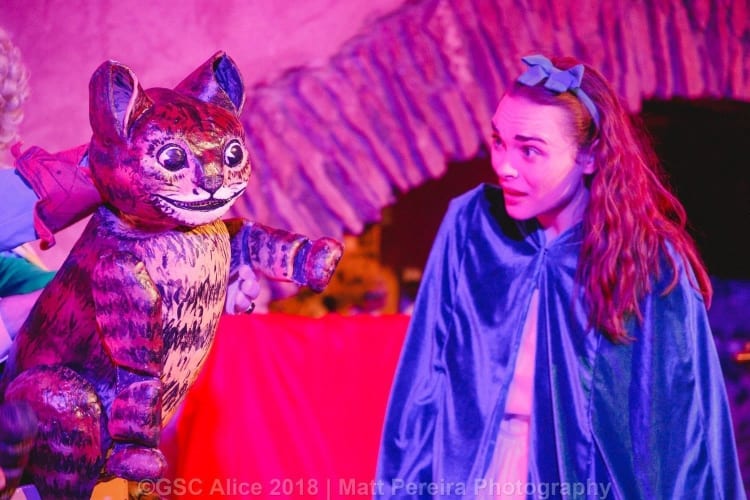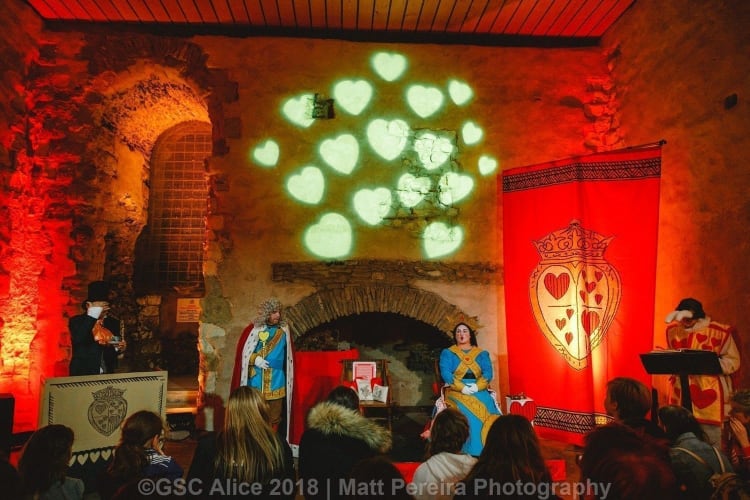 Guildford Shakespeare Company revives its 2015 production of Alice in Wonderland, a promenade piece in the centre of Guildford.
Don't expect to sit back and relax—in this show you are an active participant, led into wonderland by Alice (Amelia Annowska) and a frantic White Rabbit (James Camp).
This show is full of relentless energy—and really fits the remit as a family drama. With four shows per night, the cast have got their work cut out keeping such a high octane level of performance. Starting in St Mary's Church, the Reverend preaches at us from the pulpit—before Alice interrupts with her opinions from the congregation.
The first section of this show spends a little too long setting up the idea of promenade theatre and the themes of the play. Not only do we have the Vicar as narrator but Alice and the Caterpillar's lines are in the realm of pantomime obvious.
Luckily as we move into Wonderland (Guildford Museum), there are more treats in store. Free to wander at will, we meet the Cheshire Cat, the Duchess, stumble across the Caucus Race and are just in time for tea with the Mad Hatter.
Any complaints that this production is overly saccharine are swept aside with the introduction of the Mad Hatter, Hare and Dormouse. The Hatter (James Burton) steals the show and is the perfect antidote to Alice's girlish glee with his unapologetic rudeness. I was hustled away from the tea party with the line "I would have had a much better time if you had worn a better outfit" ringing in my ears. A career in stand up awaits.
Amazingly, there still could have been a bit more to see in the museum—the interactive tea party and kitchen scene with the Duchess hold our attention, but we find ourselves dawdling a little as many other skits are passing fancies.
Luckily, the show finished with a grand finale. The well-plotted route leads us up the hill to an atmospherically lit Guildford Castle. By then, we were all well adjusted to the mad world of Wonderland, but once inside one poor punter finds out that they are due to be executed as the Knave of Hearts, which had all the adults as well as children laughing. The dialogue for the trial and the tea party are better scripted to be enjoyed by all ages and the audience and performer interactions more ingeniously interwoven with the plot.
Niggles aside, this is a joyful evenings entertainment and the whole audience were gleefully swept away by the actors' enthusiasm.
Reviewer: Louise Lewis