Alice Through the Looking Glass
Lewis Carroll, adapted by Sally Meredith
Illyria
Gibside Chapel, Rowlands Gill, and touring
(2004)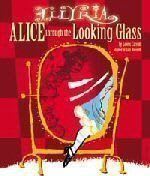 This should have been the second Illyria review this week: Steve Orme was going to see their Pride and Prejudice but so awful was the weather he decided to give it a miss. The following evening - and a couple of hundred miles further north - I was much more lucky: a lovely balmy evening, warm and pleasant, was perfect for watching an outdoor production.
Alice is, of course, a children's show and there were many children in the audience, most of them fascinated by the story unfolding before them, and if one or two of the very youngest did become a little restless towards the end, well, it was after their normal bedtime and they had been sitting for two hours, apart from a twenty minute interval.
This Illyria production remains very faithful to the book, which means there has to be a reasonable amount of narration - a process often fraught with danger for a show, for all too often narration means the illusion is dropped and has to be picked up again, which requires no small effort from the cast. Not in this production, however, for it begins with Lewis Carroll talking directly to the audience, explaining, with the help of the rest of the cast who take on the characters of the Dean of Christ Church, governess Miss Prickett, Alice and her sister Lorina, how he came to write the story. Gradually he moves on to the story itself, Alice Liddell becomes the fictional Alice, and, almost imperceptibly, the introduction becomes the story.
And at the end, with the join scarcely showing, the author finishes the story and we end as we began, with a song. In the middle the mantle of the narrator passes to Alice, who establishes a rapport with the audience (kids and adults), almost in the manner of the panto comic. A female Buttons, indeed!
The young cast of five, in true Illyria fashion, play a mutitude of parts with amazingly rapid costume changes and an array of accents. But their characterisation is not just a case of costume and accent, each character has its own movement language, and with facial contortions and the occasional mask, it was sometimes difficult to tell which actor was playing which part - a real compliment to them.
Miriam Jay Allwright, Rachel Tudor, Guy Michaels and Alistair Chisholm (who did remind me of Hugh Laurie!) were the masters of disguise, and Becky George made a delightful Alice. She really was an endearing little girl. All handle the difficulties of open-air playing superbly.
A kids' show, yes, but, as in the book, there was much for the adults in the audience to enjoy too. Thanks goodness for the (this year quite unusual) weather: I would have hated to have missed this.
"Alice" tours to National Trust properties throughout the country until 12th September
Reviewer: Peter Lathan