Alice Through the Looking Glass
Hattie Naylor after Lewis Carroll
The egg, Bath Theatre Royal
(2010)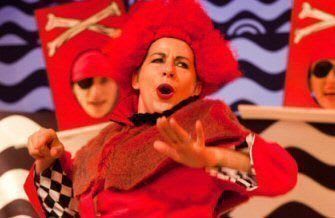 Hattie Naylor's irresistibly anarchic adaptation of Alice Through the Looking Glass, which premiered in 2007 at Bristol's Tobacco Factory, is revived here by Lee Lyford in a fun-packed production for Bath's egg theatre.
Paul Dodgson's score and Jessica Worrall's ingenious monochromatic design add to the magic of this production, and a strong cast bring to life the pandemonium of the world beyond the looking glass.
Alexis Terry is a tenacious Alice, entertainingly enraged by the taunts of her elder sisters. Her journey is brimming with with strange encounters - all of which keep the family audience spellbound. Among the most memorable has to be the verbose flower-bed, particularly John Biddle's deliciously Shrinking Violet.
Louise Plowright's Red Queen, is a marvellous, Frances de la Tour-esque, entirely mad monarch, whose beautifully impassioned rendition of "My Time is Spent on Queenly Things" in Act II is an unforgettable highlight worthy of any West End stage. Her bizarre store, filled with temperamental Liverpudlian merchandise, is another highlight, as Plowright rocks out to her merchandises' anguished refrain, "we live in fear of sticky-fingered girls".
There are more inspired character choices throughout the production which keep all ages of audience member rapt. John Biddle's angry Humpty Dumpty wouldn't be out of place selling the Socialist Worker, for example, while Paul Mundell's White King appears to have a mild case of Tourettes. Both are met with belly-laughs from the audience.
Dodgson's score adds to the mayhem: a particular favourite is the "overwrought" Christmas Pudd, a self-pitying alcoholic, miserably swigging brandy to help block out the pain of knowing that he will be forever "a pudding, never a main".
This is a witty adaptation in a vividly realised production, with enough mayhem and madness to suit all.
Runs at the egg until Sunday 9th January
Reviewer: Allison Vale