Alice
A new adapatation of Lewis Carroll's Alice in Wonderland by Laura Wade with original music by David Shrubsole
Crucible Theatre, Sheffield
(2010)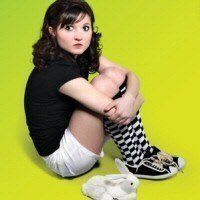 This delightful piece of Children's Theatre is reminiscent of Theatre in Education programmes in the 80s. Laura Wade's adaptation of Charles Dodgson's classic tale uses a framing device which makes Alice's journey relevant to the experience of an early 21st century child. The Alice in this re-working of the story is a traumatised 12 year old, whose older brother has recently been killed in a traffic accident; she has also been rejected by her mother, who is incapable of seeing beyond her own grief.
Alice sets out on an inward journey, on which she encounters the familiar figures from Dodgson's story, who provide experiences and proffer advice about how to cope with the ups and downs of life. She eventually emerges, more capable of dealing with her loss, and ready to re-enter the real world. In a final encounter, the White Rabbit summarises the advice that she's been given on the way, and helps Alice to reflect on her 'learning experience'. So, the theme of this version, which starts with a funeral, is teenage bereavement and how to deal with it.
Having recently read the script of Laura Wade's Posh (though sadly not seen the play), I had high expectations of this production and was not disappointed. The dialogue in the various encounters on Alice's journey through Wonderland is sharp, witty, and comfortably includes local and national reference. The production is fast moving, amusing, inventive, and visually delightful. It was good to see a stage so peopled with actors (including a large group of children), in interesting groupings and emitting so much energy.
Sadly, there was a flaw at the heart of this production. Despite Ruby Rentall's impressive CV, mainly in TV and film, and although she comes over as a convincing and authentic 12 year old, her high pitched, metallic voice is hard on the ear and sometimes difficult to understand. I don't know whether she's been told to use a higher register in order to appear younger; but, particularly in scenes in which she has a lot to say or is dominant, this is quite an uncomfortable experience, and the scenes fall flat. I am sure she could use a lower and more natural register without losing credibility.
Otherwise, I thought the whole cast was exceptionally talented. No problems about voice production there, and the singing was impressive. The women caught my eye in the first scene, Beatie Edney and Pippa Haywood (Duchess/Red Queen) but so also did John Marquez (a variety of strong roles including Humpty), and Jonathan McGuiness as a sensitive Dad and weak King of Hearts.
Graham O'Mara was on slightly dodgy ground as the Cheshire cat - 'Stroke my tummy' - but this scene was handled with consummate tact by director Lyndsey Turner, and O'Mara's convincing and innocent cat like purring deflated any thoughts of impropriety. John Biddle and Oliver Birch's double act as Tweedledum and Tweedledee was beautifully delivered and very funny. 'How cool is that?'
Graham Turner was resplendent as the M. Hatter (wonderful hat!) but probably enjoyed himself more as the Wonderland Border Control Official: 'Do not step beyond that line' and other recognisable airport stuff. Jack Beale, as the White Rabbit, was the first alien creature to appear in the Wonderland of Alice's imagination (crash helmet with ears), and set up a sense of normality for what was to follow.
The other real treats in this production are the stunning costume designs (Naomi Wilkinson), and also her sets, particularly the croquet scene with its stuffed flamingoes, and at one point a radio controlled hedgehog. And also the wonderful music, written by David Shrubsole, and performed by the Wonderband, which includes Jack Beale, John Biddle, Oliver Birch and Graham O'Mara. What a pleasure to have Jabborwocky, The Walrus and the Carpenter et al set to music. And of course the lovely Walrus dance which included the children.
The play is not suitable for 5 year olds, but would be of considerable interest to thoughtful 12 year olds, particularly if they've read the book.
Running until 24th July
Reviewer: Velda Harris