Alice in Wonderland
Lewis Carroll, adapted by Theresa Heskins
New Vic Theatre, Newcastle-under-Lyme
(2011)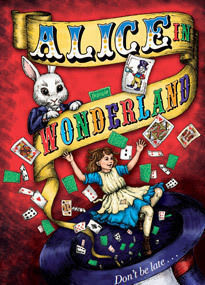 As this year's crop of Christmas shows get underway, Midlands' theatres have been trying their utmost to get their auditoria filled to capacity.
Press officers have been encouraging audiences to buy tickets with possibly more hyperbole than they've ever used before. Five shows that I've seen promoted promise they'll be "spectacular" while others have been dubbed "sensational", "glittering", "wonderful" and "fabulous". That was even before the dress rehearsal.
But when Theresa Heskins, artistic director of Newcastle-under-Lyme's New Vic, promises a production with "something special", you're inclined to sit up and take notice.
Theatres in Los Angeles, Singapore and Canada have been asking about her script for The Lion, the Witch and the Wardrobe which took to the stage of the north Staffordshire venue two years ago. Presumably they'll soon be making enquiries about taking Alice in Wonderland.
The New Vic has built a reputation for its slick, polished, inventive productions. Alice enhances that reputation even further.
A precocious four-year-old boy sitting near me didn't seem to be too happy because, his granddad explained, it was all wrong and didn't stick to the original. Perhaps he was a bit too young to appreciate the intricacies of turning a novel into a stage production capable of keeping an audience of all ages happy for a couple of hours.
In Theresa Heskins' new adaptation, Alice comes from Stoke and her family lives on a barge. The eleven-and-a-half-year-old girl follows a magician into a theatre only to fall not through a rabbit hole but through a trap door which takes her into a Wonderland inhabited by an array of fascinating characters.
Costume designer Lis Evans and set designer Laura Clarkson have succeeded admirably in creating the characters and their environment. A huge, scary Jabberwocky, a Cheshire cat puppet controlled by three actors, and a shrinking and growing Alice look exceptional.
With Alice's barge turning into a street vendor's barrow and several baffling illusions, you have visually a magical production.
Twelve actors each play several parts and double up on instruments including violin and flute as musical director and composer James Atherton is kept busy producing songs and sound effects.
Hannah Edwards is a good choice to play Alice; she's likeable and inquisitive, and displays a young girl's mannerisms including the occasional tantrum. She has a reasonable singing voice although it sometimes lacks power and she can be drowned out by the backing band.
New Vic regular Michael Hugo is as impressive as always in the role of the Mad Hatter. His nonsense song during his tea party gains the loudest and longest laughs because he knows how to work an audience.
There's also a spirited performance from Devon Black as the decapitation-threatening Red Queen.
But this is very much an ensemble piece, with everyone contributing to a memorable production.
Apart from a scene involving Tweedledum and Tweedledee which goes on too long, Theresa Heskins' direction is spot-on. In fact there's so much going on it's difficult to take everything in and you get the desire to watch it for a second time.
This is a magical production in every sense of the word. The New Vic really has come up with a wonderland this Christmas—and that's no illusion.
"Alice in Wonderland" runs until 21st January
Reviewer: Steve Orme