Alice's Adventures in the New World
Sarah Sigal
fluff productions
Old Red Lion
(2010)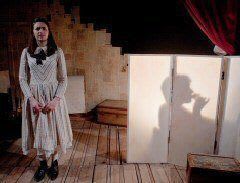 All-female company fluff productions are pushing an Agenda with Sarah Sigal's Alice's Adventures in the New World, which forsakes Carroll's allegorical Wonderland for a dialectic quest across America in search of a literal and figurative feminist ideal. Subtle it ain't, but it is rollicking good fun.
This alternate Alice (Ailsa Ilott), whose discombobulated naiveté hides a steely core of unassailable common sense, manages to avoid tumbling down any rabbit holes, but still runs across plenty of colourful (and instructive) characters. The object of her search is her mother: not the victim of a hunting accident at all, but rather a divorcee (gasp!) living in America.
Yes, this is the Victorian era, when accidental death really was more socially acceptable than divorce - making it the perfect setting in which to explore fluff's gender agenda. Alice is seeking her mother to find out why she abandoned her husband and children, a question (it transpires) only answerable by asking larger questions about gender equality: is it automatically a woman's responsibility to raise her children? and what does a woman get out of marriage anyway?
Alice never finds herself short of advice on that score. From a nymphomaniac poet, who advises forsaking polite society altogether in favour of self-gratification, to a New York debutante interested only in snaring a wealthy husband, to the sage wisdom of one Mr Wilde, Alice's journey is a parade of entertaining archetypes.
The characters are as efficiently costumed as they are characterised: a sword-belt and epaulettes for Alice's soldier brother Henry, for example, or an extravagant cravat for her (ahem) extravagant actor brother George, quickly clipped or strapped on over the ensemble cast's corsets and bloomers.
But - again, like Sigal's characterisation - what little costume designer Katherine Webb chooses to use appears to be of lavish quality. The same quality, though incredibly not the same minimalism, is evident in Lily Arnold's set - a poignant broken proscenium propped up on piles of books, and a floor of palettes, riddled with hidden compartments, through which light glows.
Completing the Victoriana aesthetic are Phil Hewitt's terrific period-style sound machines, cranked by musical director Amelia Cavallo in full view of the audience to evoke whistling wind, rain or a clattering train.
A combination of broad humour, pantomime-style audience involvement and music hall song and dance numbers make a non-issue of the intimidating two-and-a-half-hour running time - which leaves no excuse. Go, enjoy and be edified.
Until 13 March
Reviewer: Matt Boothman