Alice Through the Looking Glass
Hattie Naylor after Lewis Carroll, Music & Lyrics by Paul Dodgson
Tobacco Factory, Bristol
(2007)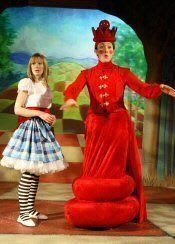 The Tobacco Factory's production of Hattie Naylor's quirky re-working of Lewis Carroll's Through the Looking Glass is a fun-filled, fast-paced, anarchic piece of theatre.
Director Andy Burden explains that he was drawn to Alice Through the Looking Glass from an early age; that here he felt driven to create a sense of what an "engaging, entertaining and a really very interesting place" it is on the other side of the mirror. And he has certainly succeeded in crafting that same beautifully bizarre world that Carroll created on the pages of his book.
The production benefits from an inventive set (Charlie Camm), a strong musical score (Paul Dodgson), and some ingenious multi-media touches (Mark Bishop) which all add to the magic.
A strong cast give some memorable performances, particularly Chris Bianchi as the White King. The anarchy of the original is a strong theme: there are no rules through the looking glass; nothing is quite as it ought to be and in the midst of all this Caroline Garland works hard as a captivating and ever more perplexed Alice.
There are too many magical moments in this production to do credit to them all, but most notable are the genteelly duelling knights (Chris Bianchi and Paul Mundell), the operatic Red Queen (Hannah Summers), a marvellously oafish Humpty Dumpty and the Pythonesque movie footage of the Walrus and the Carpenter.
This is another marvellous Christmas treat from the Tobacco Factory. Not to be missed!
'Alice Through the Looking Glass' runs at the Tobacco Factory until Sunday 20th January, 2008
Reviewer: Allison Vale