Alice in Wonderland
Music by Carl David, book and lyrics by John Wells after Lewis Carroll
West Yorkshire Playhouse, Leeds
(2005)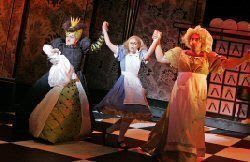 I first read the Alice books when I was in my thirties, a bit late, I suppose. But, discovering Wonderland as an adult reveals all sorts of dark, mysterious reverberations which, I assume, are perhaps felt, but not understood by kids. Some of this was captured by Jonathon Miller's wonderful television film. Miller also created an image which will always remain bright, and against which every production will be judged. I refer, of course, to the lobster quadrille as performed by Malcolm Muggeridge and John Guilgud.
It was with these thoughts that I settled down in the packed WYP Quarry to an evening of Alice. Part of me expected to by disappointed... and, indeed, part of me was.
But only a small part. Most of me was delighted.
The show has a basic, stable structure, and Ian Brown's businesslike direction fits nicely with Wells' unshowy book and lyrics. Carl Davis' score, played by a seven piece band conducted by Jonathan Gill, is classy and exciting in performance (and how wonderful it is to see an orchestra pit with 'real' instruments rather than an electric keyboard!)
The set, fine in conception, based on the monochrome patterns which used to adorn the backs of playing cards, was a brilliant backdrop to action, wardrobe and lights. However, in a far too long opening sequence, it failed to adequately create the illusion of Alice's morphing from tidgy to gigantic. And that's the only weakness in this otherwise life-enhancing show.
This is quality entertainment, paying due respect to its original sources. Wardrobe (Ruari Murchison and Stephen Snell) is based on Tenniel's illustrations and, when combined with Tim Mitchell's lighting, the whole effect is magnificent. You will rarely see a more attractive scene on any stage than this WYP croquet match, the receding avenues of red and white roses, the Red Queen, the card-tabarded courtiers, the pink flamingos. Sadly, no hedgehogs (why not?), but, apart from Alice's inquisitive 'Emu' like bird, you got the impression that the replacement of mallets by flamingos wouldn't be such a disastrous idea.
Full marks also to the cast, they appeared to be enjoying themselves and all turned in good performances. But a couple of star moments stand out. Alice Redmond's mouse swimming in the pool of tears was delicate, well observed and perfectly executed stage magic. And Mark Oxtoby's blue silk robed, (obviously) pot-smoking caterpillar, balanced on a tall black and white toadstool, shrieking with laughter - fantastic! He, he hit the giggle spot. Oxtoby also excelled as a goofy, idiosyncratic executioner.
But there were no duds in this Christmas show - and the packed house loved it. Wave upon wave of applauds and whoops, and all well earned.
Runs until 4th February
Reviewer: Ray Brown