A Life in the Theatre
David Mamet
The Mooted Theatre Company
York City Screen, Basement Bar
(2008)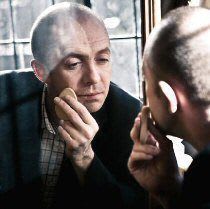 The newly formed Mooted Theatre Company, led by Mark France, open with David Mamet's ascorbic look at life behind the scenes in the theatre. Robert (Bill Laughey) is an aging actor, working in a small town American theatre company with John (Andy Curry), an up and coming young actor. Over the course of the one act play we see them through friendship, insecurity, calculated sniping, and even some slapstick as John mends Robert's flies.
Curry and Laughey pull off the comedy well, especially in a very funny medical scene in which the actors play out their conflict over their "patient's" life and squabble over lines. We see other snippets of the various plays that John and Robert appear in, and the actors work their way through a curtain rail of costumes ranging from military coats, Texan hats, Elizabethan doublets to matching sou'esters. Unfortunately this inevitably needs numerous costume changes, in which the actors go through a ritual sequence of displaying the costume to each other and dressing. Perhaps the scene changes would have been better handled with a lighting change as this becomes somewhat time-consuming towards the end. However the Basement Bar is a difficult venue and France fits the play nicely inside such an awkward space.
Mamet never gives us sentimental characters and while Robert's breakdown is very effectively played by Laughey, but the playwright never quite gives us enough time to get to know our two actors and subsequently Robert doesn't entirely catch our sympathy. John, the callow, insensitive youth has talent but here also Mamet gives us little of the complete person. Curry and Laughey are well matched and work together extremely well, on this play of claustrophobic rivalry and companionship.
Designer Cath Doman gives them a simple and effective set to work within and the bright mirror lights on each actor's dressing table really sets off the micro-reactions of Curry and Laughey. Both actors' fine skills are well suited to the intimate setting with a play of such minute contentions.
The Mooted Theatre Company open with a confident and well crafted debut and their productive future is only to be anticipated.
Reviewer: Cecily Boys