All About Murder
Brian Clemens and Dennis Spooner
Tabs Productions and Theatre Royal Nottingham
Theatre Royal, Nottingham
–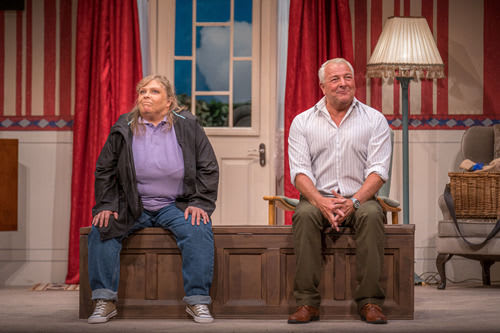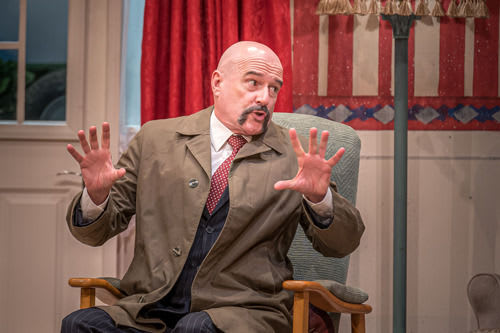 It has been a regular annual draw since 1986: the Colin McIntyre Classic Thriller Season, a group of plays performed on a weekly basis by a small repertory company. So it was no surprise that a quartet of plays is one of the first live events at Nottingham's Theatre Royal now it has reopened, albeit with socially distanced audiences.
The season has changed over the years. Now, in the capable hands of Tabs Productions, it has moved away slightly from the original format.
As well as three plays by recognised thriller writers, the 2021 collection includes one play by Classic Thriller Season regular John Goodrum who has adapted the mysteries of G K Chesterton into Father Brown—the Murderer in the Mirror.
The 2021 season gets off to a sparky start with All About Murder by Brian Clemens, noted for penning television series The Avengers and The Professionals, and his writing partner Dennis Spooner whose credits include The Champions.
In some ways, All About Murder is similar to another of their works, Anybody for Murder, which Tabs and Rumpus Theatre Company produced in Chesterfield in 2019 as part of a seven-play rep season celebrating 70 years of the Pomegranate Theatre.
There is plenty of humour in both plays and the plots feature a man eager to kill his wife so that he can cash in an insurance policy.
All About Murder features two playwrights, Nigel and Max, who are broke and struggling for inspiration for their next play. Eventually they come up with a plot—which features two struggling writers desperately trying to write a new blockbuster of a play.
"We need a victim the audience would cheerfully hate," says Nigel just before his gin-swilling, cantankerous wife Ann comes in to refill her glass. Once she is selected as the fictional murder victim, the two writers decide to kill her in real life. They have written several murder mysteries, so they know how to prepare for any eventuality. Nothing can go wrong—or can it?
David Callister and Susan Earnshaw are well cast as Nigel Forbes and Maxine Goodman, one a bumptious extrovert who thinks it is time to end their writing partnership, the other an irrational bundle of energy who is easily led.
When Nigel receives a poison pen letter in the post, Detective Inspector Berry arrives to investigate. Jeremy Lloyd Thomas portrays him almost—but not quite—as a pantomime character. He is an amateur dramatics fan who is influenced by Agatha Christie and Francis Durbridge as well as Forbes and Goodman whose plays he knows inside out.
There are strong cameos from Susie Hawthorne as alcoholic Ann, who is able to show several stages of drunkenness despite being on stage for only a short time, and Anna Mitcham, Nigel's attractive secretary whose loyalty means she goes far beyond her job description.
Andrew Ryan who directs is a veteran of 31 pantos and brings out all the humour of the play without sacrificing tension.
It was evident on the first night of All About Murder that a few lines did not come out quite as the actors intended. But this did not detract from the enjoyment of a play which some people may not consider to be a classic but has enough twists and turns to keep audiences engrossed right until the end.
Reviewer: Steve Orme