All Creatures Great and Small
Based on the book by James Herriot, adapted by Simon Stallworthy
Bill Kenwright
Yvonne Arnaud Theatre, Guildford
–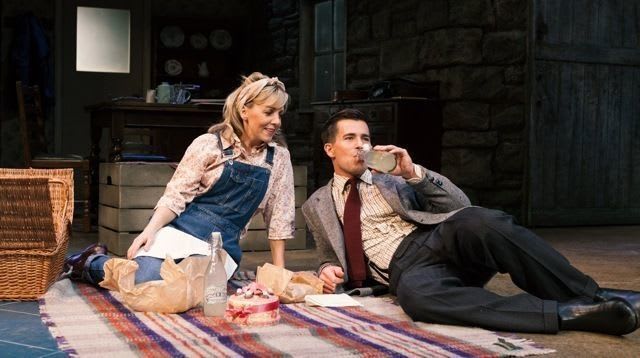 When so many production are trying find the 'dark' side of stories previously thought to be innocuous, it's quite refreshing to find a company presenting a play just as it is without any supposedly hidden meanings lurking in the background.
Herriot's books were of life as he lived it: a young inexperienced vet suddenly thrust into the gruff and unforgiving world of the Yorkshire Dales, often battling against the elements as well as the prejudices of farmers who thought they knew best, and what could this man tell them with only seven months experience?
Oliver Mellor is exactly as I had imagined Herriot to be, deferential and polite, but sticking to his guns when he knows he is giving the correct treatment, despite all the arguments from farmers trying their own methods to save money.
The books are full of amusing anecdotes and experiences, and Stallworthy has tried to fit in as many as possible in a short time, so young vet James deals in rapid succession with cow, horse, pig and a very lucrative assignment with a small dog.
Animals are the main focus of the stories, but it's pointed out in the programme notes that it is all really about people, and the only four-legged friend who appears in person is an adorable West Highland who has taken on the name of Tricky Woo for the occasion.
Other animals make sure they are noticed by means of some very realistic grunts, moos and whinnies, the last one, a horse, in desperate pain. This was Herriot's first case totally on his own, something for which he had been longing, but very unfortunately the only choice on that call was to put a valuable hunter to sleep, despite angry protest from the owner—what a responsibility.
It is a very strange and eccentric household in which he has landed himself—the head of the practice is Siegfried Farnon (Mark Curry) given to violent tantrums which are soon forgotten and to totally twisting the sequence of events in his own favour, while his brother Tristan (Lee Latchford-Evans) is bit of a layabout who messes up every job his is given, mainly because he is not paying attention.
His brother gets extremely angry with him, but in one case, and to his surprise, he is praised for getting it wrong. A very inappropriate package sent to cure a pig resulted in a difficult customer refusing to have anything more to do with the practice—something Siegfried had been wanting for years.
There is a love story running through the play too—a very shy Herriot is hesitant about approaching the girl he admires. A fresh-faced Clare Buckfield plays the girl, Helen, sympathetically and true to the story—and it all turns out happily in the end.
Back to the lucrative Tricky Woo and an enthusiastic performance from Susan Penhaligon as wonderfully eccentric (and very upper class) Mrs. Pumphrey, Tricky's owner. James was the little dog's 'favourite Uncle' and as such received many gift hampers (usually from Fortnum and Masons). You can't go wrong befriending a dog.
This is not a show to move mountains or push boundaries, but I found it enchanting and thoroughly enjoyable.
Reviewer: Sheila Connor