All My Sons
Arthur Miller
Clwyd Theatr Cymru
Emlyn Williams Theatre, Clwyd Theatr Cymru, Mold
–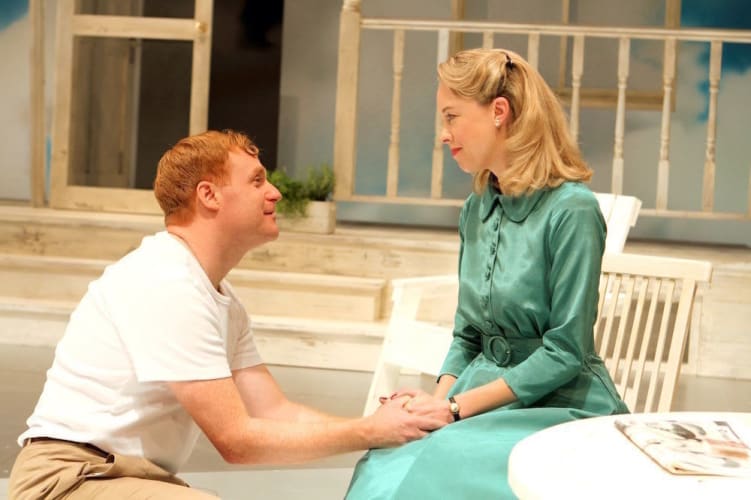 Arthur Miller's dark yet engrossing 1947 play, which commemorates the centenary of his birth, is certainly an emphatic start to the new season at Clwyd Theatr Cymru.
Sensitively directed by Kate Wasserberg, who ensures the unspoken tension is ever-present beneath the surface before exploding in the second half, it provides further evidence, if any were needed, of the genuine talent that exists throughout the company and creative team here in Mold.
The story is set in a Post-War America that is still struggling to come to terms with the legacy of World War Two, yet manages to convey some timeless messages and conjure moments of tension-filled and sublime theatre. This is a highly productive and innovative centre of creativity in North Wales, which is not exactly blessed with such facilities, and it is a serious concern that the future of Clwyd Theatr Cymru is uncertain.
Family, morality and honesty are three of the central themes that are dealt with in Miller's breakthrough play. The narrative unfolds on a minimalist yet effective set, an aircraft fuselage stage and a front porch which seems to be exploding, evoking the fracturing family and crashed aircraft which are central themes.
The plot revolves around the contrasting emotions and motivations of the two female leads who both deliver outstanding performances. Catrin Aaron is Ann Deever, the one-time fiancée of Larry, the pilot who went missing during the war, while Sian Howard shines as Kate Keller, the mother who seems unable to accept his death. For much of the play, it seems that her desire to marry Chris (Simon Holland Roberts), Larry's brother, will be the focus of the events but there is a pretty traumatic subplot too.
Joe Keller (Ian Burfield) has made money from selling aircraft parts in the war but escaped the responsibility for faulty parts which caused the deaths of a number of airmen. However his partner, Ann's father Steve, is in prison for it and it is the arrival of Ann's brother George that sees events gather pace drastically.
Allegations fly and some powerful scenes of raw emotion follow. Chris, who has been keen to force his mother to face reality and accept that Larry is dead, is not so keen to accept what he's told about Joe. For much of the play, Joe displays a breezy, almost amoral attitude, stating that "a man can't be a Jesus in this world", but it's clear that the issue of the faulty aircraft parts is leading to a gripping conclusion.
This is a thought-provoking and well performed production that serves as a foretaste of another superb season at Clwyd Theatr Cymru, which will be the first under the artistic direction of Tamara Harvey.
Reviewer: Dave Jennings