All My Sons
Arthur Miller
Royal Exchange Theatre and Talawa Theatre Company
Royal Exchange Theatre, Manchester
–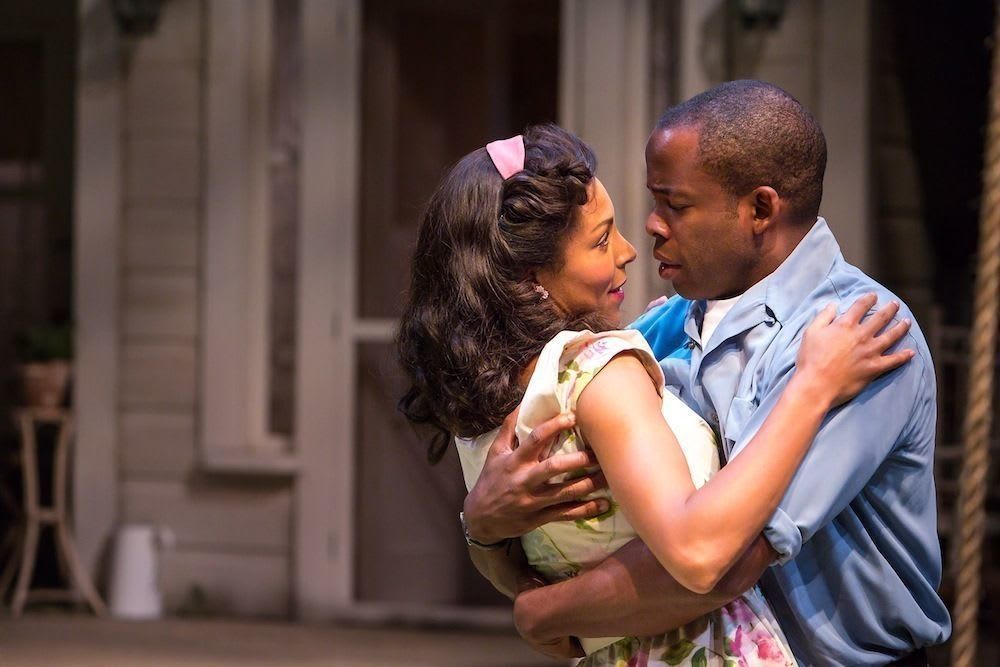 The day before Prime Minister David Cameron was due to give a speech to close the Conservative Party conference in support of business, Arthur Miller's indictment of self-serving business practice opened to the press just down the road at the Royal Exchange Theatre.
Ibsen's influence on Miller comes out very clearly in this play as everything important to the story happened long ago and the play shows how it all comes to a head, skilfully revealing past events to the audience a bit at a time.
But the gist is that Joe Keller is a successful businessman who was involved in the manufacture of engine parts for military aircraft during the Second World War, which has only been over for two years. There was a scandal involving faulty parts that caused the deaths of American airmen, for which Joe's partner Steve Deever went to prison, but Joe was exonerated.
The Kellers' son Larry, an airman, went missing in action three years ago, but his mother Kate refuses to believe that he is dead. Her obsession is treated in different ways by their neighbours: with science by doctor Jim Bayliss and with superstition and perhaps false hope by astrologist Frank Lubey.
To complicate matters, surviving son Chris Keller has invited his late brother's sweetheart Ann Deever, daughter of his father's ex-partner, to stay and intends to ask her to marry him. However Kate thinks that Ann is still saving herself for Larry, and her brother George is about to visit his very bitter father in prison for the first time since the trial.
Michael Buffong, who directed one of the biggest highlights at the Royal Exchange (and in Manchester theatre) of the last few years, A Raisin in the Son, has used an all-black cast but has not changed it into a black story. It's the same play that happens to have actors who are black, but he doesn't appear to be making any point with this.
He has, however, cast some great actors. Don Warrington takes the central role of Joe, and though his strong, piercing accent jars a little at the start, he creates a beautifully-nuanced portrayal of this proud man who has built strong barriers to protect himself and his family from what others may think of him, but he is also a loving family man. Miller has him deliver some emotionally-charged speeches but then diffuse the situation with a witty line, and Warrington delivers these perfectly.
Opposite him, Doña Croll plays Kate not as the neurotic mother who won't believe what everyone else knows to be true, but as a mostly-rational, loving and witty wife and mother who can't live with the belief that her son is dead. Chiké Okonkwo brings out Chris's shyness and his strong moral principles, so that you believe he would struggle to live with any dishonesty he suspected in those around him.
Simon Coombs is also excellent as George Deever, flipping convincingly between ranting at injustice and being talked around to spending time with the family with which he grew up as much as his own. There are strong performances from the neighbours with Delroy Atkinson as a jolly Frank Lubey and Bethan Mary-James as his pretty wife and Roger Griffiths as avuncular Jim Bayliss and Andrea Davy as his disapproving wife Sue.
Buffong's production evolves at a slow pace that cleverly evokes the atmosphere of a hot, southern community with occasional erruptions of arguments and emotion. Designer Ellen Cairns has put the action on a set that combines the realism of the white clapboard house front, garden furniture and fallen apple tree with a floor that looks like a detail from an impressionist painting of the light falling between the trees.
With strong performances, a well-paced production of a classic play that still has message worth debating and a devastating (albeit melodramatic) ending, this is well-worth suffering the rapidly-increasing cost and difficulty of parking in Manchester to see.
Reviewer: David Chadderton